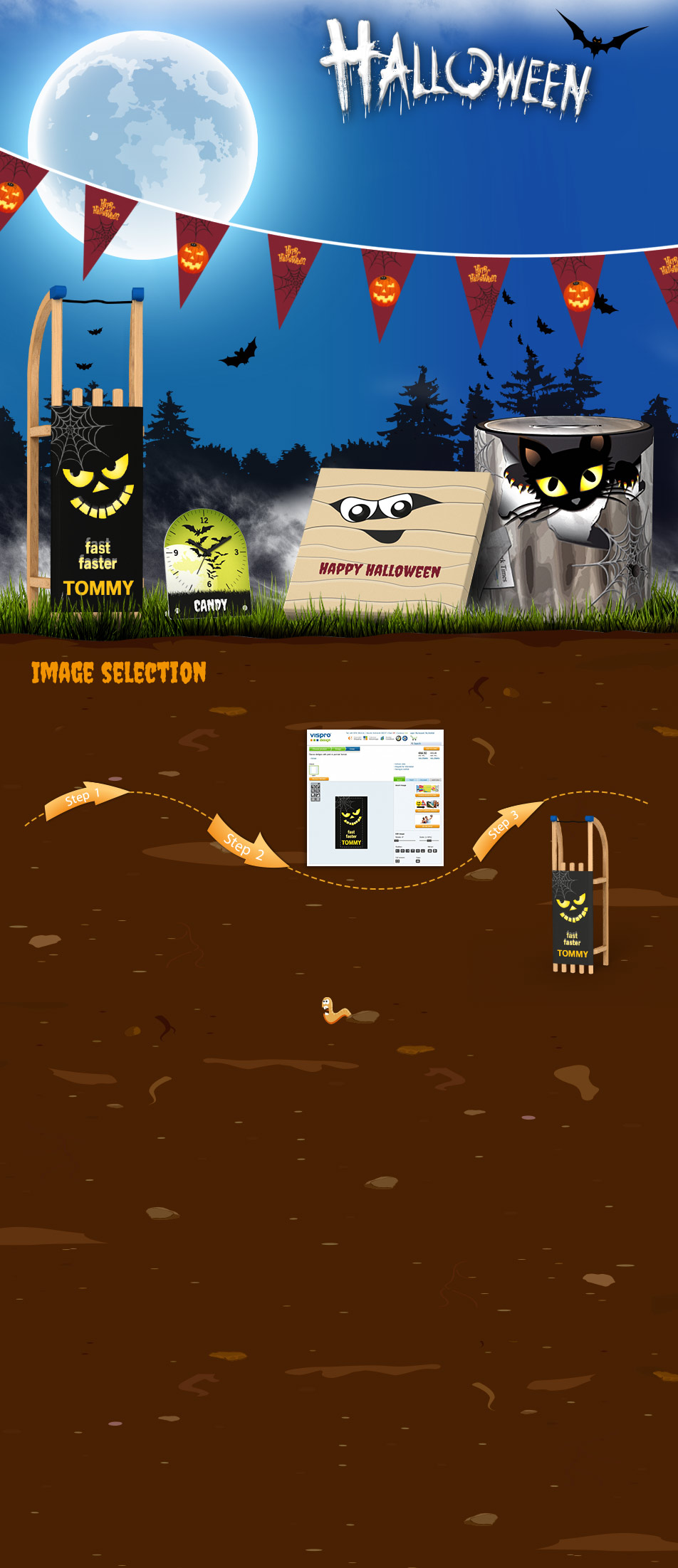 Create an appealing Halloween advertisement despite its scary motifs.
Your advertising and decorative items for Halloween can be designed eerie or funny depending on your requirements. It's important that they do not miss their effect and achieve the right attention of the viewer. Let yourself be inspired by the Halloween products depicted here and create individual eye-catching design that will reflect your promotional gifts and decorations.


Ready-made products can be easily ordered online with one click.

Personalize your chosen product in the Designtool with clipart, photos or individual texts.

You can choose from a variety of already
finished products at ready-made designs.

Finish your order by clicking
on product in your cart and proceed
to checkout.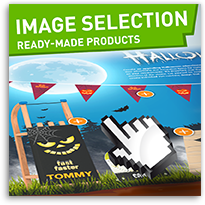 Design individual Halloween advertising material for events
Commercial shops love to use
Halloween decoration
. Window displays are adorned with typical spooky look to draw attention to the latest offers and discounts. Use a
printed photo clock
or design a seat cylinder for your promotional Halloween activities. Motifs depicting ghosts, spiders and co fit perfectly with the Halloween atmosphere. Window displays, stores decor as well as many restaurants and bars adorn this scary atmosphere at the end of October. Decorate quickly and easily with our appealing items such as fabric banners, seat cushions or
roll-up banners
.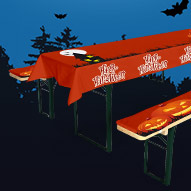 Decorative items for Halloween parties
In Europe, Halloween has become an integral part of a festive culture. Children dress up in scary costumes walking through neighborhood and asking for sweets. The adults prefer to participate in a fun Halloween event or organize a party with friends at home. With individually printed pennants, tablecloths or covers one can create a unique atmosphere. Design your surfaces with typical Halloween elements such as curved pumpkins or other scary motifs and characters. For an unforgettable Halloween evening design your articles with motifs such as skeletons, bats, vampires, spiders or skulls.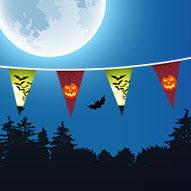 Gift ideas with Halloween motifs for children
Children are especially susceptible to Halloween inspiration with eerie gifts. This way you can print comfortable seat elements with your favorite Halloween images preserving memories of fun time spend together. The seat covers can be easily replaced and washed at any time. This way the seat elements fulfill two practical functions - they are decorative and functional at the same time. A child's homework can be done sitting just as pleasantly on a Halloween cube as on a swivel chair. Let yourself be inspired by our clipart and design your very own adventure and decoration for Halloween - the night of ghosts & scary creatures.