Living & Lifestyle
Living & Lifestyle by Vispronet® - these are lots of original ideas for interior design, decorations or creative gifts for many occasions. Vispronet® offers seat cubes and seat cylinders, beanbags, tablecloths, covers, benches, watches or sledges - all with your individual design. Whether in the children's room, in the lounge area, at trade fairs, weddings, club parties or exhibitions, as a play corner or as a special eye-catcher: products from Vispronet® create atmosphere and attract attention.
1. Overview
2. Interior design with an individual touch
3. Decorative and advertising material for display
4. Articles for promotional campaigns
5. Gift ideas
6. Delivery times

Living & Lifestyle - products for decorating, giving & clever advertising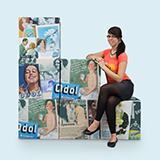 Use the means at your disposal and turn a simple celebration into an unforgettable event. The products in the "Living & Lifestyle" category can also be used as eye-catchers in your own four walls. With little effort you can create a unique flair.
The customizable products from the "Living & Lifestyle" category are not just perfect decorative elements. With the right print, they can also serve as original advertising media with a high level of attention. Designed with a logo or custom image extraordinary advertising can be created that presents message for the customer without being overly intrusive.
Living & Lifestyle - interior design with Vispronet®
Create your own living space with creative designs and personal ideas. Anyone can buy wallpaper but at Vispronet® you can have your own photo wallpaper printed. Anyone can buy an armchair but we will print your very own beanbag and other seating elements. You can also buy curtains and clocks anywhere. Vispronet® prints your curtains and photo clocks which you can design yourself online. Under "Living & Lifestyle" in our online print shop Vispronet® you will find great print products for decorating, giving and advertising. One category from our online print shop offers you many great ways to make your life more beautiful.
Design your own decorative items for walls, shelves and tables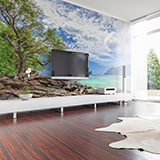 Walls offer plenty of space for creative ideas. An individual photo wallpaper brings your most beautiful vacation pictures into your own living room. Decorate entire wall areas with a holiday landscape or an attractive promotion - personalized photo wallpapers make this possible. Sometimes it is enough to design just a section of the wall with a few strips of photo wallpaper to achieve the desired effect.
A printed photo clock is just as much a decorative design element as a printed curtain. Tablecloths in the matching design stylishly complete your interior. Let a room shine in a completely different light. Set specific accents that are guaranteed to draw everyone's attention. Almost all products from Living & Lifestyle can be ordered online in an individual size and made of different materials.
Promotional materials to touch, stage and present - for floors, walls and shop windows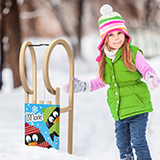 Design & print products online. Use the Living & Lifestyle category to create original advertising media for sitting and relaxing. The printed leisure chairs & seating elements are excellent advertising media in cafés, on sidewalks and in club lounge areas. Seat cushions for beer benches can be printed just as easily with your own logo as curtains, tablecloths and table covers. Set the atmosphere of your reception in style or present your promotion to the customer in a subtle way.
Thanks to the favorable material properties, the leisure chairs and the outdoor seating cube can be used even outdoors without any hesitation. Stack seat cylinders creatively on top of each other at the exhibition stand to create a new overall picture or place a printed sled as a decoration in your own shop window. This creates unique eye-catchers that your customers will perceive with curiosity.
Design yourself original advertising and gift products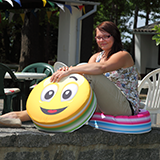 The prints of all articles in the Living & Lifestyle category can be designed directly online with Vispronet®. With a click on the button "Design your own" you will access the free design tool Visprodesign®. Here you can freely combine clipart and texts with your own pictures and design all printable areas of the entire surface.
We print your interior - wallpaper, seating elements and much more for your home
Furnishing your own home or spicing it up with new ideas every now and then is fun. It is even more fun if you can design various furnishings yourself and have them printed online. We print your decorative elements according to your specifications. Design a photo-wallpaper according to your wishes. Get the beanbag for the children's room or seating elements for the living room printed individually. Decorate your windows with your own curtains. Embellish the wall with a photo clock that you also designed yourself. Vispronet® shows you how you can personalize your living space and you show us what we can print for you. You can design all of the decorative elements from our "Living & Lifestyle" category yourself and thus design yourself parts of your interior.
Gift ideas for every occasion
Let yourself be inspired and create great gift ideas for important anniversaries of your family, friends or even company. While an individual sled will make even the little ones' eyes shine, photo clocks and bean bags with their own favorite snapshot will have the same effect on adults.
Give away decor elements - "Living & Lifestyle" products as a great gift idea
Give away something very personal that you have designed yourself. A seat cylinder or seat cube with the motive which you have chosen yourself. Leisure chairs designed by you for the balcony or garden are as nice of a gift idea as a photo clock. You can choose the motif yourself and also add text. If friends or family like to take winter vacation how about a printed sled? Such a sled with custom design certainly doesn't just go down the slope once.
Put the floor, wall and shop window in central focus
In our category "Living & Lifestyle" you can choose products which will put your floor, wall and shop window in central focus. Make dull beer tables and benches into eye-catchers. Design unique items like high tables by printing covers. You can find more promotional items and effective advertising materials in our category "Advertising Signs & Exhibition Systems".
Use fast delivery - the overnight service from Vispronet®
Once the product has been selected and your design is ready, various shipping options are available to you at Vispronet®. It depends on how quickly you need your order. Urgent purchases should be delivered overnight. For an overnight order delivery Visrponet® must have the correct print data by 9:00 am this will guarantee that you will receive your "Living & Lifestyle" product the next working day.
Printed advertising media by professionals
Whether fan scarf, photo clock or seat cushion - we create your promotional items from the category of "Living & Lifestyle" with high-quality advertising material and print the respective items with custom design. Put your products or services in focus by placing your logo on high-quality home accessories so that these are clearly visible. Ideal as a giveaway for business partners and loyal customers or as an eye-catcher at a trade fair.
If you design the furniture and decorative elements in your corporate design, the advertising materials are also suitable for furnishing your company headquarters and offices in the sense of a uniform appearance. Seating cubes with the company's logo or curtains with your product range - we provide all of the items in our shop with your desired motif.
Great freedom of design when printing advertising material
In addition to text elements, photos or your own design made with our Visprodesign® design tool is also ideal for creating and printing an advertising material. In order to design the motif for your advertising material yourself, you can access numerous free design templates as well as our extensive image database. If you have decided on the right article for your advertising, you can start designing immediately without having any previous graphic knowledge or expensive graphics programs to create a high-quality advertising media.
Before printing your advertising material, you will also benefit from a free print data check, in which we proof your print data for any technical errors. Content and grammatical errors are not taken into account. With this first-class service we ensure the highest quality of your promotional items. Our customer service is available to answer any additional questions.
High quality printing processes for your advertising material
If you want to decorate beer tent sets for company celebrations or wall clocks with your company's logo as tasteful promotional gifts, you have come to the right place - Vispronet® stands for high-quality printed advertising material of your choice. Depending on the amount of articles and material, different printing processes are used - digital or screen printing. The reason for the different printing techniques lies in the cost factor. Larger quantities can be produced more inexpensively by screen printing than in digital printing. The article description immediately shows which printing process is the cheapest and in which print run.
If you wish to customize promotional items on a large scale, we offer you attractive price advantages. Thanks to our extensive experience in printing promotional items, we guarantee you high quality printing that will convince your customers and business partners.
Vispronet® will print for you quickly overnight or in express mode - forgot something? Don't worry!
Did you forget a birthday? Is the stand still missing a folding display? It doesn't matter, because Vispronet® will print overnight for you. Order today and we will deliver tomorrow - we offer this service for numerous print products from our online shop. Would you like to design article yourself and still need help with the print data or you have other questions about online printing? Visit our help section and our print data category. Here we have put together everything worth knowing about the topic of online printing. If you still have questions, you can reach our friendly service team via live chat, contact form or by phone.