Special flags
SSpecial flags are: federal state flags, country flags and flags of organizations. They offer representative appearance at sporting events, conferences or receptions. Vispronet® offers a wide range of different sizes and designs. You will find more than 200 different special flags in form of hoist flags, banner flags, room flags, table flags or table banners as well as car flags. Of course you can also order the appropriate flagpoles, room stands and flagpoles. Special flags are immediately available from stock, also in overnight delivery!
1. Special flags - an overview
2. Our service - for you

Special flags for different occasions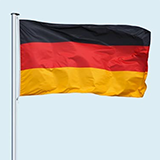 The special flags include national flags and flags of international organizations as well as federal states. Flags have been used for communication over thousands of years, especially over long distances. The transmitted message can be very different. A flag raised at half-mast always symbolizes a bereavement, which usually refers to the death of an important person.
National flags are also used in international sporting games such as the Olympics which illustrate the diversity of the nations competing against each other. Additionally, there are numerous occasions on which flags are raised to commemorate certain historical events.
At Vispronet® you can order not only German flag, but flags of all nations of the world. In addition, we also offer flags of individual federal states with or without coat of arms and the appropriate accessories.
The flag - not only for an event
Our range of special flags includes not only the standard version for which you require a flagpole, but also smaller variations that can be attached in a variety of different ways.
The special flags from Vispronet® are available in the following variants:
• Portrait format with flag presenter
• Portrait format
• Landscape format
• Landscape format with eyelet
• Small flags with hemstitch
• Small flags with staff
• Car flags
• Table flags
• Table banner
• Banner flags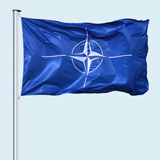 Portrait and landscape flags are mainly raised in front of public buildings, offices, embassies, also on private properties and in gardens where they serve above all to mark special occasions, bereavement or public holidays.
Car flags are very popular for sporting events, especially during World and European football championships. These can be attached directly to the car using a flag holder to simply show which team you are cheering and keeping your fingers crossed for. Note that car flags are only suitable for speeds of up to 60 km/h. Our small flags serve also to motivate your favorite team, primarily at sporting events.
In addition, you can decorate conference rooms during meetings or seminars with practical table flags. Show off your international relationships impressively with classic table banners during conferences.
Excellent service and lightning-fast delivery - these are the characteristics of Vispronet®!
At Vispronet® you will not only receive all flags in all designs and models via overnight delivery within one day, but also the right accessories. In addition to flag holders for cars and walls, we also provide floor stands and associated high-quality flagpoles with solid brass finials.
To ensure that your new special flag can be hoisted quickly, we have various flagpole models ready for you, including the Economy flagpole. If you have any questions about special flags, please contact us either by phone or use our contact form. We will be happy to assist you.