Bunting
Familiar and friendly and yet always something different - bunting or chains give your advertising that special and personal touch. Your product, your logo or a personal image is full in focus swaying in the air above the sales booth, sport event, street celebration or private parties. You define the design and we will take care of printing and assembly, delivering to you a product of durable quality, printed in bright colors and high lightfastness.
Vispronet® pennant chains can be used in a variety of decorative and promotional ways. During national celebrations or city festivals one sees often pennant chains and buntings stretched across the streets or attached to houses and fences to represent an upcoming holiday or festivity.
Use customizable pennant chains and bunting as decorative material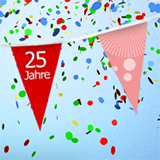 Our pennant buntings are made of weatherproof flag fabric. Two sides can be printed in individually desired design. With the right motif the pennants make an excellent party decoration for your next birthday, the garden party or a round anniversary. The customizable pennant chains can be ordered online in various sizes. You can order online 5 m, 10 m, 15 m or even 20 m long buntings.
You can integrate your favorite photos, colours or text according to your ideas and impress your family or guests at the next party. As a customer you have the choice between the following pennant chain versions:
Bunting with pennants
Pennant buntings are made of triangular segments. They are printable in various sizes and attract visitors already from a great distance. Joyfully fluttering pennant buntings are popular at sport events, street parties and company anniversaries. They are just as welcomed at birthday parties, weddings, school festivities, club and family celebrations.
Bunting with flags
Flag buntings from Vispronet® are made of rectangular segments. The 20-80 small flags are attached to a narrow band and often decorate marquees, gardens, retail areas and exhibition stands. Bright colours, high lightfastness and a very good print quality make the personalized flag buntings very attractive and clearly visible from both sides. Different flag sizes and our custom printing offer you a lot of creative freedom.
Use pennant buntings as an advertising material
Pennant buntings can also be used as a promotional item in addition to decorative occasions. Normally, customers print pennant buntings with country flags or two individual colours, but Vispronet® offers additional creativity. As a company you can print buntings with your own logo which is suitable for advertising as well as formal events. Pennant buntings are highly popular with companies promoting their products outdoors.

Printed pennant buntings present your club logo to a broad viewer. At tournaments and festivals friendly clubs prefer to display their own buntings to show visible presence to fans and public at large.
Design online pennant buntings for free
Familiar and likable but always a bit different. Pennant buntings give your advertising or your event a very special and individual touch. Those who have not yet prepared their own design before ordering, can use the free design tool Visprodesign® to quickly and easily create their own custom motifs. The simple design tool can be accessed directly in our shop. Click on the button "Design yourself" during product configuration and you will be taken to the free Visprodesign® tool. You can combine product images, photos, logos and your own text and have it printed on a pennant bunting. Your imagination is the limit. Ultimately, you can always customize two segments of a pennant bunting.
Order pennant bunting overnight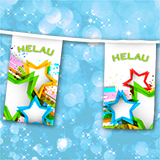 Vispronet® pennant buntings can be ordered online using three different types of delivery - Standard, Express and Overnight. Urgent orders usually need to be delivered the next working day. Thanks to the latest digital printing technology we are technically able to print and send each of your pennant bunting orders within one working day. The submitted graphic files of your product need to be uploaded error-free on our servers latest until 9 o'clock in the morning.
Use of pennant bunting for many different applications
Pennant buntings are the all-rounder among decoration and advertising means. There are a number of occasions for which you can use the charming flag chains. It could be a wedding, a children's birthday party or a trade fair where you wish to represent your company. Individually printed with colourful logos or exclusive advertising message, pennant buntings attract always the attention of guests or customers.
Children's birthday party or garden event - printed pennant bunting as a decorative eye-catcher
Printed pennant buntings look especially nice at birthday parties. Even anniversaries are a welcome reason to celebrate a party. With a personalized pennant bunting that shows the round number of your birthday you can greatly decorate the basement or living room. No matter which motive you may prefer - photo, colours or text - in printing all is possible.
At Vispronet® you will get pennant bunting with all imaginable motifs. Even for a wedding parties pennant buntings can be used displaying different designs. Printed in soft pastel colours and with photo of the bridal couple, they enrich the ambience and give an appropriate appearance to ceremonial setting.
When the next World or European Championships are due, it's great fun to see the outdoor games together with friends. The outdoor enthusiasm will definitely be enhanced with decoration in colours or national flag of your favorite team. Thanks to a weatherproof flag fabric, the pennants withstand even severe weather conditions and radiate for a long time in bright colours.
Personalized and individual – design your own pennant bunting
The pennant buntings from Vispronet® are available in two different shapes. You can either choose the classic pennant shape or opt for rectangular flag variant. Both types can be printed with your desired motif and are available with 20 to 80 segments, which correspond to a length of 5 m to 20 m respectively.
Create your own personalized and individual flag bunting using our special design tool Visprodesign®. You can create two different flags which will be repeated on a chain bunting. Combine product images, photos and logos with each other and let your imagination run wild.
The mounting of pennant bunting is extremely easy. The individual pennants or segments are attached to a durable and sturdy band that protrudes slightly at each end.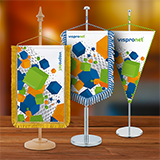 The end of the fastening tape is simply tied by knot or loop at the desired location. The most striking effect of pennant bunting is achieved when the band is not pulled tight, but forms a bow.
Additional attractive advertising media
Club logos are presented attractively not only on pennant bunting but also on classic table flags and pennants. Many of our customers who are interested in the pennant buntings also take a look at our printable table flags. Vispronet® offers a wide selection of differently shaped pennants and table flags. You can decide whether your flag should be adorned with additional cord and also on the type and appearance of the table stand.