Double-sided Flags
Double-sided flags redouble your advertising space with the same image on both sides or a different print on front and back. Double-sided flags open an additional creative variety, displaying your product on both sides with readable lettering or different campaign messages. Double-sided flags are of proven quality, dry fast and can be hoisted on any pole. Suitable for on-site advertising, events or meetings.
Beidseitig gleicher Druck
Beidseitig verschiedener Druck
Buy double-sided flags online - print two motifs on one flag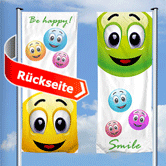 Double-sided flags are flags where both sides can be printed with the same or two different designs. There are two advertising spaces available on one flag. No matter in which direction is the wind, your advertising will be always fully appreciated from all directions.
For use of double-sided flags in windless areas we recommend flagpoles with presenter which guarantees a fully stretched surface. Vispronet® also offers double-sided flags finished to match this particular version of the flagpole. For this purpose a hemstitch made of flag material is sewn on the upper edge of the double-sided flag. The flagpole's presenter inserted into the hemstitch ensures that flag stays unfolded even without wind. In addition to portrait format, you can also design and buy double-sided flags in landscape format from Vispronet®. Choose one of the proven standard sizes or print a double-sided flag in custom format.
Double-sided flags - high quality & custom size print
Double-sided flags from Vispronet® are made in a complex production process. The design is printed in lightfast colours and on high-quality polyester fabric. Double-sided flags printed on the classic material Multiflag® have a subtle shine and convince with strong, contour-sharp motifs. Double-sided flags made of high-gloss fabric Multiflag SE underline the importance of a printed advertising message. Metallic effects in the design are especially emphasized by this fabric. Create your own double-sided flags at Vispronet® - order online and receive ready to use flags!
Double-sided flags are available in classic standard sizes or in individual custom sizes. Simply enter the desired size during ordering process in the "size" field and the double-sided flag will be produced to your specifications. Starting already with order of 1 piece. With an order of 15 or more pieces we can also print double-sided flags using the cost-effective screen printing process.
Create double-sided flags with your own design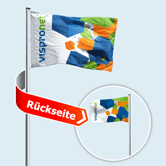 A perfectly designed double-sided flag awakes immediate interest of customers and visitors at trade fairs, company presentations or as an advertising product. If you already have a finished design for your double-sided flag, you can upload it after submitting the order to your customer account. Please use our layout templates stored in the shop when preparing your data.
If you have not yet prepared your own design, then our free design tool Visprodesign® is at your disposal. Here you can easily design your own double-sided flag without having previous graphic design knowledge.
Whether you upload your logo or your own photos, or wish to use our free clipart and theme-based wallpapers - with Visprodesign® your creativity is almost limitless. In addition, you have numerous, free fonts and a variety of graphic tools available. Try it out and make your own double-sided flag.
Order double-sided flags overnight - The fast service for those in a hurry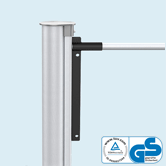 Vispronet®offers double-sided flags in portrait and in landscape formats.
Same or different motifs can be printed on front and back, in bright colours and with highest light fastness thus making the double-sided flag into an advertising highlight.
For rush orders we offer the extra fast overnight service. If you submit your correct print data by 9:00 am, your double-sided flags will be delivered the next business day. Ordering flags at Vispronet® can be this quick and easy.
The double-sided flags are especially well visible on flagpoles with presenter. These flagpoles are the ideal solution for flag presentations in windless locations. Choose between different versions: cylindrical or conical flagpole tube. The presenter is rotatable in both variants.