Parasols & Privacy Screens
Parasols from Vispronet® are not only seen from afar, but offer also a real attraction. Whether hot sun rays or cool summer rain - our individual parasols offer your customers protection and represent at the same time your brand or your business. In the catering industry, sporting events, concerts and other events parasols set your brand in focus. Vispronet® offers versatile small and easy-to-use large parasols that provide sufficient shade on terraces and balconies.
1. Advantages of Vispronet®parasols
2. Design your own parasols
3. Instructions for use
4. Possible uses of parasols
5. Weather properties of parasols

Buy parasols and advertise efficiently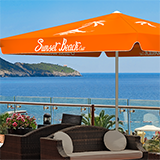 Printed parasols have versatile use and are true eye catchers. Whether hot sun rays or cool summer rain - the customizable parasols from Vispronet®offer you protection and at the same time represent your brand or your company. Regardless whether in catering business, at sporting events, concerts or other functions - parasols as advertising material always set an example. Vispronet® offers you versatile and user-friendly small and large parasols with a crank and an optional valance, which can also provide relaxing shade on private patios or balconies.
Print parasols with your own motif
For many years parasols have been a particularly popular advertising medium in the summer season. They have successfully established themselves as an indispensable inventory in beer gardens, on terraces or in beach bars. They invite you to relax and at the same time are an attractive shade dispensers. Even at large events or trade fairs a parasol as an advertising medium ensures relaxing atmosphere.
At Vispronet® you will find the following umbrella models:
Round large parasols: - this is an example for individual advertising on terraces, in beer gardens and on the beach. Of course, this customizable rainproof parasol can also play an original shade dispenser at home.
Square large parasols: the square model from Vispronet® is ideal for advertising and also as a decoration in private garden or backyard.
Small parasols: with or without crank almost perfect for use on balconies and verandas.
The so-called small parasols have a diameter of 2.5 m to 3 m. The canopy of the small parasols can be printed in three different variants: two-part, four-part or eight-part. A maximum of two segments are created with the same or different motifs, which are repeatedly arranged side by side. By reducing the dividing seams, the design surface is greatly expanded. Detailed, cross-segment motifs as well as large, striking lettering and logos can be shown on the parasol's canopy in two and four-part variants without extrusive seams.
Our square parasols have the advantage that they can practically be put together to form a large sunroof. Especially during warm summer days, customers and guests appreciate a stylish ambience in the outdoor dining area. The rainproof fabric guarantees that your guests can stay dry even during a rain showers. The small versions of this parasol are very practical in terms of mobility. The practical diameter of max. 300 cm and a light frame, allows for small parasols to be quickly set up or stored away, depending on the weather conditions and needs.
Buy parasols - starting from 1 piece already
In our online print shop you can have every parasol printed, no matter whether it is a bulk or a single order. Personalize your favorite model with your company logo, your products or your favorite motif. All canopies are printed with the latest digital printing technology. Due to strong print, the motif is also very well visible on the underside of the canopy. Our products convince with brilliant, lightfast colours and a large selection of floor bases.
Custom printed parasols can be used in home gardens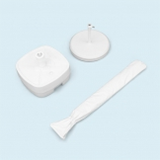 Self-designed garden parasols are a very personal gift idea for company anniversary, friends, relatives or neighbours and a real eye-catcher at every garden party. With the Visprodesign® tool you can design your own umbrella starting from a single piece and without any previous graphic knowledge.
Simply select an article and the appropriate size in Vispronet® shop and you're ready to go. Design individual segments with your own photos or use the numerous free design templates and clipart from Visprodesign®. Let your creativity run free and create your own favorite parasol for a harmonious and cozy home.
Which parts of the canopy can be printed?
At Vispronet® we only print on the canopy and valance, whereby the printable area depends on the selected size and design of the umbrella model. If the latter consists of fewer segments, it is also produced with fewer seams. This means more space for print.
Choose between three different variants: a two-, four- or eight-part canopy. The first model only has a dividing seam in the middle, so that the parasol can be printed over a large area. The selected advertising print is applied on one side and reflected on the second side. With the four-part canopy, you can either design two different motifs or have the same motif printed on all segments. The same applies to the eight-part copy - here the two different print templates are shown at least four times or one motif is repeated eight times.
For whom are customizable parasols suitable?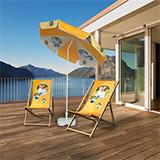 Use a Vispronet® parasol for advertising or design your own personal canopy for the company. In particular, promotions such as information stands at trade fairs and events benefit from the advertising parasol. From a logo to a brisk slogan or an emotional picture, everything is possible. If the event takes place outdoors, you can use your parasol not only as a sunshade but also as a rain protection.
At Vispronet® you can also design your desired items for private use, so that you can enjoy an individual and unique flair in all situations. Our parasols are ideal for use on balconies, patios and gardens and can be ordered from Vispronet® in all imaginable colours. Choose between ten different colours for the valance to always match your desired motifs.
What are the differences between a small and a large parasol?
A small parasol from Vispronet®® with excellent colour printing is typical for private use and the perfect addition to your garden furniture. Available in diameters of 180 cm, 200 cm, 250 cm and 300 cm and it fulfills all requirements of sun protection at the home. The solid struts made of specially hardened spring steel ensure particularly high elasticity and the variant with a crank makes it easier for you to open it and close it.
Perhaps you need individual parasols that cover entire beer tent sets and exhibition stands? Then we recommend large umbrellas from our range with a diameter of 300 cm, 350 cm or 400 cm. Available as a round or square model. You can use it to cover chairs and tables across the board or to protect event staff and guests from exposure to UV rays.
Does the sun bleach the print?
All parasols in our range convince with highest light fastness with the grade 6-7. This ensures a very good and long-lasting colour result even with full sunlight and long-term use outdoors. For additional protection of the parasol we recommend available at Vispronet® protective covers, universal bags or trolleys. This not only prevents premature bleaching, but also mechanical damage or soiling during transport or storage. Choose individually between the simple variant made of water-repellent material, a bag made of robust fabric with reinforced corners or a sturdy transport case made of durable plastic.
Is there a minimum purchase quantity?
If you wish to buy a personalized parasol from Vispronet® you are not bound by a minimum order quantity. However, for larger orders our customers receive volume discounts.