Roll Up
Roll Ups are the speed specialist among portable displays. A roll up display from Vispronet® can be quickly set up and disassemble. Pull simply the print out like a roller, stretch it and ready! During storage and transportation the print remains protected in the base housing. Roll Up displays are available in different versions and sizes of up to 6 m² print surface. Printed with your image as single-sided or double-sided; on fabric or display-foil and mounted with clamp-rail for expedient image change.
1. Order roll-up display online
2. Possible uses
3. Design your own Roll Up display
4. Advantages of Roll Up banners
5. Transport and storage

Roll Up - mobile advertising from Vispronet®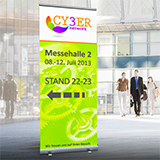 With a roll up display you can present your advertising or information as needed and at the same time very professional. This mobile display system is known by many names, such as roll banners, roll walls or roll-up displays. At trade fairs, conferences, presentations or events, Roll Up displays are the flexible partners that you shouldn't do without.
The selection from Vispronet® offers you creative Roll Ups for a wide range of uses and needs. For smaller budgets you will find the inexpensive Roll Up Basic in the typical size of 80 x 200 cm. For those who are looking for a Roll Up in extravagant size, Vispronet® also offers Roll Up Basic with a print size area of 6 m² which is an absolute eye-catcher.
Put innovative Roll Up displays in spotlight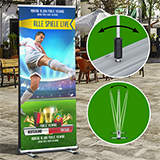 Roll Up Select display particularly impresses with its elegantly curved metal housing and various widths design. Therefore, these displays are the Roll Ups for high-quality and sophisticated presentations.
Rollup displays can be conveniently packed for transport in a comfortable carrying bag. On site they turn into an exclusive eye-catcher in very short time. The assembly is child's play. Simply roll out the print, hang it on the telescopic rod and fix it to the desired height – done! The mobile advertising banner is set up and aligned within a few seconds and the robust housing guarantees a secure stand.
Roll Up displays from Vispronet® present companies, products and information in high quality and visually appealing way. Choose from different materials the right display for your print. Do not leave anything to chance. Put your Roll Up display in the right light and scene. The powerful halogen spots available in the accessories section round off the range of products and thus enhancing perfectly your appearance. Discover the entire range of products available online in Vispronet® print shop and order your favorites today.
Design online Roll Up banners with logo & text for free
Vispronet® offers you the Roll Up banner in various sizes with up to 6 square meters of printed surface. With our design tool Visprodesign® you can create the print of Roll Up banner yourself without being a graphic designer.
Simply upload your own photos and combine them with text or use one of the numerous free design templates or clipart for your design. Let your creativity take over your mind and body. The Roll Up Select, double-sided, offers you two prints in one system. You can design the front and back with the same or different motifs as you wish. Your motifs are transferred then to the printed surface in bright colours with very good light fastness. You can use it to advertise your cooking event, new product, sales campaign or your workshop in a meaningful and professional manner.
Order inexpensive Roll Up display online
In the print shop Vispronet® you can design Roll Ups online and receive your ordered product quickly. Do you need your product the next day? No problem with the overnight service. Just send us the error-free design during working days until 9:00 am and we will send you the individually printed Roll-Up display the following day.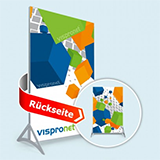 Of course, you can also order your Roll Up via normal or express delivery. Do you require that your order is shipped in partial deliveries to multiple delivery addresses? Then use our multi-address service. On request, we also deliver your ordered products neutrally packaged and with neutral shipping invoice. Try it!
Use additional displays in support of Roll-Ups
If you have the opportunity to implement other display systems in your own promotional concept, then take a look at our Q-Frame® display wall. The versatile display wall is available in portrait and landscape format. It offers you a number of options for light, inexpensive mobile presentations. The display wall makes extensive advertising for your cause and is available in various designs and sizes.
Your advertising message on Roll Up display
A roll up display is always the first choice for advertising material when you want to present extensive advertising messages in an appealing manner and it has to be fast. The display can be assembled just as quickly as it can be put away in the padded transport bag. A Roll Up display is particularly suitable for mobile use at trade fairs, exhibitions or other events.
The size makes the advertising display a particularly striking presentation system that offers you numerous design options - whether it's plain text, effective images or an overview of your products and services - there are no limits to the design of your mobile Roll Up display. With our free design tool Visprodesign® you can create your professional Roll Up display with just a few clicks, even without previous graphic knowledge or use of expensive graphics programs.
Professional printing of your Roll Up displays
We print your advertising displays according to your individual ideas in digital or screen printing. If you wish to print more than one Roll Up, you can even benefit from an attractive price advantages due to the higher number of ordered items. Send the finished print data for your Roll Up display to us after completing the ordering process based on our layout template or create it in our free design tool.
In our standard print data check, we will notify you of any deviations by email. This way you can be sure that we will print your Roll Ups correctly and in the highest possible quality. On request, you can also choose a professional data check for your order, a print sample for your Roll Up display and a colour-binding printout, which we will send to you by post.
Your benefits with Roll Ups from Vispronet®
- Representative advertising space for extensive advertising messages at trade fairs, POS or for presentations
- Especially suitable for mobile advertising
- Uncomplicated and lightning-fast handling
- We print your desired motif on your displays
- With bag and optionally with suitable lighting
- Good value for money for your advertising
- Roll up displays in various formats and sizes up to 6 m²
- Available in standard, express or overnight delivery
Design yourself Roll Ups at Vispronet®
For free-standing setup of the Roll Up we recommend usage of a double-sided print in which your logo, photo or message can be recognized from both sides. With up to six square meters, you can let your creativity run free when designing your motif and easily implement your idea with the help of our Visprodesign® design tool. The handling is very easy even for a layman and does not require extensive graphics knowledge.
Of course, you can also use one of our numerous, high-quality design templates. Have your Roll Ups printed inexpensively at Vispronet® and benefit from the long-lasting quality of our products and the experience of our online shop. A large selection of templates can also be found in our Visprodesign® design tool. Simply select an attractive template according to your taste and customize it according to your wishes. Naturally, this also applies to our other display systems.
Various uses of Roll Ups and presentation options
At trade fairs, promotional events and many other functions, Roll Ups are very popular advertising medium that can be used in many different ways. These display systems are very popular because they underline perfectly the distinctive character of your own exhibition stand and are extremely flexible. Due to the different and diverse possibilities in the choice of motif and type of print, an individual use and at the same time professional appearance are guaranteed.
Even without special tools, the Roll Up displays can be set up in a matter of seconds and are easy to transport due to their lightweight construction. The low price and the robust material properties make the Roll Ups the real eye-catchers at every event.
Flexible and easy to transport - advantages of Roll Ups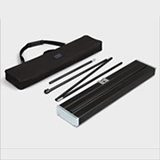 Although Roll Ups are very flexible and can be used on a mobile basis, they impress with their robust stability. This is why they can also be used outdoors for short term displaying your advertising message. For this purpose you should use the Roll Up Select Outdoor with its weather-resistant material. The PVC-coated vinyl canvas is particularly suitable for short-term outdoor use. This material is not only hard-wearing but also impresses with its high quality.
Naturally, all materials are protected against environmental influences, so that the colours used remain bright and expressive even after prolonged exposure to the sun. There are some differences in the Roll Ups that you should consider when purchasing your display. Depending on how you want to present yourself, you can choose between displays and banners. Setting up the displays is child's play - with just one hand, similar to that of a window blind, you can pull up the advertising print and open it. The printed advertising banners on the other hand are fastened with a clamping rail and easily replaceable print.