Seating elements
The convenient way to advertise with seating elements from Vispronet®! Use seating elements with double effect. Offer your guests or visitors comfortable seating and at the same time advertise your company or your products. Print your own design on leisure chairs, inflatable seating elements or bean bags. Discover the possibilities - Seat cubes offer space for 6 different motifs. Seat cushions can be personalized for example with photos and are an exceptional gift or give-away. Furnish your events with all-round products and order chairs, benches, tables and stools from our extensive offer.
1. Use
2. Deck chairs
3. Seat cushions & bean bags
4. Inflatable seating
5. Design online for free with Visprodesign®

Printed seating elements - relaxed advertising
Seating elements, such as deckchairs, , seating cubes or inflatable stools, are very popular seating at trade fairs, in bars, beer gardens, lounges or waiting areas. Do you wish to promote your messages such areas? Stay relaxed and advertise relaxed on seating for your products or your company! You can design our products yourself and print seating elements online with photos, logos or advertising slogans. Starting already from 1 piece! Printed furniture is the two-in-one solution. It offers comfortable seating for your customers, visitors or guests and at the same time modern advertising space.
Seat cube - advertise easily and sit comfortably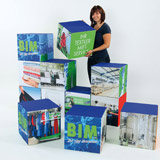 Auf Events, Messen oder in Wartebereichen sind Seat cubes and seat cylinders can often be found at events, trade fairs or in waiting areas. If you print on a seat cube, you have space for six different designs. Full-size images are just as effective on the side surfaces as logos, photos or short statements. If this is too uninteresting, you can also print the seat cube in a form of game cube with numbers. This way, your guests will feel like playing a game. Or design an advertising wall or pillar with different motifs. You can then change the designs again and again and encourage visitors to solve a puzzle for instance.
An all-around motif looks particularly good on a seat cylinder. Both bottom and top surfaces can also be printed. You can be creative and design a funny seat cylinder, for example a tin can or a tree trunk for the showroom! Seat cylinders are not only a practical piece of seating furniture, but can also be stacked on top of each other as a column for decorative purposes. Our high-quality digital printing convinces with strong colours and a long durability. You can wash the custom printed cover in a normal washing machine. Your guests, customers or employees will enjoy the seating elements for a long time to come.
Print leisure chairs - present yourself always right!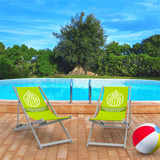 Printed lounge chairs are very trendy. Advertising messages on a leisure chair are striking and used in different places. Have your deckchairs printed and use the entire surface. Let your deck chairs invite people to relax and at the same time increase the level of awareness of your company or your brand.
Have furniture printed and discover the wide range of possible uses! Leisure chairs are not only used in the home garden or on the beach. Deckchairs, director's chairs or beach chairs are often used at events or in restaurants. This means that your brand is also present in frequently changing locations. You don't need a lot of space to transport and store leisure chairs. Simply fold and stack them!
Are you looking for a practical yet extraordinary gift for friends, family and business partners? With printed leisure chairs you are always spot on. Designed with funny sayings, photos or your company logo, the personalized deck chairs, beach chairs and director's chairs are a double success.
Personalized seat cushions & bean bags for a special atmosphere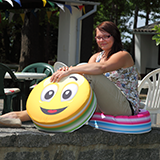 Seat cushions are comfortable and cozy. If you are looking for seat cushions for your beer benches, chairs or stools, , you can have them printed in Vispronet® online print shop. Whether with logos, photos or your own design, the soft seating elements make every piece of furniture much more comfortable.
Seat cushions are also very popular as event furnishings and practical give-away items. This way your advertising message reaches directly your targeted group. You have a choice between round and square pillows and bench pads. Seat cushions do not always have to be used only on seating furniture. They can be used almost on any surfaces to provide comfortable seating.
We print seat cushions in the highest digital print quality with durable and strong colours. The seat covers are washable and can be replaced at any time.
Optimal für Kinderzimmer oder Chillout-Areas sind die trendigen Sitzsäcke. DThe trendy bean bags are ideal for children's rooms or relaxing areas. The iconic furniture is very popular, especially among the younger generation. Bean bags adapt perfectly to your body shape and invite you to sit back and unwind. You can order bean bags from Vispronet® in a round or square version or in the unusual teardrop shape.
Seating elements Air - Inflatable furniture for events and promotions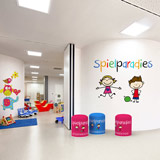 Inflatable lounge and exhibition furniture are a hit! At Vispronet® you can print individually the iconic inflatables. Air seating elements are not only amazingly robust; they also have proven to be very practical, especially during an event or trade fair. Their simple and quick construction as well as the compact transport size enables almost unbeatable mobility and flexibility.

Use inflatable seating elements for your advertising purposes! All Air seating elements have an interchangeable cover that is printed with your logo or full-surface design. With Vispronet® you can put together an entire lounge or exhibition area! You can rely on inflatable seating:
• Pouf Air
• Cylinder seat Air Basic or Select
• Couch Air
• Lounge chair Air
As a perfect combination, you can order other inflatables with the same design, for example:
• Advertising pillar Air
• Event tent Air
• Promotion Counter Air or
• Event arch Air
This way you are perfectly equipped all round - everything from a single source, in the highest quality and at fair prices!
Design your own seating elements from Vispronet® and have them delivered overnight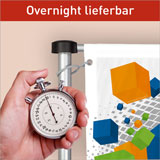 You can design individually seating elements kin our online print shop. There are no limits to your imagination: photos, logos, lettering or graphics - everything is possible. You do not need any graphic knowledge to use our free design tool Visprodesign®. The design is created practically by itself with just a few clicks. This is how you design unique, custom printed seating elements..
Whether leisure chairs in custom design, seating cubes, bean bags or cushions - Whether leisure chairs in custom design, seating cubes, bean bags or cushions - our seating elements impress with their excellent quality. If you need your order quickly, you can have seating elements for promotions, events or as a gift delivered overnight. For this we need the correct print data by 9:00 am and then we will deliver the seating elements to you the next working day!
Vispronet® - seating elements, event and leisure equipment by professionals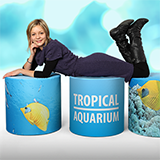 Seating elements and seating furniture are important components of reception areas, exhibition stands, business lounges or events. If you wish even more, you are in the right place at our online print shop Vispronet®. With us you receive everything related to event equipment and leisure. This includes posters as well as tablecloths, photo clocks or floor mats. You can create atmosphere and equip your events or furnish your own home with impressive design. Unleash your imagination and discover our variety of products!