Car flags, Hand waver & Small flags
Car flags and other hand waving flags are a sympathetic advertising medium with high efficiency. Custom designed car flags add a cheerful splash of colour, driven throughout the city and carrying out your message to the public. The flags can be versatilely used at a private event, wedding, anniversaries, during sport events by fans or simply for your company. Design your car flag yourself to match the occasion or present it as a reminder gift to your guests.
Buy online small flags in numerous designs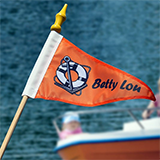 The online printing company Vispronet®® has numerous small flags on offer which can be designed and printed with individual motifs. Small flags are very appealing advertising media with a high attention factor. Suitable for different occasions, you have the choice between the following small flag designs:
Boat pennants from Vispronet®. These small flags are fitted on the left side either with drawstring or hemstitch and can thus be easily combined with poles. Boat pennants are available in the sizes 30 x 20 cm or 40 x 25 cm and are extremely versatile. They can be used classically on the railing of a boat, bicycles or a wooden stick pole.
Car flags can be quickly and easily attached to the side windows of a car. Car flags are also available in two different sizes. They are delivered with flag holders and are ready for immediate use. A must-have for every fan. A sign of togetherness, especially for traveling in a column such as wedding, soccer matches or anniversaries.
Small flags with suction cup holder or suction cups. The small flags with suction cup holders are also known as window flags or window banners. Vispronet® offers these practical small flags in various sizes. If fitted with suction cup holder s the flags made of fabric can be easily attached to windows, doors or other smooth surfaces. Prints made of display foil or vinyl tarpaulin can be easily attached to discs with 4 suction cups. Your big advantage is that the suction cups and suction cup holders can be removed without residue from any surface and are reusable.
Additionally, you can buy online a classic small flag with drawstring or hemstitch. These small flags can be completed with a wooden pole and used for instance for cheering during a festival parade.
Design yourself small flags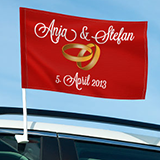 You still do not have an idea with which motive your small flag should be printed? The free design tool from Visprodesign® offers you a variety of clipart and thematically suitable background graphics for the design of your own small flag.
In just a few simple clicks you can design your very own small flag. The user-friendly interface basically leaves no questions unanswered. Your design is then printed on a fabric. Thanks to state-of-the-art printing technology, the motif on the back will appear mirror-inverted. Tear-resistant sewing threads and proven flag fabrics make our small flags a popular advertising medium for larger and smaller companies.
Order small flags overnight
You have deadline pressure and need small flags on short notice? With the reliable overnight service you can order the small flags almost from one day to the next. At the end of the order, simply select the "overnight" delivery method and send us the correct print data by 9:00 am at the latest. This way you'll receive your order of small flags the next working day.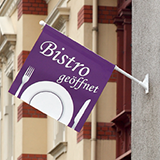 Other small flag shapes
Our small flags come in many shapes. In addition to the boat pennants, car flags or hand flags, they can also be ordered online in a form of an ice cream flag. Ice cream flags, also known as kiosk or lotto flags are especially common on the facades and entrances of local shops in the summer months. With the right design these small flags attract immediate attention of passersby. They are printable on both sides and can be ordered online in various sizes and designs. If you are looking for a suitable small banner for your store, we recommend a look at our ice cream product range.