Fabric Outdoor Banner
The outdoor banners can be attached to walls, railings, bridges, fences, stretched acrossbar roads and are even extremely versatile for indoor use. The banners provide a very effective advertising means for companies, private parties, club events and anniversaries, etc. Available in different materials, inexpensive and simply cut form a roll. Highly breathable material, elastic and extremely durable, made of Varioflag® A. Very high through-printing, in luminous colors and light-fastness without bleed.
Print outdoor banners
Banners are a popular medium in outdoor advertising presenting messages, events or important news to the public. The high-quality banners from Vispronet® can be easily attached to facades, railings, bridges and fences. Promote upcoming city festivals, open-air events or public museum days with a freely hanging banner in custom design. Banners find always application even in an interior use.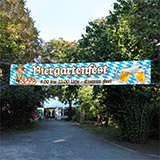 Printed outdoor banners are both effective advertising for companies and extremely decorative announcements for private parties, club, school and kindergarten events or anniversaries.
Vispronet® produces printed banners made of different materials. Polyester fleece is a reasonably priced banner material and it's printed continuously and then simply cut from a roll. Varioflag® A is an air permeable and very elastic flag fabric. It makes banners extremely resistant to wind and bad weather. The all-round flag fabric Multiflag® SE is the classic among the flag materials and also ideally suited for the banner printing. Outdoor banners made of Multiflag® SE material impress with their brilliant print pattern, outstanding print quality and excellent value for money. Your banner motifs are printed in radiant colours and with very good lightfastness.
Print online custom size banners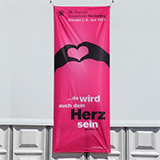 When purchasing a banner you have a choice between different formats. Banners in landscape and portrait format are available in Multiflag® SE and Varioflag® A SE materials. Banners made of Polyester fleece at Vispronet® are printed continuously and can be cut from a roll. Depending on the application, you decide which banner size is best for your needs. Once you have decided on a basic format, all you need to do is to specify the exact dimensions. If standard sizes are not what you wish for, then order your printed banner in custom desired size. At Vispronet® banners are made to fit customer needs.
It is recommended for longer banners that they are fitted with eyelets minimum every 50 cm for proper mounting. This way your printed banner will hang straight on facades and fences without sagging. The banner eyelets have a diameter of 10 mm and are made of sturdy and rustproof metal. Optionally, for suspension you can buy a solid braid or rubber cord in the banner accessory section.
Design outdoor banner with photos, logos and your own motif
If you do not have a ready-made motif for your banner, then you can simply design one with Vispronet®. The integrated, free design tool Visprodesign® is a simple feature available online and allows you to create an eye-catching design for successful advertising and decorative home elements. Use the free clipart and background graphics available in the Visprodesign® tool to create unique designs that stand out. Your motif will appear on the back as a mirror image.
Outdoor banners with grip clips for quick suspension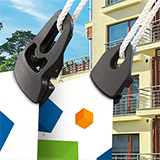 Textile banners without eyelets are very difficult to mount in some places. Vispronet® offers a flexible solution to this challenge - banners with grip clips. The practical grip clips can be easily attached to banners without the use of additional tools. Simply place the fabric between the upper and the lower part of grip clip, clamp it and ready! Now your banner can be easily hung displaying your message. The advantages of the weatherproof grip clips are obvious as they can be removed without residue after use and reused on your next banner. We offer the material-saving grip clips in different colours and 2 versions. Grip clip Mini with a tensile strength of 45 kg and grip clip Midi with a tensile strength up to 100 kg.
Overnight service from Vispronet® - fast banner delivery
In order to keep customer service at a high level, we try to respond quickly and safely to the wishes and suggestions of our customers. We have listened to our customers and introduced an overnight printing service at Vispronet®. To use this service you need to submit your correct print data by 9:00 am and the next working day you will receive banners ready for use.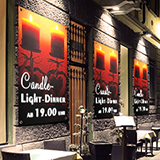 Vispronet® pre-washes all banners so that they will not bleed or fade quickly during the first rain.
Use attractive advertising material next to your banners
Our assortment of attractive promotional opportunities is wide-ranging. Vispronet® will gladly provide you with further outdoor advertising in addition to textile banners. Spread your information to broad public. For example with advertising tarpaulins printed in custom size. Various materials and flexible suspensions allow for almost unlimited use indoor and outdoor.