Info Board
Info Boards from Vispronet® provide your visitors, guests and customers with important information. The information boards with folding frame and a secure base are suitable for indoor and outdoor use - in hotels and restaurants, at family gatherings, anniversaries, in showrooms, at trade shows and events. Available in different sizes and designs they can be supplemented with additional leaflet holders. The info board comes in portrait or landscape orientation, thus offering a layout flexibility. Ideal as a sign, presentation, promotions, as a guide or a scoreboard.
Info boards, information stands or discretion stands - one system - many names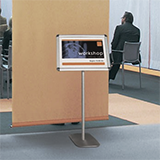 The information boards have many names in the industry. Among other names used, they are known also as discretion stands and information stands. As the name already suggests, the practical information boards should inform people quickly and specifically. At trade fairs, exhibitions and in sale areas, they assist to better present products or to highlight important cornerstones.
The light weight of the classic info stand from Vispronet® allows at any time a quick change of position. The viewing height on average 1.90 m ensures that the information boards cannot be overlooked. Place your information board or information stand next to exhibited products, such as a cars or furniture etc. Present your menu in restaurants on a Vispronet® Info Board or greet your hotel guests in the foyer with a clear layout of all important rooms.
Info boards from Vispronet® - information stand as a modular system
Regardless of the purpose for which an information board is needed, due to the modular system, they are adaptable to any environment and yet remain discreet in the background.
Whether trade fair events, medical practices, hotels, public institutions, or car dealerships. Individual information boards from Vispronet® can be composed of the following separately available system components.
Choose between the following two basic info board variants:
Info board A
The info board A is delivered with a snap frame in DIN A3 or DIN A4. The snap frames made of silver anodized aluminum can be used in portrait and landscape format. The sturdy foot made of aluminum is provided on the bottom with rubber knobs for a secure stand.
Info board B2 (individually configurable)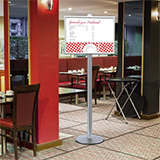 This information stands can be configured according to your own ideas. Four basic systems are available.
Info boards - useful indoor signs and information boards for public offices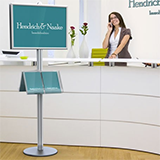 The info boards DIN A4 DIN A4 and DIN A3 and B2 made of aluminum are suitable for information presentation as well as provide guarantee of discretion distance in the bank or post office. For years now these info boards serve as building signs in public offices as well as signage in galleries, museums or at the exhibition stands. A high level of stability and first-class workmanship ensure that you will still enjoy your information stand for years to come. The basic modularity allows for perfect coordination of information stands on the desired site.
Direct visitors through your building with an Info Board from Vispronet®, explain your product at the exhibition or in the showroom. The clamping profiles of the poster frames enable a quick and comfortable poster change.
Order Info-Stand overnight - fast delivery for urgent orders
The Vispronet® service offers also many delivery options. If you need your Info Boards overnight, you have the possibility to order the desired product in the shop and you will receive it within one working day.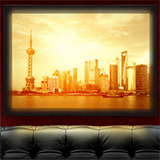 All you have to do is click on the "overnight" option in the delivery. If you have extra time for delivery you can choose the express shipping method and you will receive your product from Vispronet® within three working days.
LED snap frame - the modern counterpart to info boards
In addition to the classic information boards, we also offer our customers a modern way to put their own advertising or important information in the spotlight. With the energy-saving LED snap frames your posters start to shine. The LED light frames are particularly popular in gastronomy and hotel industry, but also in museums, car dealerships and exhibitions. Illuminated information boards and signposts guide your guests safely through restaurant, hotel or museum. The energy-saving and uniform illumination through LEDs makes these display systems an interesting alternative to a classic floor stand.