Gazebo & Pop Up Tents
The professional Pop Up tents and gazebos from Vispronet® are frequently used and known for their functionality. They offer not only flexibility but also longevity. Whether as a promotional tent at fairs and markets, as a party tent for club and street festivals or as airy event pavilion - fully clad and with 4-color printed roofs, valances, walls - these tents offer a special degree of individuality. All canvas parts are protected through additional laminate, UV- resistant and extremely scratch resistant. All seams are sealed. The tents come in many different combinations and with diverse accessories.
Custom printed folding tents & gazebos

1. Overview
2. Possibility of personalization
3. Order spare parts

Buy a tent - large selection at Vispronet®
You want to buy a high-quality advertising tent which is designed according to your wishes? Then you are exactly right at Vispronet®. We offer you a varied selection for indoor and outdoor use and individually printed according to your specifications with logo, lettering and other designs. Our models are available as a tent with protective side walls as well as gazebos. You can choose between different variants: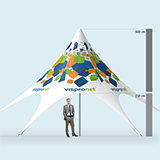 While the Star and Hexagon models differ primarily from the other advertising tents in their appearance, the difference between the Basic, Select and Compact tents lies only in various safety grid systems and product materials used. Additionally, the Vispronet® online shop will provide you with suitable accessories for customizing your chosen tent as well as stabilizing and securing it outdoors. Choose a classic square model or a tent in hexagon shape. For an exceptional use at outdoor events you may consider our star-shaped tents and canopies.
Robust, waterproof and flexible - a promotional tent for every use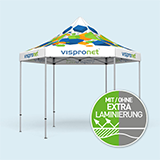 When you buy your tent from Vispronet®, you will receive a particularly robust product with a foldable grid system. The structure is very simple thanks to our detailed instructions and can be - depending on the size of the tent - assembled by two people. The frame is locked by a lever, whereby the different models allow a 4-way or 5-way adjustable overhead height. Thanks to connectors made of fiberglass-reinforced plastic, our tents remain permanently stable even with frequent assembly and disassembly. Additionally, some models have an integrated crank system for tensioning of the tent roof.
In our assortment you will find the Pop Up tent Compact with a frame made of powder-coated square profiles and finished in silver-gray aluminum. The Pop Up tent Basic has hexagonal profiles made of powder-coated steel, whereas the Select variant up to 3x6 m and the Select Hexagon tent comes with anodized silver-coloured aluminum and same hexagonal profile shape.
Particularly stable octagonal profiles are available with the tent Select from a size of 4x4 m. The feet of each model are made of either sturdy steel or fiberglass reinforced plastic, which contribute to a very good stability. Supplementary guy sets and stackable weights or plates for stabilization are also available in our online shop. The sturdy polyester fabric, used to cover every tent except the variants in the four primary colours, is waterproof up to a water column of 2,000 mm and has a very good to excellent light fastness (according to DIN 53952: grades 6 and 7).
Versatile use - print your Pop Up tent and Gazebo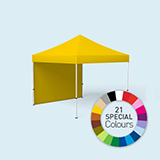 At Vispronet® in addition to custom printable models, there are also available tents and gazebos in monochrome colour finish. These models however cannot be printed. You have choice between four primary colours red, blue, white and black as well as 21 special colours. The tents in basic colours are printed with strong colour appearing on both inside and out. The tents in 21 special colours are only printed on the outside with fading through on the inside. With the printable tents your logos, graphics or text can be printed on the roof, sidewalls and valance. Find your favored tent now and design the selected product yourself at Visprodesign®.
Buy your tent now at Vispronet® – the best price performance offer
Regardless of the size of ordered tent at Vispronet® we always offer you the best price and the highest quality. We only use weatherproof and fade-resistant materials that allow for usage of the tents and gazebos both indoors and outdoors. You can rely on a competent advice when you buy your new advertising tent from Vispronet®. We look forward to your inquiry.