Advertising flags
Here you will find high-quality, durable advertising flags in various designs and free sizes for the perfect presentation of your advertising message. With our Bowflag®, hoist flags, street banners, small flags and club flags you can effectively stage events, trade fairs and company presentations. Whether indoor or outdoor - advertising flags from Vispronet® are always the right choice! Advertising flags can be designed easily and quickly online. Print your flags in brilliant digital printing with logos, advertising slogans or individual designs – starting just from 1 piece!
1. Advertising flags - an overview
2. Advertising flags - for everyone
3. Advertising flags - our service

Advertising flags for optimal outdoor use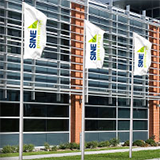 Printed flags offer you an optimal advertising medium that increases your visibility and awareness efficiently. Flags of any kind are already visible on the outside and can be used as a point of orientation for new customers. At ® you will not only find a large selection of different flag variants, but also the possibility to design them individually and according to your wishes. With our free design tool Visprodesign® you have a control over your desired layout and can set new standards in terms of creativity.
Vispronet® offers you not only the chance to create the design of your flag yourself, but also a large selection of different models. Browse through our extensive range with a large selection of different formats. Our diverse range is suitable for large companies as well as for private individuals.
From large to small - our advertising flags at glance
To help you get started in the world of flags and banners, we have put together an overview of our product range:
• Car flags & small flags
• Double-layer flags
• Ice flags & kiosk flags
• Hoist flags
• Street Banner
• Association flags
• Bunting
• Bowflag
Thanks to the high-quality workmanship and the use of the best materials, our advertising flags are mega robust and have a lifespan that is twice as long as that of conventional flags and banners.
Advertising flags for large and small companies as well as private individuals
Discover our advertising flags for a variety of applications. Do you own a large company and a correspondingly large company site? Then our hoist flags ensure good visibility. We provide hoist flags in a custom format and with a dovetail. Depending on how much attention you wish to attract, you can choose between our standard sizes in portrait format, which range from 80 x 200 cm to 150 x 600 cm. Widths up to 250 cm and lengths up to 1000 cm are available in custom sizes. In landscape format, you can order advertising flags from 120 x 80 cm to 335 x 200 cm. Customized versions with a height of up to 250 cm and a width of up to 700 cm complete our offer.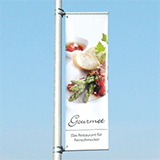 Is your company a little out of the way in an industrial area that is difficult to see? Then use Street Banner to direct customers to your site. These can be easily attached to utility and lampposts and on walls. Street banners are among the classic advertising flags. For maximum impact, install two-sided or three-sided systems that are clearly visible from every perspective.
A real eye-catcher for company premises, trade fair events, but also events and restaurants are Bowflags, which we manufacture in various forms. Due to their unusual appearance, the advertising media, also called beach flag, draws visitor attention like a magnet bringing potential customers directly to you.
Vispronet® offers not only to the large customers a perfect advertising flag, but also to small businesses and private individuals. For example, are you looking for the right flag for your kiosk, restaurant or café? Then our small flags are the perfect solution for you. These can be easily attached to walls using a bracket and thus clearly indicating your location.
In keeping with the theme, we have also pennant chains ready for you, which could decorate your location in a targeted manner thanks to availability of custom design. Draw attention to your anniversary with bunting or start the carnival season in style with your cheerful motifs. There are no limits to the variety.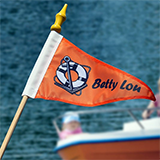 Car and boat flags ensure in motion effectiveness of the advertising. Enhance the impact of your company car with a friendly car flag to attract even more attention. Or decorate your boat with a daring pennant that expresses that you are the "master of the lake".
With the help of advertising flags you will always reach a large audience, generate a lot of attention and high visibility. Discover our extensive range and let your creative streak run free with Visprodesign®.
The first-class service with Vispronet®
You can order numerous products from us by using overnight delivery. Simply send us your desired layout by 9:00 am and we will deliver the items to you the next working day. For larger orders, you also have the option of express delivery, which can be delivered within two to three days.
If you have any questions or suggestions about any of our subject areas, please contact us either by phone or using our contact form. Our team of specialists from Vispronet® will serve you with advice and solution.