Event & leisure equipment
Under event and leisure equipment you will find everything for your events, promotions and private parties! Personalize tablecloths, seating elements, leisure chairs or wallpaper with your most beautiful photos, design or logos. Posters, photo clocks, seating cubes or photo bedding are special gifts for all kinds of occasions. You can easily design your event and leisure equipment online, free of charge and without prior graphic knowledge. Choose in the design tool Visprodesign® from a large selection of finished design templates and clipart, upload your own photos and combine them with text.
1. Event equipment - an overview
2. Event equipment - for everyone
3. High quality products - fair price

Event equipment for companies, clubs and private individuals
A successful event requires the right equipment, which not only enhances the location visually, but can also be used to convey a specific message or advertising. With individually designed event equipment, your customers can casually discover the cause for the event and get to know you as the organizer. As one of the world's largest printing companies, we offer you the opportunity to personalize decorative elements according to your wishes. In our extensive range you will also find different equipment options for your trade fairs, lounge areas, exhibitions, weddings, club celebrations and much more. Browse through our offer for event equipment and be inspired by the variety.
An overview of our individually designed event equipment
For your next event - whether private or business - you will find the right decorations at Vispronet®. Our product range includes:
• Printed beer tent sets
• Photo wallpapers
• Floor mats
• Leisure chairs
• Tables, benches, chairs & stools
• Seat cushions
• Beanbags
• Seat elements
• Inflatable seating elements
• Tablecloths
• Table covers
• Pads
• Table Runner
• Protective plates for tables
Event equipment for lounge parties, trade fair events, club functions or private celebrations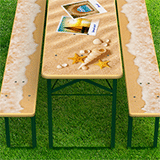 Are you planning a lounge-style event or a private celebration with your club colleagues? Then you definitely need the right equipment. Printed beer tent sets or tablecloths give your location a special flair that will delight you and your guests. Our printed textiles are hard-wearing and flame-retardant, making them ideal for any type of event. If there are stains from leftovers or drinks, you can simply wash and reuse your seat covers and tablecloths.
Design your personal lounge area in no time at all with seating elements, bean bags and inflatable seating which are also suitable for outdoors. With these extraordinary advertising materials you create a very special and unique ambience. Naturally, the beanbags are also made of a robust and washable outer cover which is easy to clean.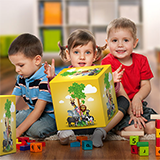 With the seating elements made of foam, you will create a special eye-catcher for every lounge area or at your trade fair appearance. They can be printed on all sides. Stack them up to create impressive advertising walls or narrow columns.
Inflatable seating from Vispronet®® is a skillful alternative to conventional seating. Due to their individual design, they are ideal as portable elements for trade fairs, short exhibitions or company events. Combined with an inflatable exhibition counter, you can quickly set up an area as a meeting point for customer advice and information at every sales exhibition. The inflatable seats are easy to transport and save space.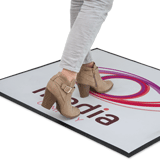 Greet your guests with personalized floor mats. Printable protective plates for tables give you an excellent opportunity to advertise your company or to announce the topic of the event. These protective plates are made of transparent acrylic glass and effectively protect against soiling, moisture and scratches.
With Vispronet® you get an extensive product range for your event equipment that leaves nothing to be desired. If you still cannot find your special product configuration, please contact us. We will get back to you as soon as possible with a suitable solution.
Vispronet® – your online print shop with high quality products and fair prices
The specialists from Vispronet® print your event equipment with custom desired motif. Whether individual beer tent sets, seating elements or table covers - with almost 30 years of experience, no order is too small or too big for us. Benefit from our modern production facilities and fulfill your wishes in terms of event equipment with high-quality products from Vispronet® at an absolutely fair price.
Do you have any questions about the order process, printing or layout? Then do not hesitate to contact us. We can be reached via telephone from Monday to Friday, from 9:00 am to 6:00 pm.