Flags and flagpoles
From XXL to XXS: flags, Bowflags®, advertising flags, fabric banners and various table advertising materials available in top quality. For advertising, celebrations, events for companies or private customers. Choose from different standard formats or order in custom desired sizes. National, state and special flags are also available in form of small flags, table banners and table flags. Flags from Vispronet® last up to twice as long as comparable competing products available on the market. You will also find a large selection of flagpoles made in Germany. The wide product range includes masts made of aluminum, stainless steel and GRP, as well as mobile flagpoles for use at changing locations.

1. Quality promise
2. Possible usage
3. Design your own flags
4. Outdoor banners for every purpose
5. Quality flagpoles made in Germany
6. Shipping times

Print flags & choose from a large variety of products at Vispronet®
Large or small flags of all kinds send out a distinctive signal. At Vispronet® you can print a variety of flags for your company, clubs or private events. From large hoist flags, national flags or club flags, through fabric banners, continues banners, beach flags to small kiosk flags or car flags. Your advantage in our online print shop Vispronet® is that you can design your own flags with custom motif and in desired size. Order online flags in excellent quality, custom printed, expediently and inexpensively!
Vispronet®online print shop - More than just flag printing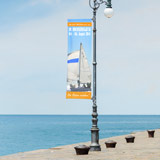 We can do more! Vispronet® prints all your flags, beach flags or double-layer flags in custom size with desired motif, slogan or advertising. But that's not all. In our print shop you will find a variety of advertising and decorative materials for clubs, private events or corporate presentations all from a single source. At the same time you can order high-quality flagpoles, flag staffs or hanging accessories for all your products.
Fabric banners are highly presentable and decorative item for indoor use. Choose the right type from a large selection of hanging options. The special highlight of the decorative banners is that they can be printed on both sides with different motifs made of Twiny fabric!
Table banners are very popular decoration and advertising materials for tables and counters. The small table stands can also be found very often in clubs, hotels and at trade fairs. Our range is very diverse; in our shop you will find the right table banner for every application - classic table banners, table pennants, table flags, car banners or Bowflag® T. To complete your order you can also buy inexpensive and elegant table stands.
Print flags with logos or advertising messages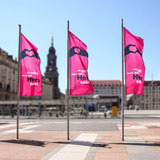 Print your advertising message on the flag! The most effective way to make your company, your brand or service known and to remain in the memory of potential customers for an extended time is a combination of different advertising media. A wide range of products are available for this purpose. Personalized advertising flags with company's logo are not just a perfect outdoor advertising media. You can also put products and services in the best light at trade fairs, events or with promotional measures. Design the appropriate flags for your flagpoles online quickly and easily yourself! As a perfect addition you can also design table flags, decorative banners or beach flags. If you are looking for inexpensive giveaways for events, we recommend that you print small or car flags with your logo.
Kiosk or ice flags are an excellent choice especially for shops, promenades and snack bars. The flags offer a striking advertising space on which your logo or special offers can be displayed. With the appropriate flag holders, you can easily attach the small flags to the facade or to a window.
Printed flags for clubs and special occasions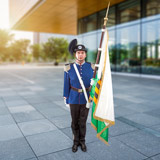 Design your club flags for parades or club rooms almost effortless and in just a few steps. Flags express solidarity and sense of belonging. Support your team with your own club colours or decorate events with eye-catching flags fluttering in the wind.
Flags are also great for dressing up different festive occasions such as wedding or birthday parties. Personalized table flags with table covers in the same design give the event a very individual flair. Designing matching car flags with the same motif and driving to the event location becomes an unforgettable event.
Buy flags from Vispronet® in top quality
Whether large hoist flags fluttering on flagpoles or small, colorful car flags - Vispronet® offers you top quality flags, beach flags and outdoor banners for every budget and every purpose. Our flag printing brings your desired motif in bright colours with the highest light fastness to the desired advertising effect.
When used outdoors, hoist flags and banners are particularly exposed to weather and environment influences. As a flag manufacturer, we have decades of experience that we pass on to you with all of our products. In comparison to competing offers, flags from our range guarantee more than twice the durability compared to standard quality available on the market.
At Vispronet® you have the choice between 4 flag qualities:
• Standard flag fabric: glossy polyester knit Multiflag® SE, very good price-performance ratio, good durability, printed image on the back up to 100% visible
• • Use possible without hems: glossy polyester knit Polyestergewirke Varioflag® A SE, particularly permeable to air due to perforated structure, 50% longer durability compared to standard material, printed image on the back 100% visible
• • Super strong: matt gloss polyester knitwear Primeflag, double durability in comparison to standard material, printed image on the back 100% visible
• • Megarobust: matt Supraflag® polyester fabric with more than double durability in comparison to standard material, printed image on the back 100% visible
Design your own flags with just a few clicks using Visprodesign®
You are not a graphic professional? No problem, because designing flags yourself is a child's play with our Visprodesign® tool! With the free software, your design is created almost automatically and you do not need any previous knowledge to do this. In Visprodesign® there are a variety of clipart and finished design templates available, from which you can conveniently select your favorite motif and edit it as desired. There are no limits to your imagination when designing flags and decorative banners and in addition you save money on a graphic designer. Simply combine the templates with your own photos, graphics or lettering and create flags and street banners in the corporate design of your company or the club colours. You can see what the finished flag will look like in the product preview during design.
Show the flag with Vispronet® - Buy national or special flags
For representative occasions or sporting events you can order the appropriate standard flag at Vispronet® in various sizes and designs. For example national state or special flags as hoist flags or table banners. During football events you can express with car flags or pennants which team your heart beats for!
Flagpoles made in Germany – Highest quality and long durability
Vispronet® is your flagpole shop for professional quality masts made in Germany. In our wide range of flagpoles you will find matching your flags masts with or without banner arm for every purpose:
• Mobile flagpoles: flexible, portable flagpoles made of aluminum, various masts to choose from, including stable base elements
• Flag presenter: for full visibility of hoist flags in portrait format even without wind, tension-free unfolding of flags, can be ordered for flag widths of 100 cm, 120 cm and 150 cm
At Vispronet® you can buy the right flagpole for your hoist flags in the highest quality and best prices. In our offer of products you will also find the right accessories for flags and flagpoles. Feel free to contact us if you have any questions.
Continuous & outdoor banners - Advertising made easy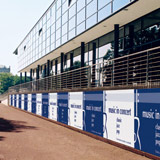 Outdoor banners are an effective way to make advertising messages visible to a large group of people quickly and inexpensively. On request the outdoor banners can be fitted with eyelets. They can be easily attached to facades, railings, bridges and fences with elastic bands, cord or cable ties.
Advertising from a roll - for example continues banners made of polyester fleece are printed in one piece and can be simply cut from the roll at the point of use. This way advertising couldn't be more practical and inexpensive!
Many companies value continues banners as an effective advertising medium. The versatile banners are very popular and used as decorations for private or club celebrations, school and kindergarten parties and anniversaries.
Do you want to present your banner outdoors or on unpaved surfaces and have no attachment possibilities? We have the solution for you. Use our robust post set! After placing the posts in the ground the banner is simply stretched between two posts. For additional stability of the system a set of guy ropes can be used.
Bowflag® - More than just a beach flag!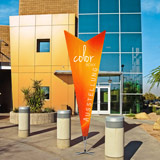 With our popular Bowflag® you purchase beach flags from the professional in the best quality and at top prices. With these versatile flags you can advertise both indoors and outdoors and are not dependent on wind or a flagpole.
Bowflag® owes its name mainly to its typical curved shape which is caused by the tension of the print on the glass fiber rod. The classic beach flag shapes include: drop, concave, convex, angled or straight bottom edge. These shapes are typical for Bowflag® Basic and Bowflag® Select.

Modern and trendy - the latest generation of beach flags impresses with dynamic and eye-catching look. If you want to present yourself or your brand effectively the Bowflag ®Select Razor or the spectacular Bowflag® Premium are the perfect choice. Our beach flags are delivered with a printed hemstitch (beach flag Basic is also available with band hemstitch). This means that our customers receive circa 10% more printed space for their advertising messages.
Size overview Bowflag® from Vispronet®
| | XL | L | M | S | XS | XXS |
| --- | --- | --- | --- | --- | --- | --- |
| Bowflag® Basic | x | x | x | x | x | x |
| Bowflag® Select | x | x | x | | | |
| Bowflag®Premium Moon | x | x | | | | |
| Bowflag®Premium Sufer | x | x | x | | | |
| Bowflag® Premium Crystal | | x | x | x | | |
| Bowflag® Premium Dart | | x | x | x | | |
Buy a flag and have it delivered overnight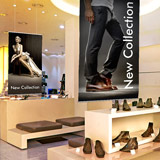 Our flag printing stands for the highest quality standards. If you have a flag printed in our online shop, you can receive it on desired delivery date. We offer the fastest shop delivery times in connection with a large range of products. If you have decided on a flag, a fabric banner or a beach flag, you can choose between different delivery times.
Regardless of the flag or banner you choose in addition to the standard delivery time, express or overnight delivery is also available. This means, we print and deliver the flag of your choice within one working day providing we have received from you the correct print data by 9 am. It's as simple as that.