Club Flags
The club flags are very classy and representative and can be used at the conference, meetings, receptions, lobbies, club rooms or banquet halls. Custom printed flags or company banners offer a clear price advantage over the expensive, embroidered flags and are just as attractive. Club flags are available as double or single sided, noble with fridges or simple without fringe but with high-quality accessories. The simple flags are offered in competitive price range, printed with bright colors, featuring a classic sleeve and are complemented with wooden pole.
Buy traditional & representative club flags from Vispronet®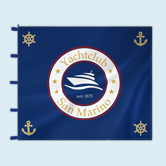 Club flags are the traditional means of presentation for sports and carnival clubs, fire brigades and other associations. Club flags printed with logos, emblems or special motto are often presented at parades, celebrations or in clubhouses.
The elegant flags from Vispronet® can be purchased online in various designs and finishes. If you are looking for a particularly high-quality printed flag and would like to present your motif in a clear and visible manner from both sides, you should opt for a two-sided club flag with fringes. The double-sided flags can be designed on the front and back with two different motifs and printed online.
The two-sided club flags are finished all around with gold cord fringes.The pole side is finished with sewn on loops made of gold braided band which serve for attachment to the flagpole. A less expensive alternative are the single-sided club flags with fringes. The motif is printed only on one side of the flag. This results in reduced weight of the flag and showing a mirror image on reverse.
Create your own club flag online – Visprodesign® makes this possible
Would you like to highlight your club logo or stylishly combine with other graphic elements? Simply use our free design tool Visprodesign®. With this tool you do not need to have any background in graphics to be able to design your own club flags. Free background motifs, unique clipart and royalty-free typefaces conjure up the perfect flag design in just a few clicks. The bright colours are printed in high resolution on a flag fabric, thus offering high quality club flags which are considerably cheaper than the traditional embroidered flags.
Individual club flags symbolize affiliation
Sport, carnival or animal club - no matter what your interests are a club flag symbolizes your affiliation with organization or event. Whether it's a flag, a banner or a classic advertising banner, you can choose from a variety of fabrics. For outdoor use of weather-resistant polyester knitwear is recommended. At Vispronet® you can create your design individually on front and back of the two-sided flag by using our design tool Visprodesign®. The use of this tool is extremely easy and effortless even for beginners.
Regardless, if you prefer a pole flag or a two-sided club flag with elegant fringes. Logo design or even photos can be easily printed on both types of flags.
Fast delivery included - order club flags overnight
How often does it happen that something is needed quickly? Short-term appointments or events often do not allow a long time for planning. You can order your club flag overnight. If you submit your correct print data in our shop no later than 9:00 am you will receive your ready club flag the very next working day. The printed flagpole and club flags from Vispronet® are the inexpensive alternative to embroidered flags.
Representative club flags for your organization from Vispronet®
Traditional and classic type of advertising flags. Already in ancient times flags were used to express messages, show signs and affiliations. The flags which were originally introduced as a reference for soldiers are now used in a number of areas. Printed flags are generally attached to a flagpole. They gently flatter in the wind showing their design in radiant colours.
The club flags are a special kind. They have their origins also in the military and are still used today to offer clubs & associations a traditional look. Initially club flags were only used as standards but now the use of a pole or a mast is also common.
Show your emblem with matching club flags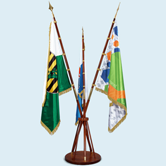 Anyone leading a club wishes to present an appealing logo not only to members but also to the outside world. A printed club flag is particularly suitable for this purpose. The slogan with logo is clearly visible for everyone and carries the message of the association. Not only your logo can be placed on the flag but also the location and the foundation year are often depicted on the club flags. Make your club flag from Vispronet® a flexible and an efficient carrier of your idea.
Make your messages perfectly visible at meetings, promotions and large scale events.
Order online club flags, national flags and more at Vispronet®
Convince with a professionally printed flag and strengthen your club image during events. Are you looking for other advertising possibilities in the form of a flag? At Vispronet® you will also find national or state flags, pennant bunting and much more. We offer a very good price-performance ratio as well as the use of high quality materials.
Advertise and present your club with banners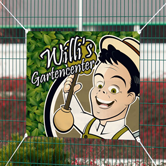 Many clubs define themselves by the services they provide. Printed club flags often are shown at festivals and events or placed well visible on stages. Club flags cannot be placed everywhere. Many clubs therefore rely on a classic advertising banner for use in facilities, on walls and fences.
Vispronet® offers different types of banners printed in individually desired sizes. Take a look at our numerous promotional banners. Choose between different finishes such as PVC, mesh or foil and order the right one for your presentation purposes.