Exhibition Displays
Exhibition kit systems are designed to ensure easy handling and reusability. The variable and stable exhibition kits from Vispronet® have a timeless design and provide simple, inexpensive and quick presentation for your business and or brand. You do not need to possess special tools or craftsmen skills in order to assemble our pop-up displays, promotion counters and brochure stands. The high quality canvas parts can be replaced easily, so that you can use your kit system repeatedly and for different purpose.
1. Trade fair systems - overview
2. Mobile trade fair systems
3. Design trade fair systems yourself
4. Delivery times
5. Possible uses
6. Important components for a trade fair appearance
7. Expansion options

Trade fair systems for successful presentations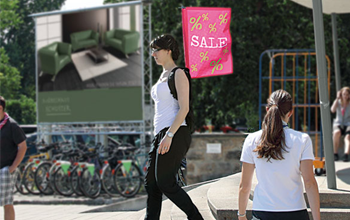 A successful trade fair appearance can only be accomplished if information is deliberately targeted and notably presented. Under the product category Exhibition Displays you will find a basic advertising display for your trade fair or presentation stand. From promotion counter, info board or brochures stand to the exhibition wall - here you can put together stand that suits your needs. Unquestionably, these advertising displays can be complimented and perfected with other products available at Vispronet®
The robust trade fair systems from Vispronet® have a modern and timeless design. Our Pop Up folding displays offer up to 10 m² of advertising space and can therefore be perfectly used as a creative and individually designed back wall for your stand, single or in a double pack.
Choose between two different designs for your exhibition wall : Pop Up Magnet and Pop Up Velcro. Both products from the group of exhibition systems are available with straight as well as with curved front. The Pop Up Velcro is particularly suitable for promotions and advertising on changing locations. The print is attached to a handy grid system and can remain on the frame also during transport. This allows for particularly fast assembly and disassembly of the system. The print for Pop Up Magnet is designed and printed on individual panels. These panels are attached to the exhibition system individually thus visually creating a large overall motif. The individual panels have to be removed from the system for transport; therefore this large system is recommended for prolonged presentations.
Mobile and flexible event equipment - trade fair systems from Vispronet®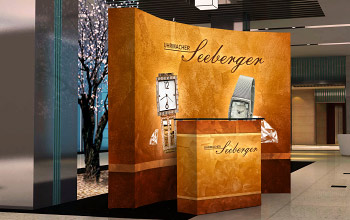 To match the individually printed exhibition wall, Vispronet® also offers a Promotion Counter under the product category trade fair systems. The velcro version matches an exhibition display Pop Up Velcro and the variant with magnet is suitable for the exhibition display Pop Up Magnet. Both counters consist of a folding grid system, which makes them particularly quick and easy to assemble and disassemble. A lightweight shelf provides storage space for business cards, writing utensils or flyers. The Hardcase Trolley is the counter and transport container for your Pop Up in one. The hardcase trolley, like the other display systems, can be fitted with an individual print. Brochure stands and Info Boards complete your promotion or exhibition stand perfectly. Available in numerous variants, the displays offer plenty of space for clear and customer-oriented presentation of catalogs, brochures or flyers. They are an indispensable trade fair inventory for every modern trade fair system.
A new innovative idea for successful advertising are the promotional backpacks from Vispronet®. Already popular in North America, they are still the newcomers to mobile advertising in Europe. Pick up this trendy backpack for your promotions. In large crowds, your advertising will be particularly popular with this product from the category of trade fair systems. You cannot bring the advertising closer to your customers. You will also achieve a special effect with this smart and fun advertisement when you send a small group of employees carrying these backpacks. Just an advertising idea - Line up in a single file with each person exhibiting an oversized letter to form a specific word e.g. your company name, a product or simply the word "ATTENTION".
Design trade fair systems online - individually with your own motives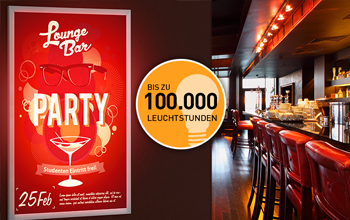 At Vispronet® you can design trade fair systems yourself without any prior knowledge of graphic design. It's a breeze when you use the free design tool Visprodesign® You can either upload your own design or photos or browse through the numerous wallpapers and design templates. Place the graphic system template according to your wish and complete the motif with free clip art or your own logo. This way you create a unique design in just a few steps. The more interesting your design is, the higher the attention factor.
Order overnight trade fair systems - the express service from Vispronet®
Have you decided on a short presentation for a product or company at a trade fair or a public event and do not have a exhibition wall yet? No problem! Order your trade fair systems overnight at Vispronet® .
After ordering, submit your correct print data no later than 8.00 am in the morning and you will receive your trade fair system the very next business day. Whether Pop Up display, brochure stand brochure stand or promotions counter - we deliver quickly and reliably.
You can easily order and pay for the exhibition systems using one of the many available payment methods. We will inform you per e-mail as soon as we have sent your order and with a tracking code you can follow the shipment. You can also see the current status of your order in the customer section online in your account area.
Exhibition systems for more presence - plan your reputable appearance
Attending trade fairs and similar major events is an important part of the event marketing of many companies and organizations. A well thought-out planning and design of your own stand in advance is very important. For a successful presentation a uniform design of stand including all partitions, counters, stand, brochure and information stands are very important.
An intelligently combined trade fair system that shines in the corporate design of the company is particularly attractive and also draws the attention of trade fair visitors to certain elements of your presentation. At Vispronet® we are happy to pass on our experience and ideas, to explain which parts stand out, how to successfully direct the visitors' to you presentation and what possibilities can be accomplished by using trade fair systems.
What makes a good trade fair system?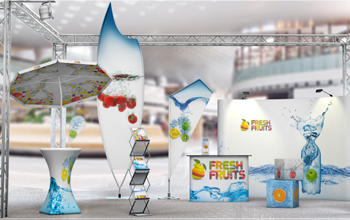 In the past the construction of exhibition stands was still a complicated and complex undertaking. Current mobile exhibition systems are used for construction of trade fair stands. These complete systems, consisting of numerous flexible elements, not only enable quick assembly and disassembly, but can also be stored in a space-saving manner and are particularly easy to transport due to their low weight.
Today, a good trade fair system is particularly convincing due to its high level of flexibility. It can be enlarged by numerous components such as promotion counters with magnetic strap, foldable brochure stands and 3D-Displays. In addition, a solid quality is crucial feature of a good exhibition system, as they must withstand frequent use and disassembly.
When choosing exhibition systems, care should be taken in familiarization with different stands available, from small booths to large-scale company presentations. Matching are, for example, curved displays such as pop-up folding displays , which can also serve as exhibition boundary walls and practical roll-up displays. Customer stoppers with or without print complete the exhibition appearance.
The more flexible your exhibition systems are, the more spontaneously you can react to events or directly on location to unforeseen developments. The size and type of the exhibition stand can be easily adapted with our trade fair systems if there is suddenly a shortage of space or you can surprisingly use more surfaces.
For an extravagant presentation you may want to use advertising presented a light frame. The light frames are efficiently and evenly illuminated with integrated LEDs, so that the advertising messages can be optimally read and recognized in all lighting conditions - indoor and outdoor. Additionally, LEDs are not only environmentally friendly, but also work to save energy and are extremely durable with up to 100,000 light hours.
How can you attract attention at a trade fair?
In order to attract the attention of trade fair visitors, it is not absolutely necessary to have a particularly large trade fair stand or sophisticated trade fair systems. Anyone who defines a clear target for the fair in advance and takes into account the financial means can usually achieve a great deal. Because a well-thought-out stand concept and a few well-chosen exhibition systems are often enough for a remarkable appearance.
Even compact information and presentation stands can successfully promote the products and services. It is important for smaller as well as larger concepts that the overall appearance is tailored to the corporate design of the company and thus ensures a harmonious overall impression. This makes it easier for potential customers and partners to recognize your company at any time.
Much attention can be paid to the graphic design of the trade fair systems. This is where systems score to underline the overall message of the stand and also set themselves apart from other stands. You can also make your stand visible from afar by hanging exhibition systems from the ceiling, such as ceiling hangers bearing your company logo and the stand number.
In order to make visitors aware of your trade fair presentation, it makes sense to use exhibition displays that point to your presence with large-format designs. With the help of trade show promoters, which are equipped with promotional backpacks in a matching design, you can also highlight special promotions and offers.
Which design is suitable for trade fair displays?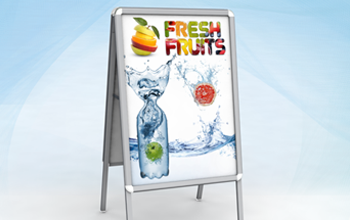 A trade fair display can be implemented in many different ways. In principle, almost all motifs and design elements are possible. However, it is important for the design of trade fair displays to keep an eye on the trade fair objective that you want to achieve.
If, for example, new products are to be advertised, the placement of large-scale product images in combination with the product name on the display system is suitable. If, as in the case of Vispronet®, high-resolution print reproduction of very accurate details, you should definitely resort to professional photos during the presentation.
If trade fair displays are to be used to indicate promotions or special offers, than they can fulfill this function ideally in the front area of the trade fair stand.
When creating the display design, it is important to pay attention to the visual proportions. It should be noted that lettering should not be placed in the lower third part of display as it makes very difficult to read. Also an appropriate font sizes must be selected for visitors to be able to read displayed message. When using exhibition walls, it should be kept in mind that they may be obscured by promotional counters or other stands. Therefore, a design of the lower area of the display is not always feasible.
Can I extend trade fair systems?
If you wish to commission the design of your own trade fair system, you should choose a service provider that allows you to extend system at any time. With Vispronet® you have this advantage and can supplement your trade fair systems at any time with additional individual components.
For those who are displaying for the first time, a simple combination of exhibition wall, promotion counter and a trade fair display is suitable. As a next step for example, brochure racks, Table Top Display and Bowflag® should be used to raise awareness. If you have larger stands, you can set up additional exhibition walls, displays and seating elements.
A successful exhibition concept can therefore be gradually developed and supplemented from a small presentation stand. Vispronet® offers all options from attractive exhibition systems and displays to a wide range of accessories.
Importantly, all accessories for trade fair systems are intended to improve transport, structure and effect or to simplify numerous activities in connection with the use of the advertising material. Trolleys and bags in appropriate formats guarantee the protection of advertising space from damage during transport.
Using spotlights in the form of halogen lamps or as an LED spotlights, you can illuminate your trade fair stand and the respective surfaces even in winding or dark areas of a hall or a room. Shelving and nylon cord for practical fastening complete this useful range of accessories of our exhibition system accessories.