Table Top Display
Table banners, table flags, stands and pennants bring your message close to customers and guests. On conference tables, in consultation areas in banks, travel agencies, insurance companies, on promotional counters at trade fairs and events or in restaurants. Table banners are in use everywhere where people are open to your message. Vispronet® offers a wide selection of table banners in different formats, designs or shapes - pennants, table flags, table displays and Bowflag® T, naturally with matching accessories.
1. Overview
2. Design your own table banner
3. Accessories
4. Delivery times

Table banners - friendly symbol carriers for many occasions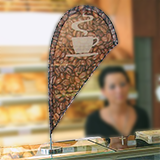 Table banners are available from Vispronet® in numerous designs and can be printed with any custom design required. The handy table banners are increasingly found on counters, shelves, conference tables, in advice centers, travel agencies and at trade fairs. Printed table banners can take various shapes and forms. Clubs like to use the traditional pennant version to set the club logo and information in a traditional and stylish setting. However, companies often design modern table banner shapes with an aluminum frame or an aluminum piping profile.
It doesn't matter whether your own table banner is printed with advertising or a personal image. Table banners are always used where people wish to convey a message in a subtle and personable way.

You can order online from Vispronet® the following table banner formats:
Design your own table banner online - Visprodesign® makes it possible
Anyone who does not yet have a finished design for their own table banner can do this quickly and easily with the free design tool Visprodesign®. To do this, click on the "Design Yourself" button during product configuration. Inside this online tool you can combine your own pictures and text with finished clipart and photos. This way your custom motifs are quickly created and ready for presentation and exhibition.Designing table banners yourself is very easy.
Buy table banners accessories online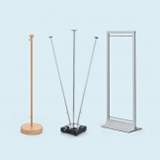 Table stands guarantee a professional presentation of table banners. Take a look at the versatile table banner accessories. Here you will find table stands for table banners and table flags made of wood, chrome or metal in different sizes and designs as well as other frames for the Q-Frame® T or the X-Display T.
Order table banners overnight
The noble table banners from Vispronet® are not only brilliantly printed and elaborately finished. For short-term deliveries, Vispronet® also ships individually printed table banners overnight. All you have to do is submit the correct print data to us by 9:00 am and your order will be delivered the next working day.