Point of Sale Products
Here you will find everything you need for a professional corporate and advertising presence at trade fairs, events and point of sale. Present your brand or products on a wide variety of display and exhibition systems. Point of Sale products include, for example: high-quality tension frames and light boxes, roll-up systems, ceiling hangers or inflatables. PVC banner and signs clearly highlight your company or your events. Use stickers and films for advertising that holds. With POS products from Vispronet® you get everything you need from one supplier: advertising material from professionals for indoor and outdoor use!
1. Point of Sale products - an overview
2. Promotional products - for business premises
3. Advertising media - for trade fairs and exhibitions

POS products for your events, trade fairs and business premises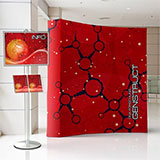 The right Point of Sale products can not only reach new customers, but also can individualize business premises. With the advertising materials from Vispronet® you will gain an original eye-catcher at trade fairs or an attractive highlight in pedestrian zones and in window display. Creativity knows no limits. Design your own personal advertising material with our Visprodesign® and benefit from many years of our experience.
Our portfolio of Point of Sale products includes an extensive assortment of films and stickers, banners, displays and much more, which is intended both for the design of your business premises and for the outdoor exhibition area. Be inspired by our variety and discover the exciting world of Point of Sale products.
An overview of our customizable advertising materials
The selection of products for Point of Sale products is very extensive. Our range includes the following advertising materials:
• Displays
• Ceiling hangers
• Event Arch Air
• Soccer goals with goal wall
• Half-moon banners
• Information boards
• Snap frame and clamp stands
• Sidewalk displays
• Crowd barriers
• Advertising columns
• Pop out banners
• Exhibition counters
• Exhibition walls
• Promotional backpacks
• Brochure stands
• Roll ups
• Stickers
• Display films
• Adhesive films
• Static films
• Backlit films
• Window films
• Floor films
Advertising materials to design your business premises
Advertising media primarily serve to make certain products and campaigns visible to the customer. Mission statements of the company can also be easily illustrated with an appealing Point of Sale products and thus contribute to building trust.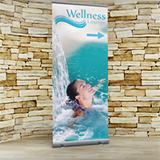 Vispronet® therefore offers a variety of products for your business premises that are used for direct advertising. For example, design your floor with appropriate self-adhesive films that lead to promotional products. Use window films to inform your customers about your product range, temporary discounts or special offers. With our films you have the choice between removable or permanent adhesive variants, this way you can keep the arrangement of your shop window new and up to date.
With versatile displays and info boards, you will gain individual eye-catchers with which you can focus the attention of regular customers and walk-in customers to your business. You can also use our modern brochure stands to give customers with little time the opportunity to find out about your offers at a later time. Incidentally, these are not only suitable for business premises, but also for trade fair events thanks to the supplied cases or transport bags.
For outdoor areas Vispronet® provides you with personal guidance systems and customer stoppers with which you can skillfully stage current campaigns or decoratively separate your outside area. In our online shop, many other Point of Sale products products are waiting to be discovered and individually designed by you.
Promotional materials for trade fairs, exhibitions and events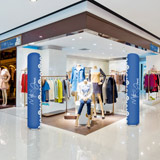 At trade fairs, exhibitions and events, you need advertising materials that is clearly visible and that guides interested parties and regular customers to you. For this purpose Vispronet® provides you with event arches, display walls and large air-filled advertising columns. With these products you can design the entrance of your trade fair area or your event location individually thus drawing the essential attention.
Brochure stands, exhibition walls, 3D displays or info boards ensure the perfect arrangement of your stand, with which new customers are specifically informed about your company. Practical exhibition counters in different variants serve for direct customer contact.
With the help of the self-designed soccer goals with goal wall, exciting winning promotions can be easily arranged, even in the smallest space, with which you are sure to attract a lot of attention. You can also benefit from our varied ceiling hangers to draw the audience towards you at large events.
You can easily design all advertising materials yourself and according to your wishes by using Visprodesign®. There are numerous free clipart, design templates and photos available. Logos and labels can be individually placed and configured using the program, so that you can let your creativity run free.
Vispronet® – your online print shop for high-quality advertising materials
With almost 30 years of experience Vispronet® is one of the world's largest printing companies. Print your individual advertising materials and benefit from the competence of our specialists, who produce high-quality products in small and large quantities at an absolutely fair price-performance ratio.
If you have any questions about the printing process, the layout, special requests or the order process, either use our contact form or contact us by phone. We are at your service with advice and solution from Monday to Friday between 9 am and 6 pm.