Flags
Flags are in constant gentle movement, graceful and majestic; creating an atmosphere and attention. They are perfect for store advertising, trade fairs, festivals, sports events, clubs, weddings etc. Choose from a variety of formats, materials and mounting options. All flags are pre-washed before delivery - you just need to unpack and hoist them. It pays to compare - longevity of Vispronet® flags is twice as long as that of other brands.
Buy quality flags from Vispronet® online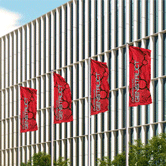 Flags are seen on flagpoles in front of numerous buildings or public places all across the country. Their use is extremely broad. Vispronet® offers flags in portrait and landscape format for both indoor and outdoor use. Also banner flags in numerous standard sizes or in individual desired format.
Not all flags are the same. Flags from Vispronet® are made of various materials. Choosing the Multiflag® material you decide for proven polyester knitwear with a very good price-performance ratio. Particularly tear-resistant and extra durable is the Supraflag material. Robust yarns and sturdy canvas structure guarantee that the flag perfectly presents your advertising even in windy and harsh weather conditions.
Flags made of Varioflag® material are especially suitable for windy conditions. The knitted fabric with the fine hole structure is super wind permeable and therefore very durable and usable even unhemmed.
Flags from Vispronet® convince in many ways, printed in radiant colours with excellent lightfastness offering guarantee that your motifs will not fade. Best print through, so that the motifs are always visible on the back of the flag. At Vispronet® you can order flags starting already with 1 piece. Cost-effective digital printing makes this possible. Starting from quantity of 15 pieces flags can also be manufactured cost-effectively by using the screen printing method. Only a few suppliers can offer this. Try it!
Flags - for mobile advertising on mobile flagpoles
You are not looking for a stationary flag but a flag suitable for mobile advertising? Take a look at our high-quality flags for mobile flagpoles. Order your flag online to match the light flagpole Economy Naturally, if you wish you can also order together the appropriate flagpole. All you have to do is select "flag + flagpole" under "Selection" and everything will be delivered to you. If you wish that your flag flatters indoor we would recommend the use of wind flagpole also available in our online store. The noise-damped, electric blower smoothly moves the flag that is made of a lightweight Dekofil fabric. Flags on wind flagpole cause a lot of attention, at indoor fairs, presentations or anywhere where your advertising should stand out in a particularly positive way. Flags on the mobile flagpole T-Pole® 100 100 guarantee attention during indoor and short-term outdoor use. The water-fillable foot ensures perfect stability. The presenter allows for the flag to be fully unfolded, so that your advertising message is always visible in both wind and windless condition.
Create your own flags – safe and easy with Visprodesign®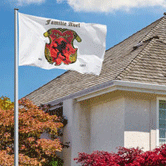 Many of our customers print flags with logo, photo or a funny slogan. Some people ask why do you need this? There are many possible uses. A pirate flag on a playground, sign for a tree house or a guide showing the way to clubhouse. The use and design options are almost unlimited. In order to design your own flag easily and without prior graphic knowledge the online print shop offers customers an extra user-friendly design tool. Visprodesign® is free and can be accessed directly during product ordering. With just a few clicks you can design your own flag. Combine your own photo with free clipart, wallpaper or a unique slogan. There are no limits to flag design. If you create your own flag design using a graphic program, you can simply upload the file to your customer account after the order completion. When preparing a file, please note our instructions for creating print data. If you are not sure whether the design of your flagem> actually meets Vispronet® requirements, you can also order a professional data test during the ordering process. A specialist from our house will then take look at your flag design, check and give possible hints for customization.
Order custom size flags overnight
In addition to the proven standard sizes flags can also be ordered in custom sizes. Fabrics and accessories are chosen according to the desired format. Vispronet® always strives to achieve high customer satisfaction. For this reason, we pay attention not only to production of the flags but also their exact finish.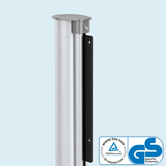 The service of Vispronet® extends from order to complete delivery. Get your flags easily delivered overnight. Select the option "Overnight" before placing the order and you will receive your flags the next working day. In order to use this fast service, you need to provide your error-free print data by 9.00 am.
Flags can be hung on poles or beautifully hoisted on flagpoles. With our flagpoles without presenter the flags can freely flutter in the wind and are visible from great distance. At Vispronet® there are many different flagpoles in assortment without presenter: with cylindrical or conical pole tube and with external or internal cable guide. Depending on your requirements and budget you choose from a wide range of available assortment.