Counter display
Q-Frame® T from Vispronet® is quasi the frameless frame for your designs. The elegant, unobtrusive table display presents your design almost floating as in the air. The print is equipped with a sleeve which is simply pressed into the groove of the frame. The small acrylic feet are attached to the lower frame edge and make the stand ready for use – at tradeshows, booths, counters and in consultation areas. The purist aesthetics of Q-Frame® T harmonize with any environment and or style. Vispronet® offers Q-Frame® T in various sizes.
1. Overview
2. Q-Frame T design it yourself
3. Delivery times
4. Possible use

Q-Frame® T - modern table display for businesses and home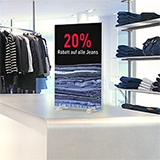 The table banner Q-Frame® T is actually a table frame. The complete system consists of a stable aluminum keder profile and enables an almost frameless display of your design.
Two acrylic feet hold the Q-Frame® T securely on the surface. Q-Frame® T is ideal for trade fairs and sales campaigns. Thanks to its puristic aesthetics, the table frame Q-Frame® T, harmonizes well with any environment and any design.
Vispronet® offers Q-Frame® T in different sizes..
Q-Frame® T with custom design - design your own table banner online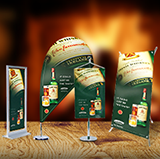 If you have not prepared a finished print design for your Q-Frame® T you can easily design an attractive motif for your table banner in our shop online. Click "Design Yourself" button during configuration to get to the Visprodesign® design tool. Upload your pictures here or use pre-made design templates. Combined with clipart and original text, individual eye-catchers can be created with just a few clicks for giving away and advertising.
Q-Frame® T can be effortlessly designed online and personalized with name and photo, makes an original birthday gift for family and friends!
Q-Frame® T - order overnight
An individual table display Q-Frame® T from Vispronet® presents your motif discreetly giving full attention to your message and design. Short-term deliveries are no problem for Vispronet® We would be happy to supply you with the table banner Q-Frame® T overnight. If you need your Q-Frame® T with your own motif within a very short time, you only have to select the "Overnight Delivery" shipping option at the end of the ordering process and send us the correct print data by 9:00 a.m. at the latest.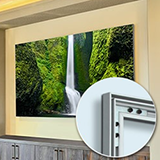 The table banner will arrive at your address on the next working day.
Q-Frame® - design wall frames for photos and eye-catching advertising
At Vispronet® the Q-Frame® is not only available as a handy table banner for creative designs. It is also suitable to keep your own photos or graphics stylish and wrinkle-free at home. Order the Q-Frame® wall frame in your desired size and create impressive eye-catchers for your walls.