Company Signs
Advertising signs are very versatile - from a simple sign to an elaborate billboards or exhibition walls. Advertising or sign posts, billboards, image panels for interiors and advertising signs for indoor and outdoor use. Vispronet® prints your image on wide range of materials. From foamcore to aluminum composite, hollow panel to acrylic glass, we can print all billboards in the highest quality standard. Create yard signs in individual, freely selectable sizes or choose from a variety of available standard sizes and formats.
1. Interesting facts
2. Variety of materials for advertising signs
3. Delivery times
4. Design advertising signs online free of charge
5. Printing process for signs
6. Installation instructions
7. Advertising signs in custom size

Advertising signs with your own design on a variety of materials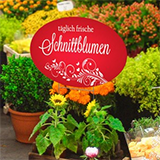 Individual advertising signs from Vispronet® are extremely versatile and can be used as company signs, information signs in offices and for exhibition stand design or as a high-quality wall design for your apartment. We carry a large selection of the most varied of materials which we can print all according to your individual requirements using modern technology and equipment. In our online shop you will find the right material for every project. From rigid foam and twin-wall boards to aluminum composite panels and acrylic glass.
Personalized advertising signs made of rigid foam board are the light, UV-resistant classics. The twin-wall boards are the special lightweights among the advertising signs. Event announcements or signposts for festival area can be excellently displayed on twin-wall boards. Whether for area advertising, as construction or door signs or as an element at the trade fair stand. The advertising signs made of aluminum composite panels convince with their particularly high stability and weather resistance .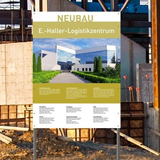 With high-brilliance printing and smoothed edges, nothing stands in the way of a professional presence. Billboards are perfectly suitable for engaging communication with customers and curious visitors. The custom contour-cut advertising signs are particularly original in their appearance. Print your light rigid foam boards . for your next exhibition or an upcoming concert. Customer stoppers are custom contour cut and can hold additional information material in the form of flyers and or brochures.
Printing advertising signs: Trendy advertising panels made of acrylic glass, aluminum composite and much more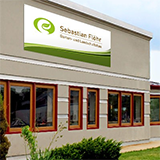 In addition to professional printing, you can also order the matching wall spacers at the Vispronet® online printing company. The classic spacer is made of rust-free stainless steel, and is visually appealing, durable and prefect attachment for advertising signs. For small and medium-sized billboards, we recommend using wall brackets with a maximum decorative head diameter of 15 mm. The decorative heads appear discreet yet elegant in relation to the size of the advertising sign. Wall brackets with a decorative head diameter between 18 mm and 20 mm should be chosen especially for large-format advertising signs. This guarantees a secure hold on the wall and underlines the elegant look of the advertising sign. Ceiling brackets made of stainless steel are also available, which can used with your billboard. Regardless of whether you opt for a rigid foam board with your custom design, company advertising printed on aluminum composite panels or printing on acrylic glass. Vispronet® has the right accessories for every image format and every material thickness.
Order top quality advertising signs overnight
The high-quality advertising signs from Vispronet® are not only printed in superior quality, some are also flame retardant according to fire class B1 / DIN 4102. This means that advertising signs and billboards made of acrylic glass, aluminum composite panels and rigid foam boards can also be used in public buildings and at trade fairs without hesitation. For short-term campaigns, Vispronet® supplies even overnight individually printed billboards up to a size of 1 m².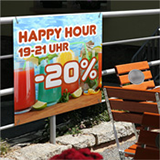 Design advertising banners & buy online. All you have to do is upload the error-free print data to one of our servers by 9:00 am. This way our competent employees can start production immediately. You will then receive your goods on the next working day. Even for projects and events planned at short notice, Vispronet® is your reliable online printing company with top quality advertising signs.
Advertising tarpaulins - a good alternative for outdoor promotion
In addition to advertising signs from Vispronet® high-quality advertising tarpaulins . are also suitable for effective outdoor promotions. They made made of PVC or weatherproof Netzvynil and can be printed in custom sizes. Printing of up to 50 square meters for a single PVC banner is also possible. For optimal presentation, the tarpaulins are fitted with eyelets, clamp holders or other suitable accessories. They can be easily attached and removed again if necessary. Whether as a scaffolding advertising, on site fences, on the facade or indoors in foyers - with the Vispronet® advertising tarpaulins you can reach your target groups and succeed with creative prints.
Printed advertising - From idea to attractive advertising sign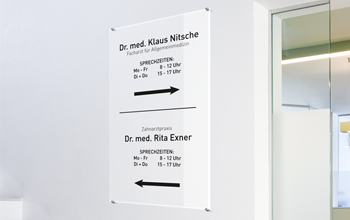 Anyone planning a comprehensive advertising project usually includes also advertising signs in the planning. Depending on the basic material used, printed signs can be used both inside company buildings, medical practices and office buildings as well as outdoors. In doing so, they attract a lot of attention and inform or promote their the cause.
In addition, advertising signs offer a variety of design options from which advertisers can benefit. At Vispronet® you will find out how you can easily design and print your advertising signs online yourself. Also, which materials are inexpensive for advertising signs and what you should consider before printing signs. With our tips you can plan your perfect advertising sign.
Design advertising signs online with Visprodesign®
Each individual advertising sign is created in the head and starts with some good idea. It is often a single ingenious idea that connects the advertising message in a creative way with certain effective elements of the design. This creates the design for a gripping billboard that attracts the desired attention. Now the only thing that matters is that you let your creativity run free.
Vispronet® provides you with the suitable, free design tool Visprodesign® With this tool at hand, anyone without any previous graphic knowledge can realize their own ideas in just a few steps and design attractive advertising signs online. You have free access to numerous design templates, clip art and images that you can easily combine with your own photos, graphics and text.
In terms of design, transparent acrylic sheets have particularly interesting options as advertising signs, for example used in landscape format. The effect of individual picture elements can be influenced in different ways through various print options, such as "white printing".
High-tech when it comes to printing
At Vispronet® you can have your advertising sign printed online using your own templates. The high-quality digital printing always guarantees you a perfect result. This way you can always present your company, your office or your advertising message in the best possible way. In order to have your advertising sign printed in the shop, the correct print template must upon placing the order. The relevant print data is then sent directly from the computer to the printer and converted into the print using UV-cured inks.
The most modern printing technology enables Vispronet® to make ready your order advertising sign very quickly or even overnight. We print with UV inks, which have a high degree of lightfastness, so that customers can enjoy their self-designed advertising sign for as long as possible. Vispronet® is also dedicated to climate protection. We take environmental concerns into account with VOC-free products. In addition, our inks are certified according to the Nordic Ecolabel (Nordic Swan). Our additionally selectable special colours allow to achieve a particularly wide variety of shades and printing effects.
Mount perfectly your advertising signs
Our customer-friendly service doesn't stop with the finished print, because Vispronet® offers you as well everything to do with the design and presentation of signs. You have had your perfect advertising sign printed by Vispronet® now of course you want to perfectly mount it. There are various alternatives to choose from: wall spacers made of stainless steel, suspensions or clamps. Take a look at our advertising sign accessories. Because even the best design which are not properly mounted will not achieve the desired effect . Whether you opt for the classic wall mounting or the ceiling suspension made of stainless steel, with which you can hang your advertising signs flexibly and freely from ceilings or trusses - Vispronet® can provide you with all accessories you may need.
Which material is suitable for advertising signs?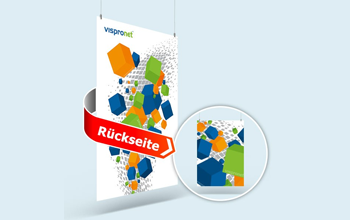 Advertising signs, billboards as well as company signs and construction signs are the "flagships" of companies, offices and stores. They provide extensive information on construction sites, fences and scaffolding as well as on house walls and inside buildings. Choosing the right basic materials is crucial for the desired, attention-grabbing effect. The durability and price of an advertising sign is also depend on requirements. While acrylic glass is extremely durablestrong> and therefore more expensive than other materials, twin-wall sheets are particularly suitable for shorter periods of use due to their low weight and, above all, due to their price advantage.
Two factors should be decisive when choosing the material: the planned location (indoor or outdoor) and the planned duration of use. Do you want to use your advertising sign outside or inside? What is the lifespan of the advertising sign? Advertising signs made of aluminum composite panels in portrait or landscape . format are particularly suitable for outdoor use. Despite its low weight, this material is characterized by high weather resistance and stability.
If an advertising sign is to be used both inside and outside, for example at trade fairs and exhibitions, signs made of rigid foam panels are recommended. You can also have these printed on both sides in various formats.
If an extremely high-quality look is desired, in order to point out law firms, medical practices or community office with a sign outside or inside, the acrylic glass material impresses with its elegant optical properties, such as the fascinating 3D depth effect that is created through back printing. With our accessories for advertising signs, you can easily attach acrylic signs to walls and ceilings.
If you want to advertise with quick posters during elections or before an event, advertising signs made of lightweight twin-wall sheets are ideal. Here you can choose between twin-wall sheets of Typ H or Typ X.
Type H is available in two different panel thicknesses. The so-called double wall sheets are extremely light, but still stable. They can be cut, punched and drilled and still remain tear and impact resistant. They are particularly popular for election posters. Type X is very stable due to the x-shaped bar arrangement, but also light and environmentally friendly. These twin-wall sheets are particularly suitable for quick poster posting in outdoor areas when increased environmental influences such as rain and wind are to be expected over a longer period of time. They are easy to transport, attach and are weatherproof.
What sizes can you print at Vispronet® ?
Advertising signs, office signs and company signs can be printed in different sizes depending on the material. Vispronet® team can print your advertising sign up to a maximum size of 250 x 150 cm or 200 x 250 cm. If you are unsure about the planned dimensions of your advertising sign, it is helpful to look at the future location.
From what point of view, from what distance does the viewer will look at your advertising sign? How large does the board has to be so that even smaller design elements remain recognizable? Also, transport and handling of the sign should be taken into considerations. Very large signs cause higher transport costs and more effort to assemble.
If you want to avoid these problems, you can distribute the information on several individual signs. These can be combined next to each other or on top of each other at the installation site and thus you can achieve the same effect in a simpler way, similar to a large advertising sign.