Indoor Banner
Fabric banners present your brand and message with a razor-sharp image, bright colours and in high-resolution. You can choose between different formats: fabric banners up to 3 m2 with plastic clamp rails or stylish metal bars, fabric banners up to 8 m2 fitted with wooden poles, metal keder profiles or elegant aluminium clamping rails. Sizes up to 12 m2 can be ordered with trimmed edges. Custom fabric banners can be used in a wide variety of applications, whether you're looking to promote a business, brand or organization at a mall, special event or sporting event or want a banner with a high-end look for a wedding, party or other special occasion.
Portrait, up to 3 m² incl. railing

Portrait, up to 3 m² incl. railing

Portrait, up to 8 m² incl. railing

Portrait, up to 8 m² incl. railing

Portrait, up to 8 m² incl. Aluminium clamping rail

Portrait, up to 8 m² incl. Aluminium clamping rail

Indoor Banner - portrait up to 12 m², trimmed

Indoor Banner - portrait up to 12 m², trimmed

Landscape, up to 2 m² incl. railing

Landscape, up to 2 m² incl. railing

Landscape, up to 4 m² incl. railing

Landscape, up to 4 m² incl. railing

Landscape, up to 4 m² incl. Aluminium clamping rail

Landscape, up to 4 m² incl. Aluminium clamping rail

Landscape, up to 6 m² all-around-cut

Landscape, up to 6 m² all-around-cut
Custom printed fabric banners - striking & creative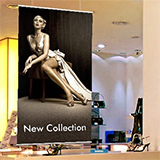 Decorative fabric banners adorn salerooms, passage ways, shop windows and shopping centers, as well as offices or rooms at home. Fabric banners can be used universally - as a wall decoration, a room divider, a fabric calendar or as an informative banner with advertising. Print your fabric banners at Vispronet® with important customer information, logos, your latest products or simply your own photo. Choose from the numerous fabrics and different designs.
A big advantage of our fabric banners are the custom sizes. In addition to standard sizes in portrait and landscape format, you can also order online fabric banners in custom dimensions. Whether noble metal fittings, practical plastic clamping rails, high-quality aluminum clamping rails or rustic wooden dowel - all accessories are adaptable and fitted to respective dimensions of your self-designed fabric banner.
The aluminum clamping rails give a particularly elegant appearance to large-sized fabric banners. Plastic clamping rails are available from Vispronet® in colours: gold, silver, black, white and transparent. They offer a particularly good price-performance ratio and can be attached to different prints. The noble metal railing, however, is permanently attached to your fabric banner.
You can choose metal rails in the following colours gold, silver, black and white thus matching the printed motif of your fabric banner. This type of railing gives a stable grip and prevents printed fabric from slipping out.
Design yourself - our deco banners with your own motif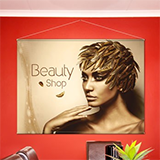 Many of our shop visitors do not have a ready design which they can submit after completing their order. For such customers we have especially designed our free tool Visprodesign®. In our online shop you can design your fabric banner yourself! Simply use a free template and complete it with available clipart or own text and photos. This results in a very individual, decorative fabric banner that will attract everyone's attention with bright and brilliant colours. The matching suspension accessories give your fabric banner that perfect finish. The various fabric types underline the effect of your deco banner and ensure a desired appeal.
Suspend your fabric banners from high ceilings or decorate foyers and reception areas with promotional and informative advertising. This way your advertising messages are attractive to look at offering a lasting impression.
Buy fabric banner online and have it delivered to your home with overnight service
Quite frequently the self-designed fabric banners are needed within a very short time. Vispronet® offers an exclusive overnight service for all those who are in a hurry. Send us your finished print data by 9.00 am and we guarantee the arrival of your ordered fabric banners the next working day. Try our overnight delivery.
Digitally printed fabric banners as individual advertising media
If you would prefer to have small or medium quantities printed at Vispronet® then digital printing is the most cost-effective alternative for your self-designed fabric banners.
This technology allows best results at a low price. Digitally printed fabric banners are very effective displaying your advertising always in radiant colours. To print your banners you can send us directly your ready design or you can use our free online design tool.
In the textile sector, environmentally friendly water-based dispersion inks guarantee the highest lightfastness. A high-quality digital printing with first-class inks ensures the longest possible lifespan of your self-designed fabric banner. In the non-textile area, the printing is done with UV-curing inks which guarantee a similar high lightfastness. We take the environmental concerns into account by using VOC-free products. In addition, our inks are certified according to the Nordic Ecolabel (Nordic Swan). Particularly high colour accuracy can be achieved in both areas with optional spot colours.
Screen printing as an alternative for large quantities
When ordering larger quantities Vispronet® recommends the screen printing method. This is the cheapest choice for ordering of large quantities of fabric banners. We can promise you a perfect print result using this method. In screen printing, each colour is mixed individually and applied with a magnetic blade through the printing screens on the fabric. The screen printing is accomplished through either photo printing or solid colour printing. In the production process we use environmentally friendly water-based inks. Find out in product description section which of the methods is better for your order. Should your questions still remain answered our personal & competent customer service is always at your disposal.
Fabric banners in different sizes and for many purposes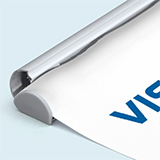 The customizable fabric banners are available in many different sizes and can therefore be used in many places where you wish to advertise with banners. The decorative banners are available in a size of 2 m². Large format banners that catch everyone's eye can be printed on a surface of up to 8 m². All around cut fabric banners are offered in a size of 12 m². Simply select the desired size and customize your product in our online shop.
Fabric banners can be printed individually. You can use your company logo or another motive fitting exactly your advertising campaign.
Our printing process guarantees radiant reproduction colours and razor sharp motifs. Even high-quality photos can be reproduced on fabric banners.
Easy fabric banner suspension
The suspension of fabric banners is very easy. You can either choose variant with a carabiner or an attachment especially designed for use with hemstitch. Both options can be individually selected during order at Vispronet®.
Fabric banners act not only as propagators of advertising message, but also are decorative elements for your living space. They can be used as a room divider or just a beautify interior decoration. The banners can visually enhance any wall and make into an eye-catcher.
Order textile banner from Vispronet® - Low weight and high quality fabric
Another advantage of textile banners is their low weight. A special polyester fabric is used for banner printing which is robust and tear-resistant. At the same time the fabric convinces through its low weight and is almost wrinkleless making the banners particularly suitable for mobile use. For example at trade fairs or other promotional events.
In addition to colorfastness and radiant print you benefit also from a high fabric quality. The fabric print allows for multiple folding and unfolding of the banner.
At Vispronet® you will find a wide range of options for promoting your corporate message and convincing customers, whether with flags, display systems or advertising banners. Do you still need an advice on our product? Contact us, we look forward to your inquiry.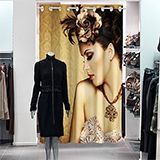 Shop advertising - Printed fabric banners and curtains
Fabric banners are ideal for internal store advertising. Suspended from ceiling the banners immediately catch the customer's eye. Another attractive advertising space is curtains in front of changing rooms. A place where customer attention is drawn to discounts, brands or upcoming events.
Your motifs are printed on one side of the opaque, crease-resistant material Multisol® D 240 SE in bright colours with high lightfastness. Curtains are versatile and very flexible and can be fitted with universal loops, large metal eyelets or classic header tape.