Display Wall
The versatile wall display offers a number of options for lightweight, inexpensive mobile presentations. Available in different sizes and designs, offers a large-scale advertising for your needs. The large Wall Displays can be used at fairs, points of sale, in foyers and lobbies, as well as for outdoor use at events such as sport events. Your image can be printed on one or both sides - acting as a room divider, exhibition stand, mobile advertising, or decoration at private events.
Display walls - mobile billboards and decorative eye-catchers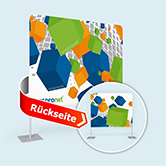 Display walls from Vispronet® are very versatile. They are the answer to a lightweight, inexpensive and mobile presentation. The printable areas can individually present the most important information and specifically arouse the interest of visitors at trade fairs. The customizable display wall finds its application even in lobbies and in foyers.
Unlimited application possibilities for display walls
Display walls can be easily installed indoors and outdoors. At open-air and sporting events you can often see an informative display wall, which is printed either on one or both sides. The versatility of the display walls is limitless. It can be wonderfully used as a room divider as well as a background for exhibition stands, as a mobile advertising poster or decoration at private parties.
The display walls are available in the following versions and sizes:
Display wall Basic




The Display wall Basic offers a good price-performance ratio. It can be designed as a long or a short version. Printed on one or two sides, this advertising wall is also available in various standard sizes. Two base plates provide for stability of the display wall and keep it firmly in place on the ground.




Display wall Q-Frame® landscape format




The Display wall Q-Frame® is a stable, free-standing display made of high quality aluminum profiles. Once more different prints on front and back are possible. The printed motifs on front and back are fastened in the frame with a keder-groove system and can be exchanged very quickly.




Display wall Q-Frame® in portrait format




This high-format advertising display is made of a sturdy aluminum frame and 2 print parts. The prints can be easily exchanged at any time due to the use of a practical flat piping.



Buy custom size display wall online
The online printing company Vispronet® offers also Display Wall Q-Frame® in custom sizes. In addition to the standard sizes, your individually desired size is also available. The maximum print surface is 500 cm wide or high, depending on portrait or landscape format. In portrait format, it is exactly the opposite. The high quality aluminum frame is silver coloured anodized and can be fitted additionally with a lighting (halogen spotlights 150 W). A display wall can be so simple and inexpensive!
Custom design your own display wall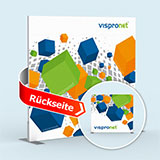 You do not have to be a trained professional to design your own the display wall. You can even save money for an external graphic artist by using the free design tool Visprodesign®. In just a few clicks you can create a unique motif for your own display wall. Self-designed display walls offer a very individual flair at trade shows, sporting events and in foyers. Choose from a variety of design templates and clipart your favorite motif and combine it with your own photos, logos and text. You can also upload your own graphic to the template area and complete it with the help of existing clipart. A blank display wall template allows you to use many design options, both in the choice of colour as well as the pictures. Your creative ideas have no limits. The Visprodesign® can not only design display walls but also Roll Up Banner banners or complete exhibition walls. Save the extra cost of an expensive graphic artist and design your own advertising.
Order display wall overnight
Companies, public institutions or sport clubs like to use the display walls for effective advertising and information. For urgent orders Vispronet® offers the overnight service. If the ordered quantity does not exceed a certain number, we are technically able to print and ship almost all of your orders within one working day.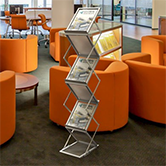 The graphic files of your display walls have to be uploaded error free on our servers and no later than 9 o'clock in the morning.
Brochure stands support information variety of display walls
Support the messages on your display walls with stickers, posters and catalogs for customers to take home. Present your advertising material clearly visible next to a display wall. The high-quality brochure stands from Vispronet® are available in various designs. The stands can be disassembled or collapsed after use and take very little space when stored.