Flag & Banner Accessories
The Vispronet® offers a huge selection of accessories for flags, fabric banners, club flags, pennants etc. These range from banner hangers with different color end-plates, wooden poles with or without finial, flag holders, cords or cable ties for individual attachments. Small parts such as snap hooks, suction cups or screws and plug sets are also available.
Buy wide range of accessories for flags and banners online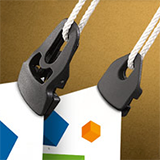 Here you will find the right accessories for flags and fabric banners from Vispronet®. The large selection offers you alternative suspension accessories, replacement for worn parts or additional attachment options for flags and fabric banners.
The range extends from banner hangers with different coloured disks, wooden dowel with and without finials, flag holders for small ice cream or car flags to cord, tensioning bungee cords or cable ties for a very individual attachment. Small parts such as carabiners, suction cups or screw and dowel sets complete the offer.
Order flag accessories online
Flag accessories should primarily support the hoisting or suspension. Universal flag guide rings, flag loop sets or plastic snap hooks are just a small part of the wide range. Mourning bows in different lengths can also be ordered overnight. They use with official mourning on national or state flags.
Buy inexpensive flag and banner accessories at Vispronet®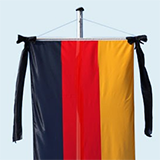 Flag and banner accessories will help you with the hoisting and suspension. You can choose between various finishing elements, such as discs or finials and decide yourself with which accessories you would like to present your flag or banner. We offer the right finishing elements in different colours and for every occasion. Decorative ribbons and mourning bows complete the accessories selection for flags and banners.
Overnight supplies delivery for small banners & car flags
From time to time not only large flags need extra elements to be perfectly hoisted. Sometimes also the car flags or small banners need to be renewed or repaired. For this purpose Vispronet® offers a wide range of accessories for car flags and small banners. Especially small flags are often used as fan articles or as a classic handwaver. For this purpose a suitable wooden dowel can be purchased online. The small banners are easy to mount on the pole with or without a tip. For mounting on walls of multiple small flags different holders are available. Flag holders for car flags are available in a convenient set of 10 or 5.
Accessories for club and indoor flags
Club flags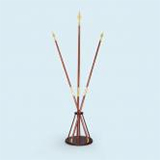 are often displayed at conferences, fairs and parades. For completion of club flags Vispronet®offers matching accessories, such as flagpoles made of dark wood with a simple yellow tip or with decorative brass finial. Stylish flag room stands made of dark wood or classically simple brass stands complete the flag accessories range for club flags. These are available as a room stands for 1 or 3 club flags.
Order flag accessories overnight
Vispronet® can deliver flag accessories very expediently to customers. When ordering products in the shopping cart select the delivery option "Overnight" and you will receive all your desired flag accessories the very next working day.