Ice-cream & Kiosk Flags
Ice-cream flag, Kiosk-flag or Lotto-flag – these little flags are known by various names, yet they all have one thing in common - they are very trendy and most popular. Printed with their own design in bright colors they spread the message from all sides to their full advantage. An ice-cream or kiosk flag can fit anywhere. Whether at the mall, store front, newsstand or café they can be placed or hang almost everywhere and used as a very effective advertising.
Ice-cream flag, straight bottom, double-sided

Ice-cream flag, straight bottom, double-sided

Ice-cream flag, slanted bottom, double-sided

Ice-cream flag, slanted bottom, double-sided

Small flag, straight bottom, flagpole

Small flag, straight bottom, flagpole
Printing ice cream flags - attractive advertising media for walls, facades and shopping streets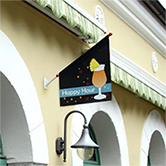 The small ice cream flag from Vispronet® is a popular advertising medium for PoS or newspaper stands. Especially in summer you can see them, printed with individual design, hanging on house facades, kiosks or next to entrances. Ice cream flags are always in direct eye-sight of customers and guests. They welcome and inform about products and services that can be found within the business.
In addition to commonly known name ice cream flag, this handy little banner is also known under the name kiosk or lottery flag. All synonyms refer to the same basic form. A small flag with a pole which can be used in different ways both indoor and outdoor.
Buy online ice cream flags, kiosk flags and lottery flags in various designs
At Vispronet® you can choose between the following ice cream flag designs:
Ice cream flags with individual print are a popular advertising media. Ice cream parlors prefer the flags with slanted edge and flag holders. Depending on your wishes, you can individually print the front and back with same or different motifs. Lightfast colours guarantee that the motifs retain their luminosity and colour brilliance exposed to sunlight for a long time. Each ice cream flag is offered with two different inclination angles: 60 degrees and 75 degrees. There are two different sizes for each inclination angle.
Create your own ice cream flag, kiosk flag & lottery flag online
Advertising must be individual. With the right motif even the smallest advertising media can catch your eye. If you do not have a finished layout, you can quickly and easily create motifs for an ice cream flag in our online shop by using design tool Visprodesign®. For example, combining a photo of an ice cream bowl with a suitable advertising slogan. Or you can use one of the numerous photos or free background graphics available in the design tool. This way in just a few clicks you can implement your ideas of an ice cream flag.
To use Visprodesign® all you need to do is to select the button "Design yourself" in "Print Data" section of your order.
Best customer service thanks to fast deliveries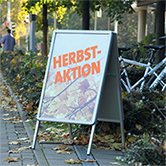 Fast decisions and short-term changes to schedules often mean that customers need their ice cream flags extra fast or the next working day. For this reason, you can choose from three different delivery times from the online printing company Vispronet®. Decide between overnight, express and standard shipping.
Additional advertising products for streets and promenades
As practical as our ice cream flags are the sidewalk displays presented with an engaging poster design, attract just as effectively customers to your business as the appealing ice cream flags