Fabric banners
Fabric banners are the all-rounders among advertising media. They can be used extremely versatile. We offer you a large selection of textile banners for various purposes. Fabric banners are attractive advertising media for use at point of sale, trade fairs or exhibitions. Double advertising space: Twiny fabric banners can also be printed with different designs on front and back! Advertise in XXL format: with fabric banners XL up to a size of 31 m2 your advertising message is guaranteed to reach your target group. Choose your preferred delivery time: standard, express or overnight!
1. Fabric banners - overview
2. Fabric banners finish
3. Design your own fabric banner
4. Possible uses

Print your advertising banners in custom format online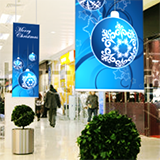 Fabric banners are the all-rounders among advertising banners. Whether as a ceiling hanger in sales or showrooms, in shop windows and shopping arcades or on walls - with textile banners you will attract the attention of your target group. Print textile banners easily with your advertising messages, photos or design them online in Vispronet® print shop!
Fabric banners or decorative banners are very popular advertising media due to their flexibility and versatility. Depending on the intended use, you can choose between fabric banners printed on one side, Twiny fabric banners or XL fabric banners. With all variants you have the choice between standard or custom sizes.
Fabric banners can be ordered in different designs, materials and with different hanging options. This way you can adapt decorative banners exactly to desired purpose.

Vispronet® - The right fabric banner for every purpose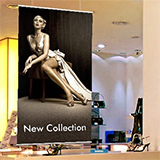 The fabric banners can be designed on one side or even printed on both sides with the same or different advertising motifs. At Vispronet® you can order fabric banners in a variety of designs - with noble metal covering, practical plastic clamping rails, high-quality aluminum clamping rails or rustic wooden bars.
The large fabric banners XL which can be printed up to 31 m2 are available with high-quality piping profiles, eyelets or hemstitching.
Determine the type of your textile banner yourself. At Vispronet® you can order fabric banners individually or in large quantities. You can print decorative banners online in various materials. Choose the right fabric for your textile banner between shiny, satin matt or super robust material.

Make your choice:
• High-gloss knitted polyester Dekoflag H SE for a particularly brilliant printed image
• Multisol® L SE semi-gloss knitted polyester with a wide range of possible uses
• Matt, glossy polyester fabric Multisol® X SE for particularly low-crease decorative banners
• Matt polyester fabric Multisol® X Opak SE for opaque fabric banners XL
• Matt glossy polyester knit Primeflag : double durability, printed image on the back 100% visible
Convince yourself by the combination of high-quality textile fabric, elegant look and brilliant print. Advertise with fabric banners from Vispronet® and inspire customers and interested parties!
Design your own high quality decorative banners online at an affordable price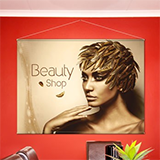 Printing fabric banners is not a difficult task. At Vispronet® print shop you can design textile banners yourself quickly and easily in just a few steps. Choose your desired format, decide on a material and the appropriate mounting option and then upload your design online to your customer account. Finished! Your advantage - upon receiving the print data we make a free standard data check. This way, possible errors in the printing file can be determined.

If you do not have ready motif or previous graphic knowledge, no problem! With our free design tool Visprodesign® you can design your own decorative banner in no time at all. You have the choice between a large number of finished design templates, you can also upload your own photos and add lettering and clipart. Printing a fabric banner can be this easy!
All-round textile talents
Textile banners are real all-rounders. They can be printed for special promotions or used repeatedly, for example with seasonal motifs. The possible uses for fabric banners are vast which makes them a highly effective advertising media.

Decorative banners for shop windows and points of sale
Fabric banners are very well suited for decoration or as advertising in shop windows. This way you can bring your advertising campaign closer to a large audience and increase the exposure of your products or business. The possibilities are almost endless. Print elegant fabric banners with your logo, discount campaigns, testimonials or current offers. You can also design fabric banners with seasonal motifs to give your window display or shop a special atmosphere. Santa Clauses, Easter bunnies, autumn leaves - there are no limits to your creativity.
Textile banners at events and trade fairs
Do you use fabric banners for your trade fair stand or event? If yes, you are doing exactly the right thing. Printed advertising banners can make your presentation stand out from the competition. Printed with convincing designs, they not only serve as decoration or room dividers, but also advertise effectively. Skillfully stage your presentation! At events, fabric banners can make the difference between a standard and an outstanding event. Decorate walls, ceilings and rooms with textile banners and create an exclusive ambience.
Fabric banners as decoration
Decorative banners are not just an effective advertising media. They are also very popular and are used as decorations. Whether on the business premises or in your own four walls, the textile banners are always the right choice. You can print banners on fabric with the most beautiful holiday memories, family photos or pictures of your beloved pet. This way you will give them a special place on the wall in addition to the place in your heart.
As you see, the fabric banners are among the most popular and varied advertising and decorative items. Take a look online at Vispronet® offer and order your fabric banner in excellent print quality and at a fair price!