3D-Displays
We all move in three dimensions - move your target audiences with advertising in the third dimension! 3D displays offer more space, more attention, more variety at trade fairs, events, exhibitions, points of sale, etc. The multidimensional stand allows you plenty of design freedom. Offer your audience a high quality print in lustrous colors. All systems consist of aluminum and wrinkle-resistant materials. Whether in combination with other display elements or as a single element - 3D displays are always effective in bringing your message.
3D-Triple Displays - bringing attention from all directions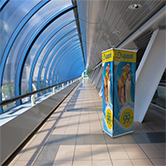 Advertising in third dimension and all without any additional electronic technology. The 3D display, which is often referred to as triple display, you can increase the attention of your own advertising from 3 different sides.
This display offers you three large print surfaces for individual advertising. Trade fair events and PoS stands receive a particularly striking touch through use of a 3D display. The multi-dimensional displays give you plenty of possibilities for your own designs. The 3D display systems are made of aluminum. The custom designs are printed on various crease-resistant, textile materials. The 3D display leaves plenty of room for creative ideas. Whether in combination with other display elements or as a single object - 3D displays are always effective.
Design your own 3D Triple Display online - for advertising and decoration
All three sides of the 3D Triple Display from Vispronet® can be individually designed online. After choosing the right size and the right material, the "Design yourself" option will be available. Clicking on the button takes you to the in-store design tool Visprodesign®. Within the design tool you can add your own photos and text and choose free backgrounds, clipart and graphics.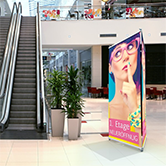 Use the countless creative possibilities of Visprodesign® and print 3D Triple Display with your custom motif.
Order 3D Triple Display overnight
Not only do you have many options in terms of design, at Vispronet® even shipping is subdivided into three categories. In addition to a standard delivery time, urgent orders can also be ordered express or overnight. If you would like to use express service, then select in the shopping cart the delivery method "overnight" and send us your print data for the 3D Triple Displays until 9:00 in the morning.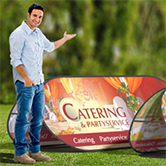 If all print data is error-free, you will receive your 3D display delivered already the next working day. Ordering from Vispronet® can be quick and easy! Ordered today, we will deliver tomorrow.

Pop-Out Banner advertising from both sides
Advertising in three dimensions is effective and can be very beneficial at the point of sale. There are also places and occasions where the advertising message is only required to be visible from two sides. For this purpose we offer other attractive alternatives, such as lightweight pop-out banner. Within seconds, the two-sided printable banner is set up and ready for use. Learn more about this inexpensive display system, which can be used indoors and outdoors.