Adhesive films, back glass, reusable
Advertising that sticks. Adhesive back glass films are printed mirror-inverted and glued from inside to shop windows, glass doors or car windows. This makes the print perfectly legible from outside and protects against damage, soiling and possible vandalism. Adhesive films are available in three different quality types: electrostatically adherent film, adhesive film or micro-suction film. The back glass foil can be attached very fast, removed without residue and reused several times. Adhesive films back glass are available in many geometric basic forms, numerous standard sizes, DIN formats or in custom desired format.
1. Foliendruck hinter Glas drucken
2. Hinterglasfolie in freien Formen
3. Hinterglasfolien kostenfrei online selbst gestalten
4. Verklebehinweise für Hinterglasfolien
5. Vorteile von bedruckter Hinterglasfolie

Hinterglasfolie – für Werbung, die haften bleibt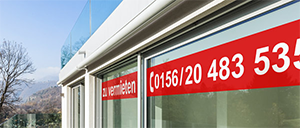 Hinterglasfolien sind Haftfolien, die von innen an Schaufenstern, Glastüren oder Autoscheiben befestigt werden. Damit sind sie von außen perfekt lesbar und vor Beschädigungen, Vandalismus und Wettereinflüssen geschützt. Ob es schneit oder die Sonne scheint – Ihre Werbung präsentiert sich dank der von innen selbsthaftenden Folie an jedem Schaufenster von der besten Seite. Die hochwertige Hinterglasfolie von Vispronet® lässt sich blitzschnell anbringen, rückstandsfrei entfernen und ist mehrfach wiederverwendbar. Die Haftfolien für den Einsatz hinter Glas sind bei uns in vielen geometrischen Grundformen, zahlreichen Standardgrößen, DIN-Formaten oder in Ihrem Wunschformat lieferbar. Mit unseren Hinweisen zum Verkleben setzen Sie die Hinterglasfolie problemlos an Ihrem gewünschten Standort ein.
Bestellen Sie eine Hinterglasfolie in Ihrem Wunschformat
Ihr Werbekonzept sieht eine große bedruckte Folie hinter Glas im Hochformat vor? Oder Sie benötigen eine Hinterglasfolie in einer ganz bestimmten Gestaltung, die sich stark von standardisierten Formen unterscheidet? Vom beliebten Standardformat bis zur außergewöhnlichen Freiform bedrucken wir viele die Haftfolie in verschiedenen Maßen für Sie. Neben einer individuellen Wunschgröße bis maximal 300cm Höhe und Breite lassen sich folgende Standardformate bei Vispronet® der Hinterglasfolie bestellen:
Hochformat
Querformat
Quadrat
Kreisform (mit einem Durchmesser zwischen 5 und 120 cm)
Oval
Pfeil nach rechts zeigend
Pfeil nach links zeigend
Quadrat mit Spitze nach oben
Dreieck mit Spitze nach oben
freier Freiform
Eigenschaften und Anwendungsmöglichkeiten von Hinterglasfolie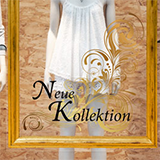 Hinterglasfolie ist im Gegensatz zu Hinterglasaufklebern nicht selbstklebend, sondern selbsthaftend durch Adhäsion. Dadurch kann sie ohne Beschädigung wieder vom Glas entfernt und mehrmals verwendet werden. Sie besteht aus weichem, transparentem PVC mit 150 µm, auf das der Druck spiegelverkehrt angebracht wird. So ist er bei einer Anbringung von innen auch außen perfekt erkenn- und lesbar. Dabei kommen leuchtende Farben mit sehr guter Lichtechtheit zum Einsatz. Auch ein Weißdruck hinter den Farbflächen ist möglich; dadurch wirken die Farben brillanter.
Die Hinterglasfolie ist für den Einsatz an Schaufenstern jeglicher Art prädestiniert. Ob für die Bewerbung einer Rabattaktion beim Juwelier, der Ankündigung des jahreszeitlichen Sortimentswechsels im großen Modegeschäft oder der Anzeige von Sonderangeboten zum bevorstehenden Jubiläum der Bäckerei – die Anlässe sind vielfältig, zu denen Ihre Werbung auf einer Hinterglasfolie am besten zur Geltung kommt. Die selbsthaftende Folie lässt sich nach ihrem Einsatz für einen weiteren verstauen und später genauso leicht wieder anbringen.
Darüber hinaus ist sie wegen ihrer langen Lebensdauer auch für den dauerhaften Einsatz geeignet und kann gleichermaßen als Sichtschutz und Dekoration dienen. Das Unternehmenslogo oder ein Werbeslogan lassen sich mit der Hinterglasfolie schnell und einfach an Glastüren und Fenstern fixieren – und bei Bedarf rückstandslos entfernen. Neben (Schau-)Fenstern und Türen sind die Scheiben von Pkw und Lkw für Hinterglasfolien geeignet. Darauf lässt sich der Kaufpreis vermerken oder auf spezielle Ausstattungsmerkmale hinweisen. Dem Einsatz und Anwendungsmöglichkeiten der bedruckten Haftfolien hinter Glas sind beinahe keine Grenzen gesetzt.
Hinweise zum Verkleben der Hinterglasfolie von Vispronet®
Damit Sie Ihre Hinterglasfolie am Schaufenster, einem Fenster oder einer Glastür fachgerecht befestigen können, erhalten Sie von uns nützliche Hinweise zum Verkleben. Ein zufriedenstellendes Ergebnis kann nur dann erreicht werden, wenn die Folie ohne Blasen und Falten haftet.
Reinigen Sie die vorgesehene Glasfläche zunächst, denn sie muss frei von Schmutz, Ölen und Silikonen, trocken und glatt sein. Die optimale Temperatur zum Anbringen liegt bei über 10°C. Bei kleineren bedruckten Hinterglasfolien bis DIN A5 ist die Trockenverklebung möglich.
Richten Sie dazu Ihr Motiv aus und ziehen das Trägerpapier von einer Ecke aus nach und nach ab. Achten Sie dabei darauf, die bedruckte Folie nicht zu stark zu dehnen.
Drücken Sie die Hinterglasfolie mit einer weichen Verkleb-Rakel fest an und streichen Sie mögliche Luftblasen von der Mitte zu den Rändern hin aus. Bei größeren Formaten eignet sich die Nassverklebung besser. Dafür benötigen Sie eine Seifenlösung mit einem halben Teelöffel Spülmittel auf einem Liter Wasser. Tragen Sie diese mit einem Lappen oder einer Sprühflasche gleichmäßig und großzügig auf dem Glas auf und gehen Sie dann wie bei der Trockenverklebung vor.
Sollte die Hinterglasfolie nicht an der gewünschten Stelle haften, können Sie sie einfach abziehen, neu positionieren und erneut verkleben.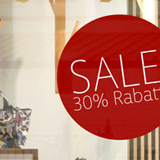 Die Vorteile der Hinterglasfolie von Vispronet® kompakt zusammengefasst:
haftet ohne Klebstoff
mehrfach wiederverwendbar
für den Innenbereich und kurzzeitigen Einsatz im Außenbereich geeignet
lichtechter Druck mit leuchtenden Farben
Weißdruck hinter Farbflächen möglich – für eine noch leuchtendere Farbwiedergabe
in vielen Größen und Formaten sowie individueller Freiform erhältlich
langlebig mit guter UV-Beständigkeit
leichte blasen- und faltenfreie Anbringung und rückstandslose Entfernung