Easy Display
Easy Display from Vispronet® is the proven, light and fast to set up display system for demanding and continuous use. Available as single or double sided version with one or two advertising spaces. Vispronet® will print the Easy Display with the design of your choice. The image can be easily replaced using the clamp-rail attachments. For individual business presentations, catering, in hotels and or at the trade fairs. The possibilities are endless.
Easy-Display from Vispronet®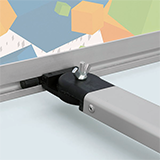 The Easy-Display is a personalized advertising banner from Vispronet® which is extremely easy to handle. The tried-and-tested Easy-Display can be set up in just a few seconds and is wonderfully suited for a demanding and continuous use. The low weight makes it a popular exhibition stand for customer-oriented advertising. Many foyers and exhibition rooms are preferentially decorated with the Easy-Display.
The Easy-Banner is available as one-sided or double-sided version with one or two printable advertising surfaces. The print is attached quickly and easily on the provided stand. Easy-Displays are perfect for promotions on a small budget. Through use of practical connectors, can be sized and extended as required. Even prints cut to contour can be used in Easy-Display.
Vispronet® uses following two types of Easy Displays:
Easy Display with one-sided print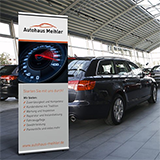 The Easy Display with a one-sided print is a popular and proven product on the market. With a max. height of 206 cm the system is very easy to set up. It is very flexible and durable due to good material properties. The one-sided Easy Display is particularly suitable as a stand in front of walls and smaller rooms. Motifs with contour cuts can also be used with Easy Display.
Easy display with double-sided print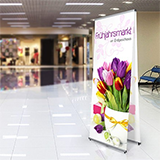 The double-sided print Easy Display is often used in frequented areas where many customers and visitors can be captivated from all directions. Show your motif from both sides with double-sided Easy Display. The system is very easy to assemble, flexible and durable. By doubling the printable surface you have more space available for design. The single Easy-Display is delivered with a cloth bag and a transport quiver. Double-sided Easy Display is packed in a cloth bag as standard.
Create your own Easy-Display online
Vispronet® prints every Easy Display with the motif of your choice. The Easy Displays are very popular for presentations at conferences, catering events, in hotels and at fairs. Even private celebrations gain a very special touch with your individually designed Easy Display. If you have not yet prepared your own design then you will find directly in the shop the opportunity to design your own Easy-Display with the free tool Visprodesign® online. Just select the button "Design yourself" during configuration and you will be taken to Visprodesign® tool. You can choose from free backgrounds, available numerous clipart and beautiful pictures. Combine your own messages, logos and slogans with the elements from our pre-stored image database. In just a few steps attractive eye-catchers are created that will not fail to achieve their advertising goals.
Order Easy Display overnight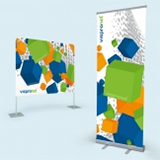 Fast delivery times characterize the service of our online printing company. Short-term appointments or events often do not allow long waiting periods. Order your Easy-Display overnight. If you submit your error-free print data no later than 9:00 am, you will receive your creative Easy-Display the next working day.
Additional banners for engaging advertisement
The Easy-Display is just one of many banners that you can order here online. Also take a look at other banner forms from Vispronet® in case you need to supplement the use of the Easy-Display with other types of displays, such as table display or wall display.