Are you planning big things in your company? We'll bring your flag all the way up! With a stationary flagpole you buy tested quality "Made in Germany". Place professionally your flags or banners in the spotlight. In addition to classic flagpoles with a solid foundation, mobile flagpoles offer new possibilities for changing locations indoors and outdoors. Discover the complete range of high quality Vispronet® flagpoles.
You might also be interested in
You can find these and many other profitable offers in the large range of the online print shop Vispronet®.
Stationary flagpoles in durable quality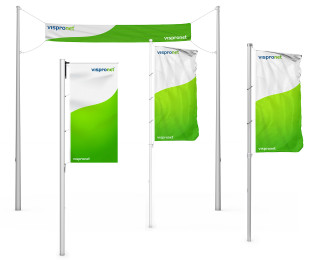 With a Vispronet® flagpole you can present flags with an individual message in an eye-catching and professional manner. These outstanding advertising media are ideal for areas in front of company or administrative buildings, on sports fields and on streets or in public places. This way, you can draw attention to your company and at the same time reach a wide audience. Our print shop will also be happy to supply you with brilliantly printed flags and banners.
Advantages:
Large selection for different budgets
Technical components as required
Extensive range of accessories and floor elements
Variety of materials - high quality and stability
For your new flagpoles there are 3 reliable materials available: aluminum, stainless steel and GRP. When making your decision, consider the future location and local wind conditions. Flagpoles are made of sturdy and durable steel.
Flagpole shapes – from classic to elegant
The special shapes of the Vispronet ® flagpoles are characterized by specific features. Our easy flagpole configurator offers you various combinations of material and shape.
Cylindrical flagpole
aluminum, stainless steel
classic shape
constant diameter from bottom to mast head
Conical flagpole
aluminum, stainless steel, GRP, steel
elegant, tapering shape
decreasing diameter from bottom to mast head
Elliptical flagpole
aluminum
statically and aerodynamically optimized
completely rotatable mast (360°)
Our performance classes – technical equipment made to measure
By combining the various performance classes, depending on the type of flagpole, you will receive a product that is perfectly tailored to your needs.
Basic – the simple and inexpensive basic variant with external cable guide
Protect – with concealed guide line to protect the flag from theft
Lift – with built-in crank mechanism for easy flag hoisting
Extend – with presenter for fully unfolded flags even without wind
Quality masts in various designs
The online printing Vispronet® provides you with flagpoles with different equipment options. When making a purchase decision, always take into account local conditions, such as regional wind conditions. We also recommend an easy-to-use crank hoisting device for frequent flag changes.
Cable guide and hoisting device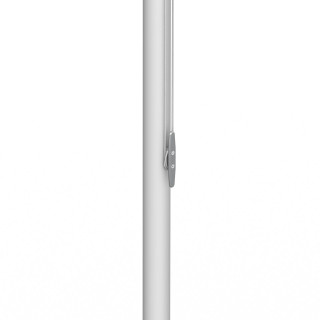 External cable guide
the hoist cable runs along the outside of the mast
tension and lock of the hoisting cable with cleat
robust, easy to use
inexpensive variant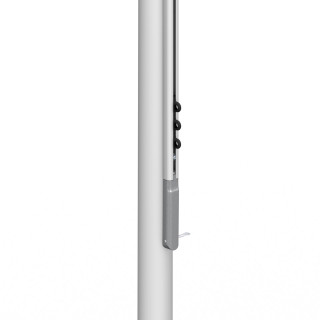 Internal cable guide
low-noise construction, cable does not hit the mast when windy
lockable door on the operating housing or safety bolt with locking bolt
professional theft protection
for permanent flagging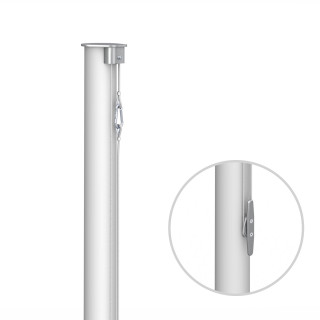 Standard hoisting device
external cable guide
hoisting the flag by hand
with pulley and cleat
inexpensive variant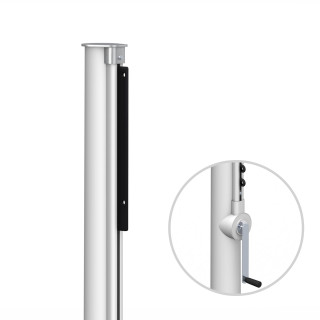 Crank hoisting device
internal rope guide
easy and comfortable hoisting of the flag with crank
professional theft protection
various fixings e.g. lever lock or safety bolt with locking bolt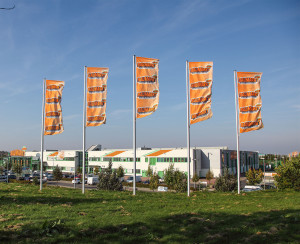 Flagpole with presenter
The ideal solution for flagging in regions with little wind is the flagpole with presenter. The flag is inserted onto a horizontal tube of the presenter and attached to the mast with the carabiners. placed below the top of the mast, the flag presenter guarantees you a maximum effect.
Advantages
fully unfolded flag also without wind
constant presence of images and messages, as well as your corporate identity
maximum advertising effect even when there is no wind
high attention effect even from afar
Hoistable presenter
Non-hoistable presenter
Rotating presenter
Fixed presenter length
Telescopic presenter length
The flag is hoisted or lowered together with presenter.
The presenter is permanently installed on the mast head .
The mast head aligns with the wind.
The presenter length is determined for a certain flag width.
The presenter length is flexible due to individual segments that can be slid into one another.
You save time-consuming lowering or tilting of the mast when changing flags.
A flag change requires the mast to be tilted or lowered.
Your flag doesn't wrap around the flagpole.
The flag width remains always the same as chosen.
Choose freely between flag widths from 100 to 160 cm.
Mobile flagpoles give you flexibility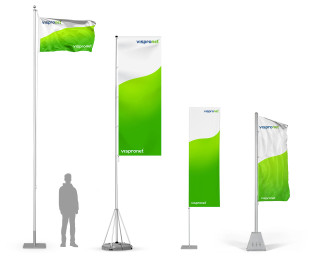 If you are regularly out at events, trade fairs or other occasions, convince your audience with a mobile flagpole and the right flag. This way you can signal your location at any time and at the same time convince with your corporate identity. Use the versatile products for changing locations. A mast with blower, for example, is an interesting eye-catcher for new and innovative products in the showroom. The mobile masts from Vispronet® are made of silver anodized aluminum and do not require a structural foundation.
Vorteile:
Light weight
Robustly made
Flexible location
Suitable accessories
for stationary flagpoles
In addition to the proper location, a suitable base element ensures that the flagpole stands securely. This is already included in the delivery content for some of our products. Depending on the type of flagpole, you can also choose from other base elements, such as a fitting ground sleeve, centering sleeve, tilt bracket or adjustment sleeve.
In addition to the right base element, a structural foundation ensures the stability of your flagpole. You will find important information on this topic in our FAQ.
for mobile flagpoles
The choice of a suitable base is extremely important for the flexible use of a mobile flagpole. When ordering, take into account the planned location in indoor or outdoor area.
For smooth floors you will find all base elements incl. water-fillable weights or cross bar base in our offer. Use your mobile flagpole T-Pole® on soft ground outdoors, a drive-in sleeve is recommended.
We also have a large range of optional accessories and spare parts ready: snap hooks, flag guide rings, flag loops and lever locks as well as a large selection of other accessories for flagpoles.
Base elements, accessories and spare parts for your flagpole
You can find a complete overview of the accessories in our brochure for flagpoles .
Flag presenter
The practical flag presenter is a perfect and inexpensive alternative for flagpoles without a presenter. Buy a Presenter Basic or Select and always show your advertising fully unfolded, even without wind.
Construction
Flag width
Use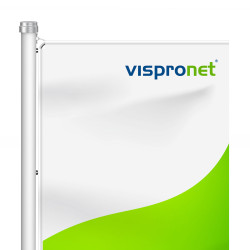 Presenter Basic
Presenter Basic for stationary flagpoles
bracket made of aluminum hollow profiles
concealed in the groove
120 or 150 cm
cylindrical flagpoles with external cable guides in the groove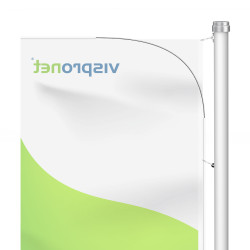 Presenter Select
Presenter Select for stationary flagpoles
flexible carbon fiber rod visible on the back of the flag
80/100/120/150 cm
stationary flagpoles
In corporate advertising
Waving flags are the perfect attention magnet. The elegant movement of the flag signals constantly your company presence. This way, a favorably placed flagpole supports the effect of an advertising campaign, because company flags or individually designed advertising flags catch the eye from a great distance.
For representation
Present on public holidays, election days or on official occasions with aluminum flagpoles national flags and special flags. Possible locations for flagpoles are places in front of company headquarters, schools, town halls or other administrative buildings. With a representative outdoor flag you exhibit your special acknowledgment and or affiliation.
For the field of sports & hobbies
Due to height, flags on flagpoles reach a wide audience, for example in the event industry or in front of stadiums. But garden poles are also enjoying a growing popularity in the private sector. Hoist a pirate flag on the playground, your family crest or fan flag of your favorite club in the allotment garden.
Your special advantages with the online printing company Vispronet®:
Large variety of products
Volume discounts
Express & overnight shipping
Trusted Shop certification with buyer protection
Benefits for resellers and municipalities
Europe-wide shipping with many services
FAQ
Where can the flagpole be placed?
Choose a clearly visible location for your flagpole.
Pay attention to overhead lines, buildings or other obstacles in the immediate vicinity. Also think of growing trees and shrubs. Waving flags have a longer lifespan.
Furthermore, the mast needs a sufficient distance in the tilting direction. Plan a generous radius with a free area for your project.
Erecting a stationary flagpole always requires a solid foundation. Make sure to inquire about the structural and static guidelines at the responsible building authority. These differ from community to community. Find out timely about your options.
A professionally laid foundation does not necessarily have to be laid by a specialist. With a little craftsmanship, even the layman can do this. A foundation plan will assist you in this project. You will find this on every stationary flagpole.
What is a foundation plan?
Our foundation plans contain important information specifically tailored to each type of flagpole. Be sure to observe the respective information, because ground sockets and tilt brackets require different foundations. The right structural basis ensures the necessary stability of the flagpole. You can find the foundation plan on the product page of the selected flagpole.
What do I have to consider if I want to erect several flagpoles?
If there are several flagpoles, make sure there is enough space between them.
The rule of thumb is:
Without a bracket, 1,5 times the flag width, with a bracket 2 times the flag width plus 20 cm of the bracket width
If you plan at least three masts for a group, then you will achieve a harmonious picture.
Do not place the masts too close to the property line, as flags are not allowed to fly on private or public properties.
If the flagpoles are too close to buildings, they will not unfold properly in the slipstream.
How high does a flagpole have to be placed?
We recommend that you either place the flagpole at least 1 meter below the height of adjacent buildings or significantly higher. In addition, flags work best when the pole is about twice as high as the flag.
How big should the flag be?
Small flags are just as ineffective on a very large pole as large flags on a pole that is too small. Recommendations for the flag size can be found directly on the respective article page.
We generally recommend these rules of thumb:
Flags in horizontal format work best when the aspect ratio is 5: 3 or 3: 2. (Width to height).
The following applies to the flagpole: one third of the height of the pole corresponds to the selected length (width) of the flag.
Flags in vertical format take up about half the height of the mast.
Generally, the higher the flag, the more elegant the appearance.
In the case of banner flags, the bottom edge of the banner should end at least three meters above the ground.
Where can I find information on wind strength and wind zone in my region?
Information on the wind zones can be easily found in internet or by consulting your municipality.
Current information on wind strength in your region is made available on various service pages, for example www.accuweather.com oder www.weather.org