Table Throws & Cover
Vispronet® offers table throws, covers and cloths - all with your individual design. Whether in the lounge area, at trade fairs, weddings, club parties, exhibitions or in private surroundings: these products create atmosphere and attract attention. Tablecloths and table covers are attractive promotional and design elements for tables in standard or individual sizes. Discover the possibilities!
Find out more about the product!
Table covers from Vispronet®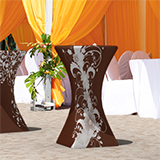 With elegant table covers from Vispronet® you will give your event the classy look that it deserves. Whether as tablecloth or table cover - we offer you a choice of different sizes, designs and materials. Improve your trade fair, your reception, your wedding or your party with individually printed table covers.
Our stretch covers upgrade ordinary bar and trestle tables and additionally protect them against wear and dirt. table covers are perfect design items for stylish event furnishing. They are the optimal alternative to the classic tablecloth: perfectly fitting, non-slip, washable, iron-free, hard-wearing and easy to clean.
Table covers in a variety of styles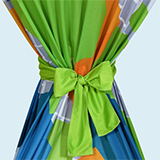 Your online printer for textiles offers Table covers in various styles. The different shapes of the bar table covers skilfully underline the character and flair of your event.
Vispronet® offers various table covers for standard round bar tables with a table top diameter of 70 cm and 80 cm. They are available with a tied ribbon or as stretchy covers.
The covers are attached to the legs of the table and provide a particularly slim appearance. If you like it more relaxed and casual, you should choose the tied table covers. The cover effectively wraps the frame of the bar table and ties it with a decorative bow. Our tip for even more attention: Simply combine your high table with a parasol with matching design. This allows you to offer your customers and guests sun shading and elegantly designed bar tables. At the next summer party, the children's birthday party or a wedding, your individual bar tables will be a glamorous highlight.
Covers for beer tables transform simple, commercially available beer tables into a special dinner table. The handy, half-height cover from Vispronet® always sits perfectly and leaves enough legroom for comfortable sitting. If you don't want to see anything from the beer table, take a look at the covers with sides full way to the floor.
Design table covers easily yourself using Visprodesign®
The textile covers for beer tables can be individually printed on www.vispronet.eu. There is no need to have any previous graphic knowledge. With our free design tool Visprodesign® you can easily design your own table cover with only a few clicks. Any company event, outdoor festival, neighbourhood block party, or birthday and wedding party will get its own unique touch through the self-designed table covers.
Select your favourite motif from numerous design templates and cliparts and combine it with your own photos, logos and text. Design the table covers according to your personal taste. Be creative! Add the table covers to your design concept and your event will become an eye-catcher.
Order table covers online and have them delivered overnight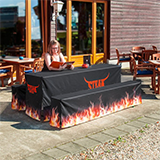 You decide how long you want your shipment to take. We offer standard and express as well as overnight delivery. If the ordered number of personalized table covers does not exceed a certain order quantity, we are able to produce and ship any of your orders within one business day.
All you need to do is to upload the artwork of your table covers to our server by 09.00 a.m. (error-free). If requested, we also send our covers to a different delivery address.
For which tables are table covers available?
In order to create a very individual atmosphere at different locations, our table covers are flexible to use and can easily be attached to different table sizes. Whether you want to transform a table into a presentation area or want to give different pieces of furniture a uniform appearance - you will always be on the right side with our table covers. You are the designer of your classy as well as robust and easy-care covers. The printable covers are available in different sizes and styles. You certainly will find the perfect solution for your individual needs.
Our customisable covers are not only suitable for tables, but also for every other object and piece of furniture. Have a look at our sample images and be inspired by the numerous possibilities. With us you can easily have your personalised table covers printed!
Covers for bar tables - Which ones are best suited?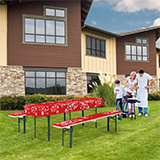 Everyone has probably already seen and admired them at trade fairs and receptions: apparently well designed bar tables. The slender and elegant furniture always creates a touch of elegance and finesse. It is quite simple and not expensive to give a simple bar table such a special look. With a stylishly designed Vispronet ® table cover, your next event will also become an exclusive experience that your friends and business partners will be talking about for a long time to come. For standard bar tables we have different design types available for you. The tied cover with bow discreetly covers the frame of the table and is provided with a matching bow. This form reminds of a gift packaging and fits perfectly to anniversaries, birthday celebrations or weddings. A stretchy cover, on the other hand, gives the surroundings a little more class and is also particularly functional. Due to the tight stretching of the fabric, the stretch covers fit perfectly to the table. A slipping is almost impossible. Thus your cover and your printed message will remain in perfect shape during the entire event.
What fabrics are used for printing?
We only use heavy-duty polyester fabrics for our table covers. These can be used both indoors and outdoors without concern. You can choose between high-gloss and matt fabrics. All fabrics are washable, iron-free and flame-retardant. If a candle should fall over, our covers, unlike normal cotton tablecloths, do not present a fire hazard. Hemmed bottom edges prevent the fabric from fraying. Depending on the type, the side edges are either closed or half open. As with all other articles in our product range, we work with environmentally friendly, lightfast, bright colours. This way you can enjoy your individually designed motifs and messages for as long as possible.