Tension Frame Systems (Q-Frame®)
Wall Frame Q-Frame® from Vispronet® gives your image a particularly refined setting. The frame application is very versatile - on walls as a picture frame, as a light box for continuous advertising, free-standing wall display, room divider or in small format as table stand. With the Wall Frame Q-Frame® you can display your textile print always wrinkle-free. The Wall Frame Q-Frame® is suitable primarily for frequently changing displays. Through welted edges in the canvas, removing or changing is nearly effortless.
1. Overview
2. Design your own frame
3. Tension frame in desired size
4. Delivery times

Order online aluminum tension frames in many formats - the Q-Frame® from Vispronet®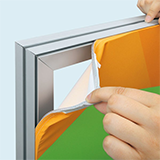 The aluminum tension frame Q-Frame® from Vispronet® is an elegant way to decorate walls with advertising, photos or your own design. Our aluminum frames are the answer to the ever increasing demands on innovative advertising space and unique eye-catchers. The textile prints are pre-assembled with a flat PVC piping and simply inserted in the groove of the sturdy aluminum clamping frame. As a result, the print is stretched absolutely wrinkle-free.
The frame optically appears in the background, so that the advertising print comes forwards in its fullness. You can choose between aluminum tension frame Q-Frame® made for mounting on the wall, as a floor standing display or an innovative table stand. You can combine the Q-Frame® wall display with lighting thus increasing visibility and awareness of your advertising message. Our aluminum tension frames convince with elegant combination of a high-quality aluminum frame and a wrinkle-free stretched textile print. Our online print shop Vispronet® offers also a clamping frame Q-Frame® in different variations. The handy and elegant clamping frame Q-Frame® T is often found with individual or company advertising and used as a table stand at trade fairs, sales stands and advice centers.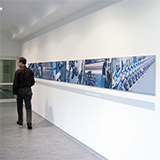 You can also use it to display photos of your family, holiday snapshots or a calendar. This small aluminum frame has snap on acrylic feet and is ready for use in just a few seconds.
For advertisers and companies, we have another version of tension frame - the display wall Q-Frame®. This mobile display wall is available in various standard sizes as well as custom size. The stability of these large tension frames is guaranteed through use of two stable feet. The Q-Frame® display wall is particularly suitable for large-scale presentations at trade fairs, events and for promotions at the point of sale. The aluminum tension frame is equipped with two print parts. The front and the back can be printed with same or two different motifs. The Q-Frame® display wall can be used extremely flexibly for instance as a room divider, a mobile advertising poster, a printed background for a trade exhibition display or as an information wall for congresses and event occasions.
Design the Q-Frame® tension frame yourself - creatively, with a frameless look and best quality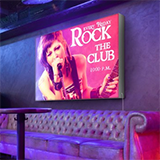 Vispronet® is an online shop for professionals and private customers. For persons who have little experience in creating their own motifs we have a simple in use and free design tool Visprodesign® available in our online shop. In design tool you will find numerous clipart, seasonal and themed background images as well as various lettering. Design your aluminum tension frame with your own design, combine your private photos with graphics from Vispronet® or use your own layout with custom lettering. There are no limits to your creative ideas. A tension frame Q-Frame®, is the modern way to present or advertise successfully indoors.
Create aluminum tension frames in custom sizes
Both the aluminum wall frames and the modern display walls are available in desired size. At Vispronet® we print custom-made tension frames starting from one piece! The tension frame Q-Frame® is particularly easy to assemble. The pre-assembled frame profiles are simply joint together and locked at the corners. The groove-piping system guarantees a wrinkle-free fit of the printed canvas and an easy change of motif without the use of special tools. Your advantage: you purchase one-time aluminum tension frame and can change your own motifs or advertising messages quickly and easily as often as you like.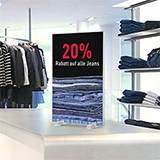 Your advantage: buy one-time only aluminum frame and you can change pictures, motifs or advertising messages quickly and easily and as often as you like.
Buy tension frames overnight - extra delivery times for spontaneous customers
It happens often that you require your ordered product on short notice. At Vispronet® online shop you have the opportunity to buy a tension frame overnight. Simply select the fast shipping method when ordering and hand over the finished print data to us by 9:00 am at the latest. Then you will receive your printed tension frame Q-Frame® on the next working day.