1Select the desired product group.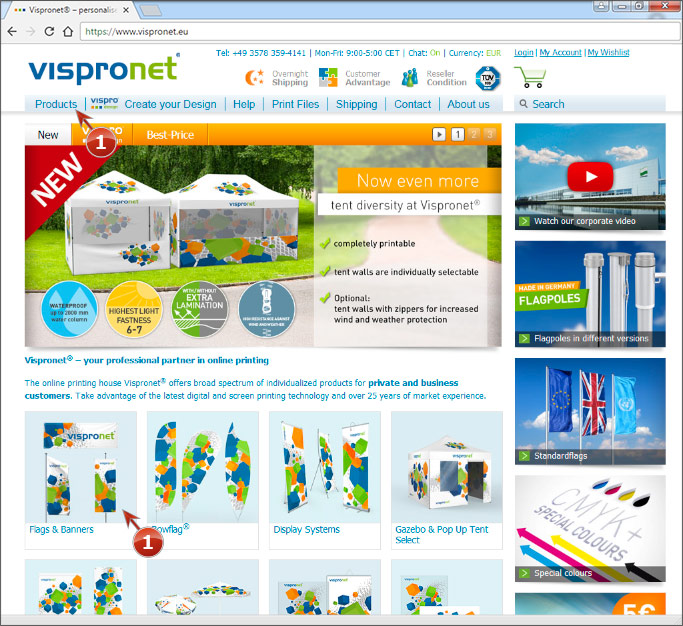 2Select the product of interest.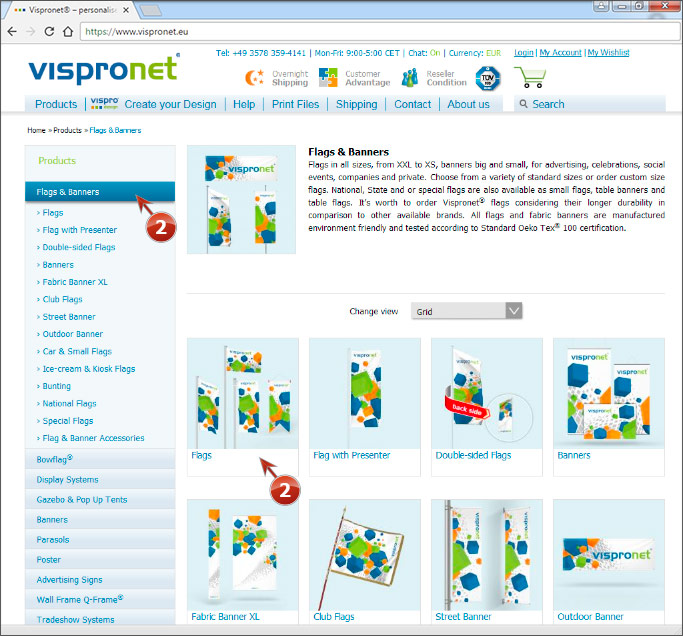 3First product information can be found in the list.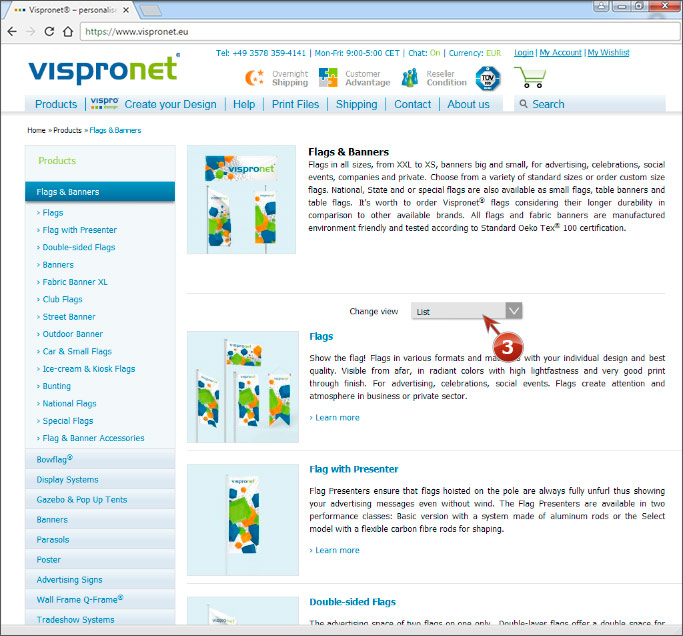 On the product page you will get a detailed description 1 about the product, printing process 2 and accessories / hardware 3. Select the appropriate slider.
4 In the slider configure you choose the number, size and material. Further information will be shown when clicking the -button.
To go to the next configuration step, click on "continue".
5Under Finish you can choose the finish of the product and if available the bases and ground fittings. More detailed information you will see when clicking on the photo.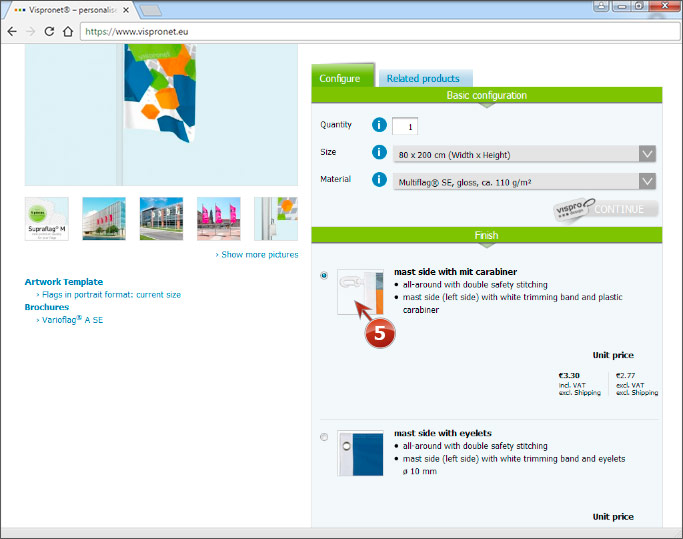 6In the slider Print Files please select:
"Ready Print Files"7 Upload your graphic after submitting the order. The print file needs to be set-up using Vispronet artwork templates.
or
"Design now" 8. You can upload your own pictures and designs, or choose from a variety of free design templates, cliparts and photos. Further information you can find at "visprodesign - design now".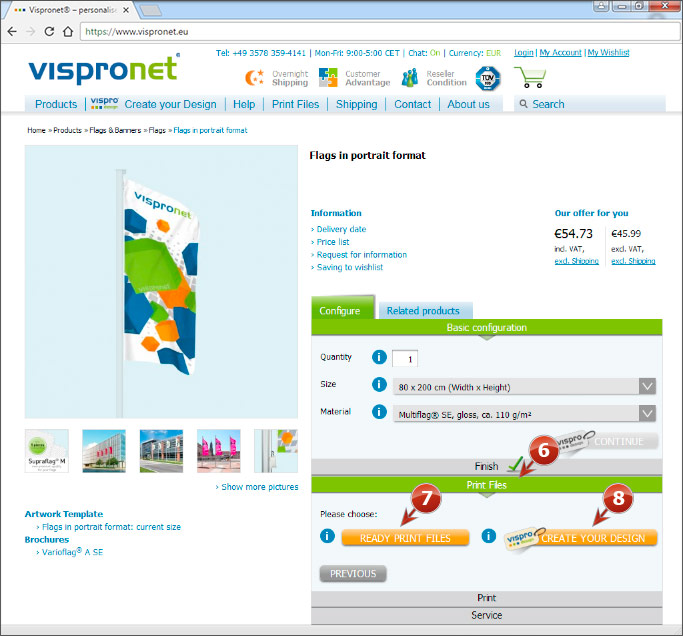 9 If the product can be printed in different printing processes you will be able to select the Printing method as well as the number of colours.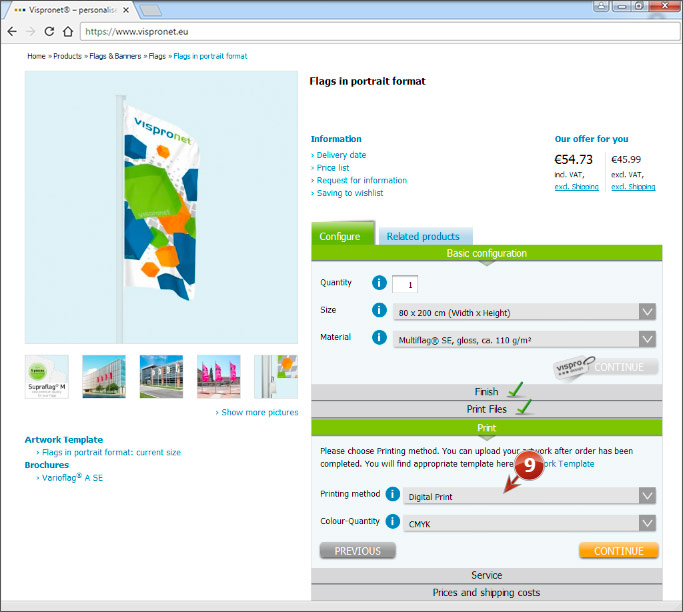 If you like the product to be printed in special colours (please note minimum order quantity in screen printing), we will need further colour information:
Digital printing - CMYK + special colours (12 extra colours can be defined)
Screen printing - solid colours (6 extra colours can be defined)
Screen printing - CMYK Cyan, Magenta, Yellow und Black (CMYK), 2 extra colours can be defined.
10Enter the number of colours.
To define the colours please follow the below steps:
11Choose Colour system.
12Select the desired Colour.
13Double check colour with shown Preview.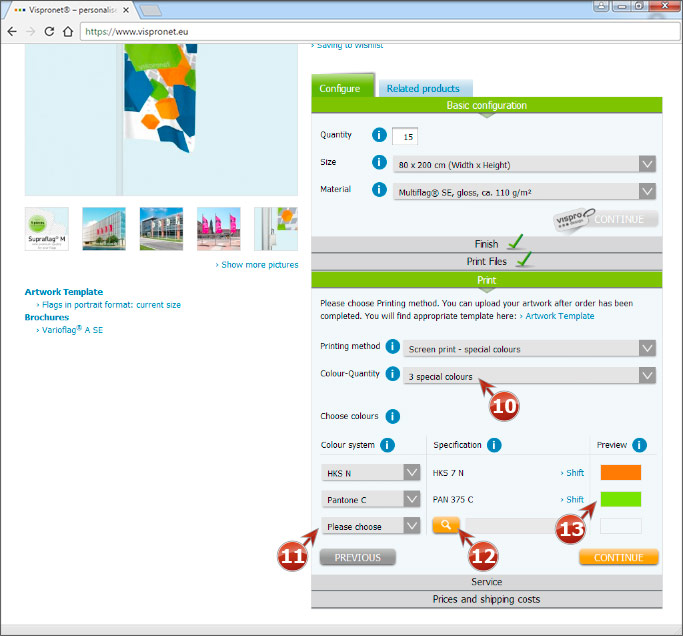 14Under Service you can choose between further options such as Professional graphic check, colour-binding proof or pre-production sample (for digital printing).
You will then receive a price overview of the configured product.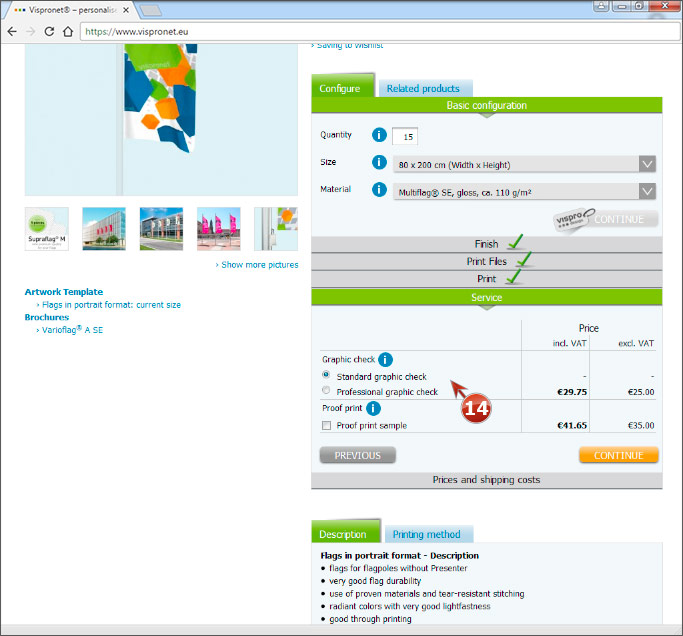 15When clicking Price list you will not only get prices for different quantities but also information about lead times and order deadlines.
16Here you can find first information about Delivery dates and shipping costs. However the final and confirmed shipping information will be given after placing the order.
17If you like to order the item at a later date, please click on "Saving to wish list".
18Add the item to the basket clicking on "Add TO CART".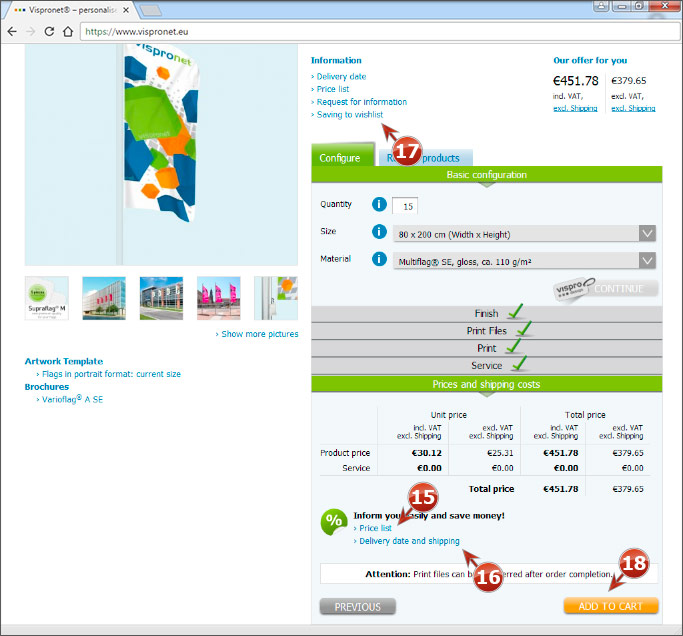 19In the Wishlist you will find your configured item as well as a sample picture. Click on the thumbnail to get an enlarged view.
20When clicking the button "Change" you can amend the configuration at a later date.
21Alternatively you can add the item to the basket clicking "ADD TO CART".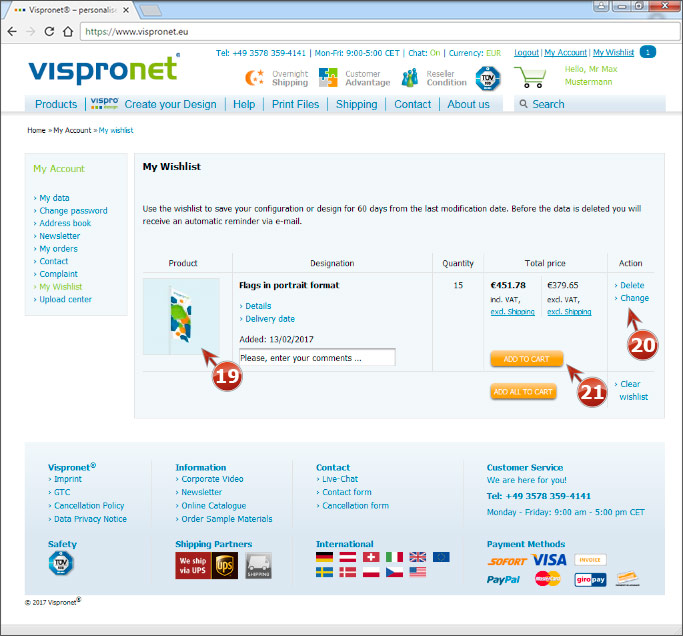 22Accessories can also be ordered in the shopping cart display. Select "To The Cart" or "With ACCESSORIES TO THE CART" or "CONTINUE SHOPPING" to complete the order.
Tip: You can add an unlimited number of products to your shopping cart and therefore order different products easily and quickly.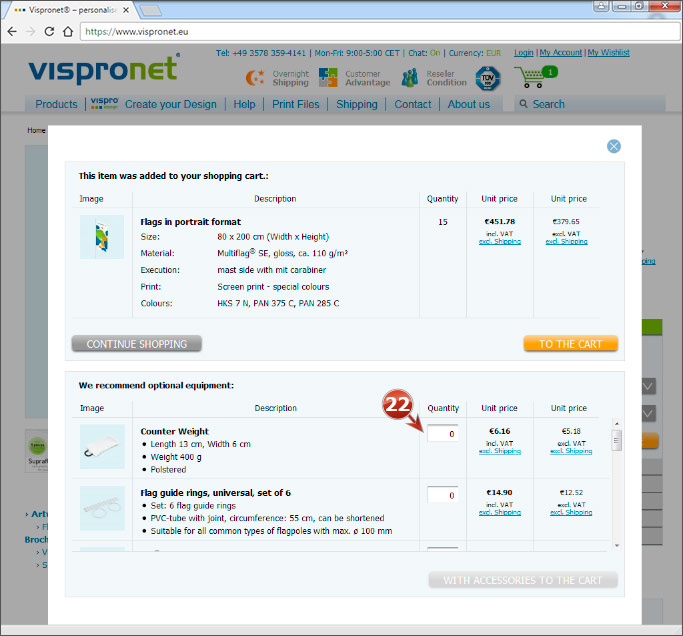 All products and selected services are listed in the shopping cart. You have the option to review your order and make changes.
1To each order you can add an individual reference term which will be visible in your account and all order documents.
2Under Delivery date and shipping shipping cost can be calculated.
3With the currency converter, you can convert the total amount, excluding VAT, into different currencies.
4Do you have a Coupon / voucher code? Please enter it here.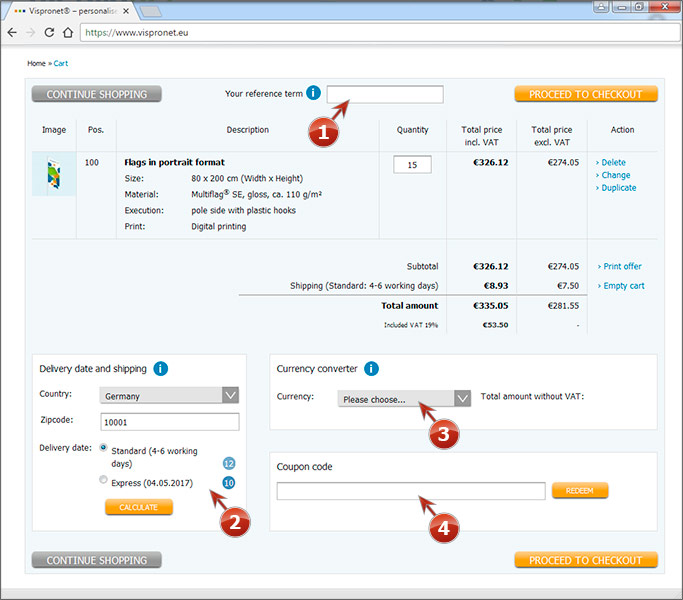 5If everything is correct, you can continue the ordering process by clicking on the "Proceed TO CHECKOUT" button.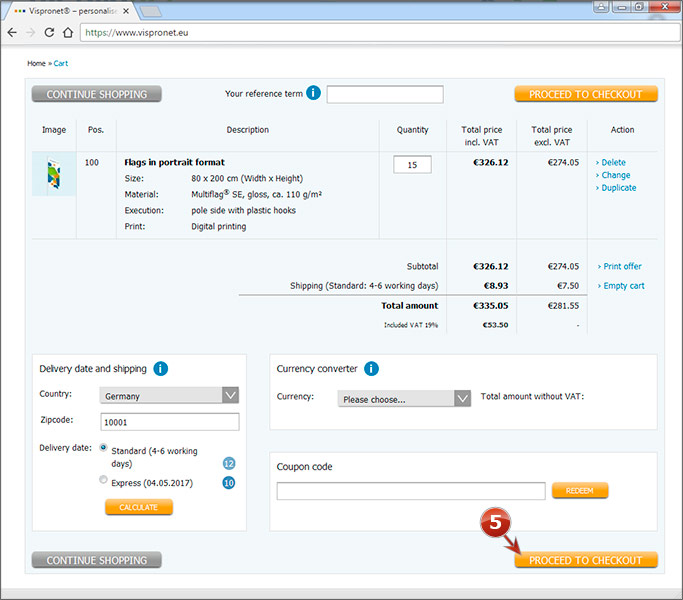 6Login with your Email-address and password or register.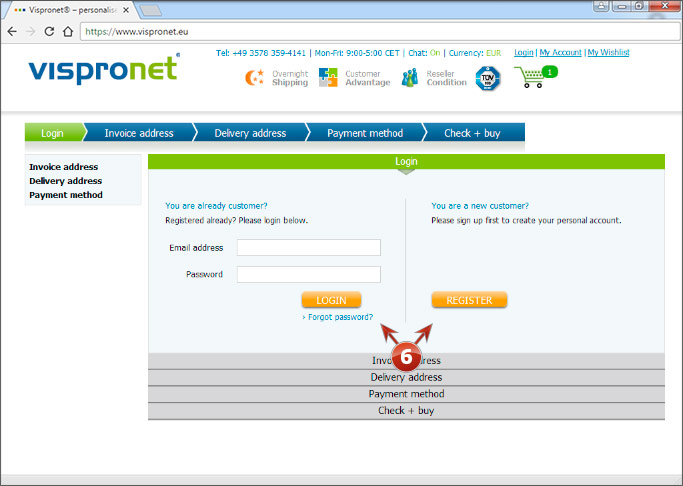 Invoice address
7Select an invoice from your address book or enter a new address.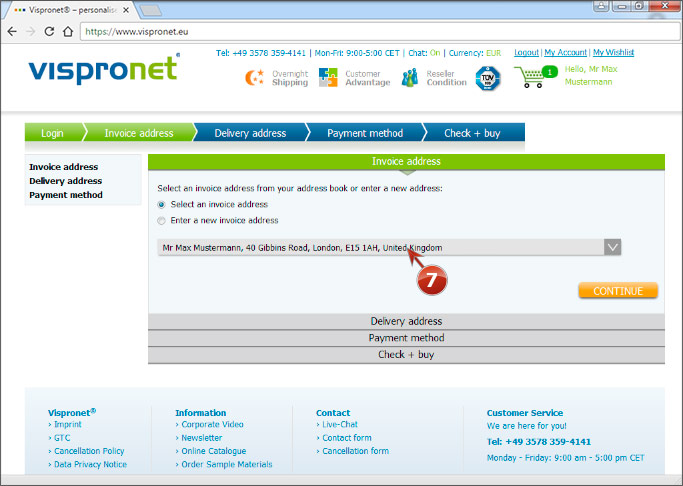 Delivery address
8Select a shipping address from your address book or enter a new one. Alternatively you can select a shipment to Multiple addresses.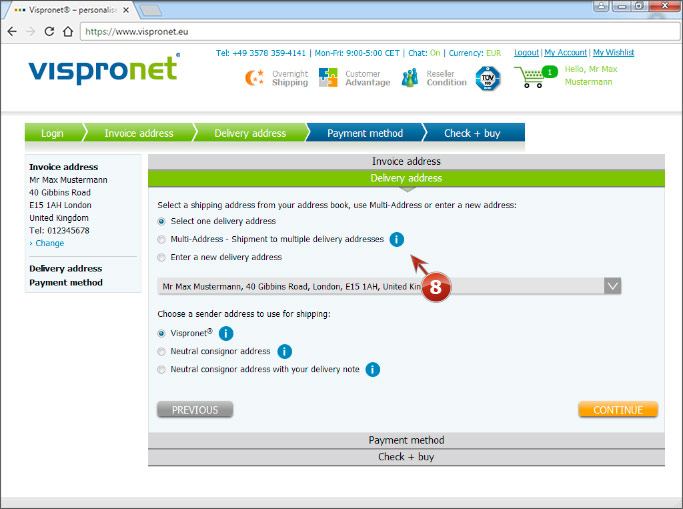 9If the goods are sent to different addresses please supply an Excel spead sheet including all necessary shipping information (please see sample sheet).
Afterwards you can choose which of these addresses should contain delivery papers with your, plain or Vispronet® header. Further information you can find here. -button.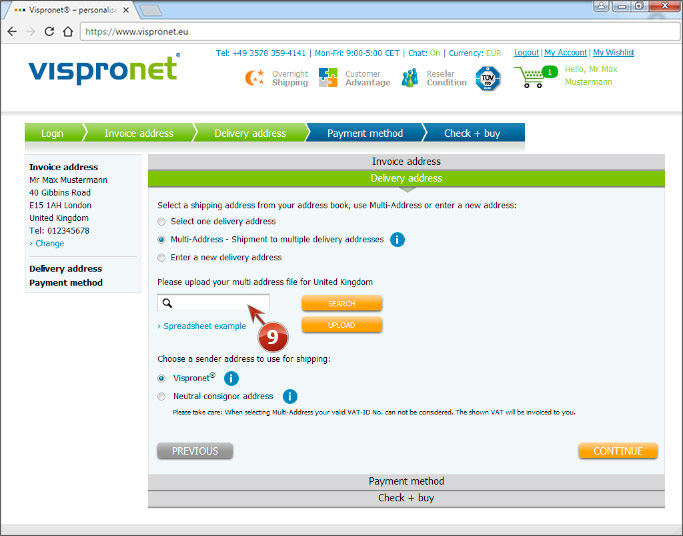 Payment methods
10Select a payment method, but note that additional charges may apply.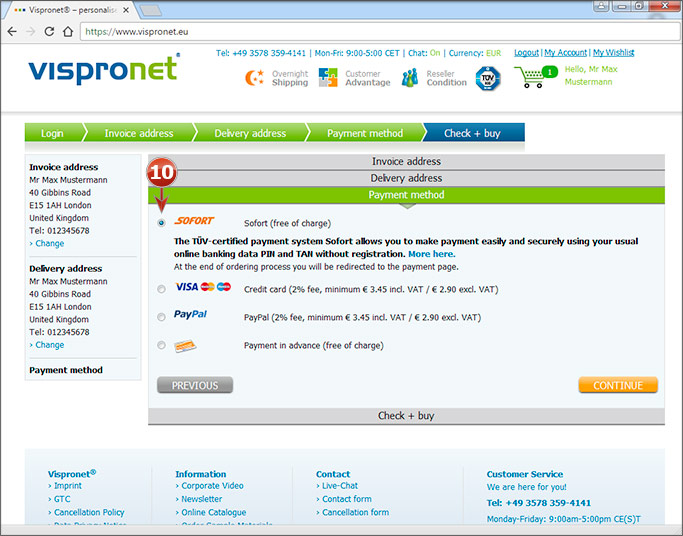 Check & Buy
11Finally check your order and complete your order by pressing "Buy".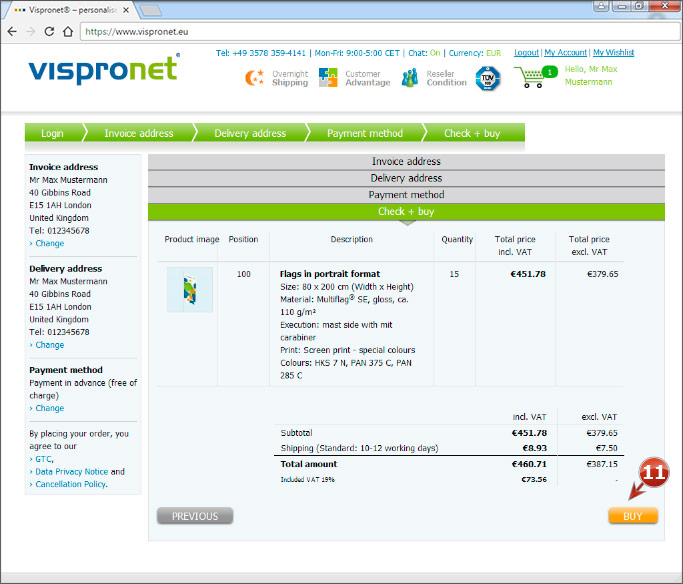 Order confirmation
After completing the order you will receive an order confirmation by email.
Furthermore you will be able to:
12"Print your order"
13choose how to submit the printfile or spreadsheet for the shipping addresses
14 register for Trusted Shop buyer protection
15download templates for the ordered products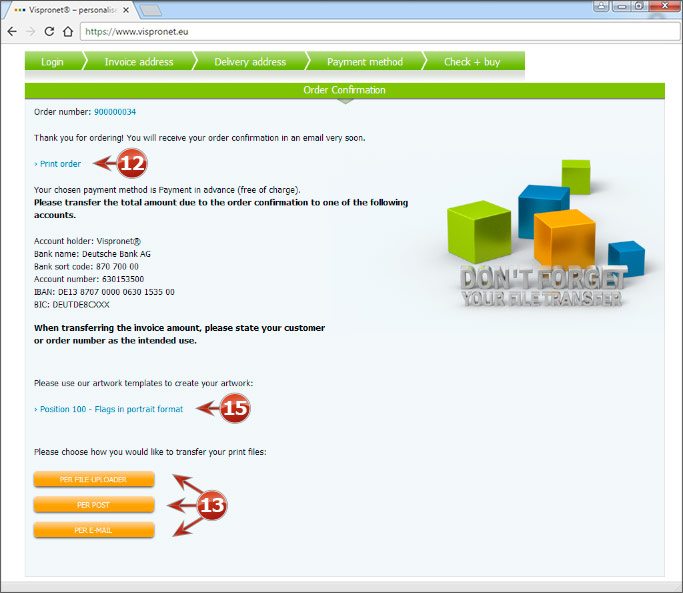 The quickest way to submit your print file is the Print File Upload 1. However files can also be sent on a CD, DVD, USB-storage, by post or by E-mail.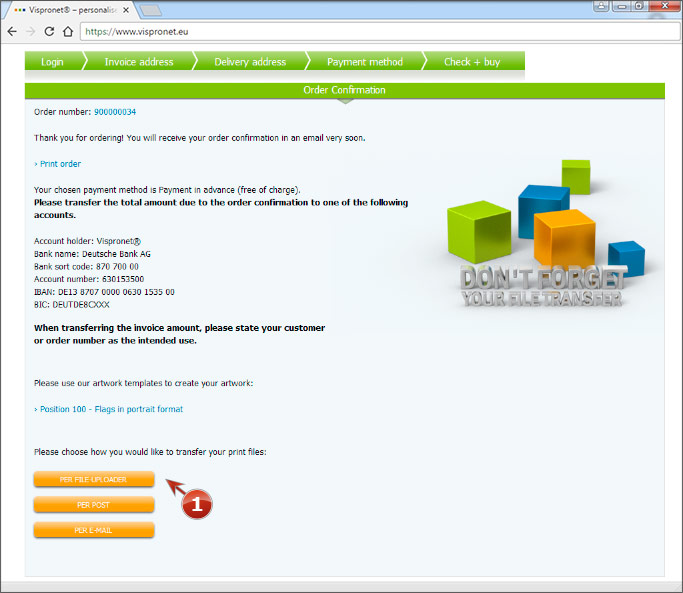 2Choose the order and position in "My Account". Confirm the explanation and upload the print file.
Graphic templates for the ordered items you can find in "My Account" "Upload center". Select the referring order and position and download the template.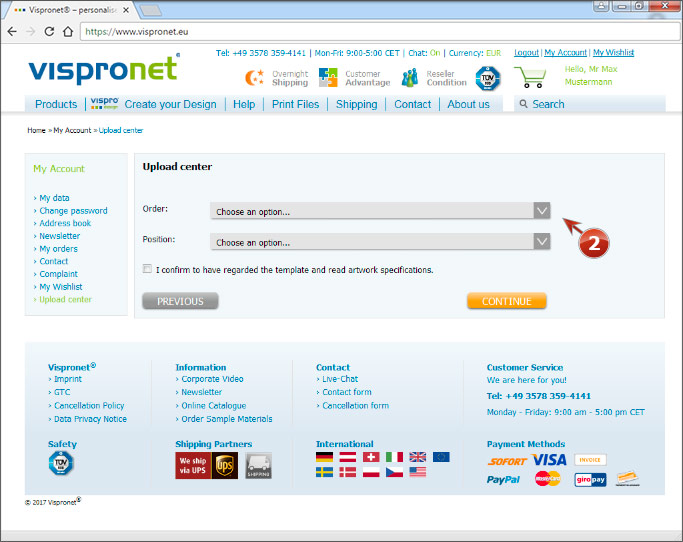 Po dokončení Vaší objednávky obdržíte emailem potvrzení zakázky.
Děkujeme za Váš nákup.