Beachflag / featherflag Bowflag® Premium are the giants in the advertising range. They offer surprisingly new and innovative forms for a lasting impression. The system height up to 5,80 m offers almost 7 m2 of printing surface. The aluminum and fiberglass segments provide a perfectly stretched canvas, also with double-sided finish. The lower steel segment ensures the connection between the featherflag and the base. The base elements have been developed with suspension especially for the outdoor use, this makes the Bowflag® sway with the wind providing at the same time needed stability.
Bowflag® Premium – Beachflag in innovative shapes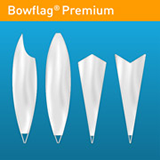 The Bowflag® Premium models are among the giants of beachflags. Their modern forms and the extra-large print area are convincing all across the board. This type of Bowflag® model is especially suitable and attractive when displayed indoors. The special feature of the Bowflag® shapes from Vispronet® is the borderless printing. This gives you up to 10% more advertising space compared to conventional advertising beachflags with an edge made of trimming band. Additionally, our beachflags are easy in assembly and ready for use in less than three minutes.
High quality fiberglass and aluminum segments keep the finished print wrinkle-free mounted in the base. This way the premium Bowflags® make your printed advertising highly visible to customers and onlookers.

The following models you can self-design and order online here:
Design your own beachflag Bowflag® Premium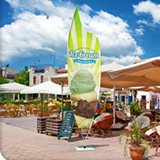 If you have not created your own design for your beachflag, then we are happy to help. Use the free design tool Visprodesign® available in our online shop. Simply click on the button "Design yourself" during the configuration and you will be taken directly to Visprodesign®. In just a few steps, individual beachflag Bowflag® Premium designs are created. There are countless design options at your disposal. Thematically arranged, free design templates and clipart which you can easily combine with your photos and logos. Enhanced by individual text striking eye-catchers emerge for trade fairs, shops and events. Let your creativity run wild and liven up your advertising with self-designed beachflag Bowflag® Premium.
Order beachflag Bowflag® Premium overnight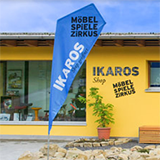 For those in a hurry Vispronet® offers an overnight service. The ordered Bowflag® Premium will be delivered within one business day. Simply send us an error-free print data for your beachflag by 9.00 am and you will have the goods in your hands already the next working day.
Matching accessories and base elements for Bowflag® Premium
To display Bowflag® on paved or unpaved surfaces Vispronet® offers individual base elements suitable to your needs. Not every surface can be used with a universal base element. Therefore in accessories section there are different bases guarantying a secure footing for your beachflag. Take a look in category Bowflag® Premium accessories and choose the right base for you.