Select - double / single sided (printed sleeve)
Stormy times or positive design on both sides needed? Choose the featherflag Bowflag® Select that will withstand even the wind force 8 (75 km/h). This particularly stable, quality beach flag was specifically designed for outdoor use and tested in the wind tunnel. Bowflag® Select is particularly suitable for double sided finish - print your design on both sides or use front and back for different images. Ideal for lettering or complementary designs. Double-sided beachflag Bowflag® Select offers an additional advertising space. With Bowflag® Select your message sways always safe at the point of sale or other events.
Find out more about the product!
Bowflag® Select – reliable beachflag models for indoor & outdoor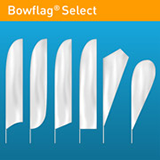 The Bowflag® Select models are designed for outdoor use and are wind tunnel tested. The bar segments are made of stable fiberglass rods and are guided into flag's hemstitch. This gives you up to 10% more of advertising space compared to other advertising beachflags available.
Vispronet® purposely dispenses with troublesome telescopic rods in its beachflag Bowflag® models, thus the Bowflags® are very quickly in less than 3 minutes assembled and are ready for immediate use.

The following dynamic shapes of Bowflag® Select are available:
Floating base – Bowflag® Select can float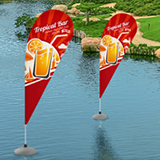 The modern Vispronet® floating base allows for the beachflag Bowflag® Select, size M to be placed and displayed on water. Perfect for advertising in pools or at the lake. A counterweight on the underside of the base provides the necessary stability.
Design your own beachflag Bowflag® Select
Print your beachflag to the edge with your own design. The different Bowflag® Select shapes can be designed and printed all the way to the edge without having to sew in a troublesome trimming band. If you do not have a ready for print design, you are welcome to use the free design tool Visprodesign®. In just a few steps you can create a very individual Beachflag Bowflag® Select. During configuration of product click on the "Design yourself" button to open Visprodesign®. You will have countless possibilities for your own beach flag design. Browse through the thematically ordered, free design templates or simply upload photos and logos into the template area. You can combine text and clipart creating striking eye-catchers for trade fairs, shops and events. Let your creativity run wild. Liven up your advertising with self-designed beachflag Bowflag® Select.
Order beachflag Bowflag® Select overnight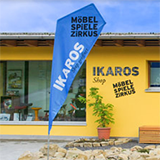 For those in a hurry Vispronet® offers an overnight service. The ordered Bowflag® will be delivered within one business day. Simply send us an error-free print data for your beach flag by 9.00 am and you will have the ordered product in your hands the next working day.
Matching accessories and base elements for Bowflag® Select
Not every surface can be used for universal base elements. Therefore Vispronet® offers a variety of accessories and base elements to choose in order to ensure a secure footing. Take a look at the Bowflag® Select accessories category to determine the right parts for your needs. The Bowflag® Select is a perfect choice for an effective outdoor advertising. Bring a festive touch to private and official functions with the Bowflag® Select.