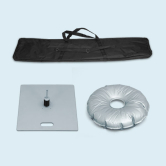 Accessories Bowflag® Basic
Where do you want to place your advertising? Indoors or outdoors, on the ground or on the water, on concrete floors or lawns, in sand or snow. At Vispronet® you will find the right accessories and stands to securely display your advertisement. Additionally in assortment there are quality rod-systems available made of aluminum or fiberglass. In order to transport easily and safely your flexible beach flag we also offer suitable transport bags. You can display your advertising almost anywhere at trade fairs, events, promotions, clubs or private parties.
Find out more about the product!
Bowflag® Basic Accessories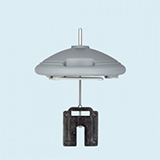 An individual Bowflag® Basic can be extended and optimized with various accessories. Some additional elements provide optimal support on different surfaces or facilitate the transport of the beachflag. Take a look at the Bowflag® Basic accessories offered by Vispronet®. Here you will find the right spare parts in order to be able to exchange the appropriate elements if necessary.

The following beachflag Bowflag® Basic accessories can be ordered online:
Rods for Bowflag® Basic
The rods for Bowflag® Basic are made of aluminum and elastic fiberglass segments. This material makes it very robust and stable at the same time. Replacement of the rods is very easy and fast.
Base elements for every surface
Every surface has a different structure. Beachflag Bowflag® Basic models need different base elements on soft surface such as sand or grass and hard surface such as asphalt or concrete. Here you will be able to find always the right base element for your needs and surface.
Weights for a safe standing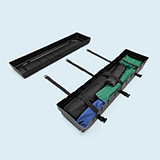 To better secure your beachflag Bowflag® Basic against the wind, you can order different weights for Bowflag® Basic suitable to your needs and surrounding from Vispronet®. For additional support you can chose weight which is fillable on site with water or a plastic weight with a weighting plate.
Order bags for transport
Carrying bags are handy helpers and assist very quickly in storing and transporting of Bowflag® Basic. Advertising beachflags, rods, feet and accessories are perfectly stored and transported with the use of handle.