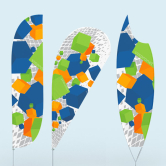 Feather & Drop Flags
The Bowflag® also known as featherflag or beachflag belongs to the most popular promotional banners for public events. Quickly and easily assembled - our featherflags have an excellent stability and are always clearly visible due to their particular shape. Vispronet® provides beach flags in many different sizes and shapes, and three performance classes: Basic type - classical version; Select type - printable on both sides and used in windy conditions; Premium type - extra-large beach flag in extravagant shapes. All listed types are supplied with matching accessories.
Find out more about the product!
Bowflag® - high quality beachflag made by Vispronet®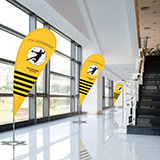 If you are looking for an exceptional advertising material that can have an appealing effect not only indoors but also outdoors, then you are well advised with an individual beachflag from Vispronet®. Thanks to the quick and easy construction, custom designed beach flags are always welcome at trade fairs, conferences and events.
The ideas of our customers can be expressed almost limitlessly. Depending on the personal application we offer the stable beachflag in numerous sizes and designs. If you are concern with the price and wish to present your advertising slogan indoors or in a windless outdoor area then we would recommend the use of Basic variant. The beachflag can be set up very quickly and unfolds in 6 different sizes, from XXS to XL, making your advertising message clearly visible. For use in windy areas, the purchase of the beachflag Select is recommended. These types of beachflags are among Vispronet®'s most popular advertising materials due to the possibility of double-sided print including two different designs on front and back. All beachflags Select have been tested in the wind tunnel and are very versatile with the use of different base elements. Brand new in assortment, beachflag Select Razor belongs to a designer piece of our Premium line! This beachflag has a secure base and can even be used on most difficult surfaces. In addition to variable base elements you can order also new rod segments or a transport bag. In our online shop you will find the right beachflag accessories for every model.
Beachflag - unique forms for attractive advertising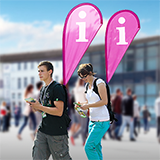 One of the standard forms of the beachflag from Vispronet® is the classic drop shape. You can always find them at petrol stations or during sporting events in different sizes. We are well aware of how important is the field of outdoor advertising. Therefore in addition to the already popular beachflag Bowflag Basic we also offer the beachflag Bowflag Select. Both beachflag types offer different shapes, such as drop, concave and convex with oblique or straight bottom edge. The unique premium forms are excellent eye-catchers indoors and in windless areas. The premium sizes S and M can also be easily used outdoors. Take a look at the innovative and attractive series: Moon, Crystal, Surfer and Dart. With these series, your own design is a real eye-catcher even in its appearance, thus securing the attention of customers at your events. In the online shop of Vispronet® you can design all forms of beach flags yourself and have them printed with your own design. The interactive design tool Visprodesign® in online shop offers you the possibility of arranging on the beach flag many free design templates and clipart with your individual text and your own logo or photos. It has never been easier to design your own beachflags. Try it today!
Buy inexpensive beachflags online - the 24 hour "overnight service" from Vispronet®
It is increasingly common for Vispronet® customers to require their products within a very short time. Vispronet® responds to this need and offers a fast overnight service to all those in a hurry. Send us your error-free print data before 9.00 am and you will receive your goods the next working day. Vispronet® offers beachflag delivery to many different countries.
Set your advertising in motion with promotional backpack Bowflag®
The beachflags from Vispronet® can be set up on shopping streets, promenades or at outdoor events. The smaller form of Bowflag® drop shape or with a concave lower edge can also be installed on a promotional backpack. As a result advertising messages are particularly mobile in large crowds.
The Bowflag® systems from Vispronet®
Vispronet® with bowflags has reinvented the popular beachflag used for advertising. Mobile and weather-resistant beach flags are mainly used outdoors as an advertising or decorative accessory. The big advantage of this special type of flag is the ease in assembly and disassembly.
The Bowflag® Select systems are particularly solid and resistant advertising beachflags and can withstand wind forces up to 102 km/h. Depending on the environment conditions in the place of use, the Bowflags® can be selected in various high-quality variants. The individually designed beachflag ensures a convincing and contemporary presentation to passersby.
Which Bowflag® system is right for me?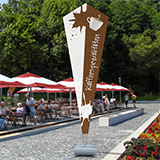 Vispronet® offers in beachflags section different Bowflag® lines. Depending on the intended location, the type and content of the printed advertising you can choose following types of Bowflag® Basic, Select and Premium.
The Bowflag® Basic range is a proven version with an excellent price-performance ratio. These solid advertising beachflags are suitable for indoor as well as for outdoor use. You have choice between several shapes ranging from classic drop to straight bottom edge On this flag there is always enough space for any advertising including images and text.
If you want a double-sided Bowflag® design or wish to use it in places with higher wind loads then the Bowflag® Select is the right beachflag for you. You may also choose another form for your advertising beachflag, for instance the Bowflag® Razor.
To best achieve an eye-catching effect at the beach, boardwalk or outdoor events the Bowflag® Premium is the best choice. This beachflag offers exceptional advertising possibility through different forms. You can choose between four impressive shapes, three of which are exclusive protected designs. Additionally, you benefit from height system of up to 5.80 meters, which not only gives you a large print area for numerous motifs and advertising messages, but also attracts attention. You have the choice between Moon, Surfer, Crystal and Dart shape.
Bowflags® from Vispronet® convince with performance
What differentiates the Bowflag® Select line from conventional advertising beachflag systems is first and foremost its excellent wind stability. To ensure the quality of the Bowflags®, Vispronet® uses wind tunnel tests to investigate the performance of the Bowflag® Select System system and its function exposed to wind force. Recent results show that the Bowflag® Select system maintains its stability even in wind force 10 on the Beaufort scale.
Depending on Bowflag® type and whether you choose your beachflag finished as a single-layer or double-layered, you will receive a robust advertising flag that easily defies wind speeds between 28 and 102 km / h. If the advertising material is to be used permanently in a windy area, we recommend the Bowflag® Select series. This advertising beachflag type remained successfully stable in the wind tunnel exposed even to a short-term wind force of 10 wind force on the Beaufort scale.
Beachflags for all advertising occasions
Bowflags® are a very popular advertising means when it comes to printed, mobile flags. Vispronet® has a large selection of different beachflags which can be printed with your effective advertising. The eye-catching advertising flags are available in three variants:
• Basic: The basic version with a particularly favorable price-performance ratio. A proven and solid Bowflag® for many applications.
• Select: Very stable and high-quality outdoor advertising flag with enhance robustness tested in the wind tunnel. These Bowflags® can handle safely and maintain stability in a wind force 8 - 75 km / h.
• Tube: This Bowflag shape convinces with a stable system of preformed, high quality aluminum tubes. They are available in four standard shapes, each with two fixed widths.
• Premium Dart: The streamlined Bowflag® in a protected arrow shape can be used both indoors and outdoors.
Four exceptional premium shapes
If you are looking for a really spectacular advertising effect, then you will be well served by our Premium Beachflags. The widely visible print ensures enormous attention due to its large area. The exceptional advertising beachflags are available at Vispronet® in four eye-catching shapes. A double-sided printing or different designs on both sides is possible using this beachflag type. Due to the printed hollow seams made of flag material, the premium line offers 10 percent more advertising space compared to hemstitched seams. The rod segments are made of glass fiber, the lower Y segment is made of sturdy steel and ensures a stable shape.
• Premium Moon: Protected design with trendsetting factor. Designed for indoor use.
• Premium Surfer: The sporty Bowflag® type. Can be used both indoors and outdoors.
• Premium Crystal: The giant among the Bowflags® with a print area of almost 7 square meters. Can be used both indoors and outdoors.
• Premium Dart: The streamlined Bowflag® in a protected arrow shape. Can be used both indoors and outdoors.
Strong anchoring for effective advertising
Beach flags are exposed to wind and weather. In order for an advertising print to be effective and remain visible it must be safely anchored and maintain stability. Vispronet® not only offers a wide selection of different Bowflags® in its shop, but also the necessary accessories for a sturdy installation of your advertising beachflags. At Vispronet® you'll find all - from variety of bases to common pegs and transport bags.
Print your beachflag with 10% more advertising space
Beachflag printing at Vispronet® offers you numerous possibilities. In principle, almost any motif can be implemented on a Bowflag®. However, the particular contours of the Bowflag® as well as the size of the respective model should be considered in the design.
Logos and large-scale product photos fill perfectly the fine drop shape of beachflags in sizes S and M. Advertising messages with multi-line text are presented much better on larger Bowflags® size L and the premium version.
At Vispronet® beachflags are printed to the brim without disturbing border. This allows you to gain 10% more advertising space compared to other beachflags.
Matching accessories for beachflags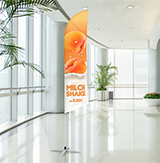 To ensure that the Bowflags® are quickly put to use, Vispronet® supplies a comprehensive range of suitable accessories for the advertising beachflags Basic, Select and Premium. For secure and stable mounting of the beachflags you can choose from different base elements.
Choose between base plates, concrete feet, water-fillable base and cross-feet. For mobile advertising used at outdoor events a foot base is a good choice as it can be weighted down by simply driving a car onto it. Ground pegs and spikes assist with the use of Bowflags® on soft soil such as sand for instance. Similarly, the beachflags can be presented with the use of water fillable base.