Deck Chairs
Deck chairs with or without armrests, director's chairs or beach chairs from Vispronet®. With these chairs made of solid, untreated beech wood you can invite customers and friends to spontaneous recreation. Stand out with your advertising! At events, concerts or on terraces. A chair printed with a very personal design is incidentally also a great gift idea. All covers are printed with bright colors and are made of environmentally friendly materials certified according to Oeko-Tex® 100.
Find out more about the product!
1. Selection
2. Properties
3. Design your own deck chairs
4. Delivery times of printed deck chairs
5. Questions about the deck chairs
6. Dimensions
Deck chairs for advertising, decorating and relaxing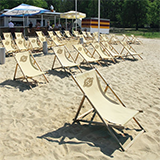 Leisure chairs are very popular advertising tools at events, in bars and at the trade fairs. Printed with their own individual design, they create unique eye-catchers that invite you to linger and communicate discreetly customer-oriented advertising messages.
The basic frame of the customizable leisure chairs is made of sturdy, untreated beech wood. The seating and reclining surfaces of the chairs are fully printable with the optional possibility of custom print on both sides. They can be custom designed with a personal motif and guarantee a comfortable sitting experience.
Two different materials are available for seating and backrests: Variotex and an air-permeable mesh. Both materials are ideal for use with the leisure chairs due to their resistance to seawater, chlorine and sweat.
At Vispronet® the following versions of the leisure chairs can be designed online:
Director's chair
Director's chairs are an excellent alternative to the classic garden chairs. Often you can find them in the bar areas on beach promenades. Backrest and seat are individually printable, which in turn makes this leisure chairs stylish seats for cafes, beach bars and terraces.
In addition, such a custom printed chair can also be used in the context of film, theater or a beautiful decoration idea. Depending on the occasion, the textile elements of the leisure chairs are printable with a personal name, position or logo.

Deck chair with or without armrest
The loungers have a backrest, which can be adjusted in three different levels. A plastic safety bar guarantees the optimal sitting position for relaxing. An ensemble of these leisure chairs can relax any area, be it private or commercial. Decisive for the style and number is the area that you wish to furnish with printable chairs.
Beach chair
The third type of individual leisure chairs from Vispronet® ® are the beach chairs. They are easy to fold and can be used wherever seating is needed at short notice. Whether concerts, fishing trips or day of swimming - printed beach chairs are practical travel companions.
Design your own leisure chairs with custom design for free in Visprodesign®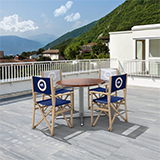 All leisure chairs are fully printable and with the right motif they will become impressive eye-catchers on beaches in lounges, at parties and in your own garden. If you do not have a finished design, then use the free design tool Visprodesign® to create a custom motifs.
To do this you only have to click on the button "Design yourself" during the product configuration. Visprodesign® offers various ready-to-use templates which can be supplemented with your own text, logos and photos.
Order leisure chairs overnight - have your printed beach chairs or director's chairs delivered virtually overnight
Frequently, customers want their own leisure chairs to be delivered as quickly as possible. Short-term events or other actions force you to act quickly. For these special cases you can buy your leisure chairs at Vispronet® overnight.
Click on "Overnight shipping" at the end of the ordering process. To be able to use this superfast service, you only need to upload an error-free print data onto one of our servers by 9:00 am and you will receive your leisure chairs the very next business day. Vispronet® is your reliable partner in all printable matters.
Complementing leisure chairs with umbrellas
Make yourself comfortable under a parasol. The cover of the parasol from Vispronet® is also fully customizable. The individual parasol segments can be designed with the same or two changing motifs. Here you can find out more about the available parasols in our offer.
In addition, we also carry large umbrellas and corresponding screen accessories. The large surfaces are excellent advertising means, especially at heavily frequented tourist locations where they invite passersby with their printed design and company logos.
Not only do you have the choice between small and large models, but also you can choose different shapes: square or round. This way you can adapt the advertising space to your requirements and a place of use.
Will the print still be bright in the next season or will the colours fade?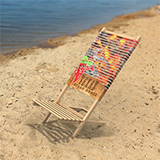 Our leisure printed chairs offer strikingly bright and durable colour. For all variants offered, a robust cover made of extremely durable polyester knitwear is used, which can be ordered in either matt or glossy finish. The colours are permanent bright, because our environmentally friendly dispersion inks achieve very high light fastness for outdoor use in textile printing. In addition, the covers are seawater, chlorine water and sweat resistant.
Whether you decide to order one of our comfortable deck chair, director's chair or practical beach chairs, with or without armrest, print - with the fully customizable seats (4-colour in digital printing CMYK) experience high quality seating that does not fade. You wish to go a little more colourful? No problem! Optionally you can add up to 12 spot colours.
Are the leisure chairs collapsible and easy to transport?
You will not find here bulky outdoor chairs which are difficult to transport. At Vispronet® we offer practical and lightweight leisure chairs that you can easily fold to save space and take wherever you or your customers wish to be comfortable. Lightweights - The leader here is the beach chair with just 2.5 kg, followed by the deck chair with 3.1 kg and the director's chair, which brings it to a portable 4 kg. And if you do not need these chairs for a while, they are compactly packable and can wait patiently for their next assignment without taking up much space. The folded dimensions of the chairs are:
Beach chair: (W x H): 45.5 x 107 cm


Deck chair: (W x H): 43 x 119 cm


Director's chair: (W x H): 48 x 83 cm
Bring your colourful advertising media conveniently to every corner.
The loungers have a backrest, which can be adjusted in three different levels. A plastic safety bar guarantees the optimal sitting position for relaxing.
The third type of individual leisures chair from Vispronet® are the beach chairs. They are easy to fold and can be used wherever seating is needed at short notice.
Whether concerts, fishing trips or swimming day - printed beach chairs are practical companions for traveling. They are especially useful if the place is crowded and existing seating is at the premium. In the same context, you can also purchase larger quantities and rent them close to beaches or make them available to your guests. The eye-catching media with your logo and the name of your business can this way attract even more guests or customers.
Can the seat and backrest be printed separately? How big can the motif be?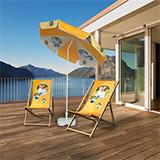 Your logo does not appeal to your customers from afar? Or your advertising slogan takes up more space? No problem! The fabric cover on our leisure chairs is fully printable. The director's chair offers the most varied design options. Seat and backrest can each be individually designed and can have different motifs and logos. The backrest even offers the possibility of printing on one or both sides and can be exchanged as required. The dimensions of the print surfaces are as follows:
Director's Chair seating area: (W x H): 48 x 43 cm / Director's Chair backrest: (W x H): 44 x 28 cm


Deckchair: (W x H): 43 x 119 cm


Beach chairs: (W x H): 56 x 60 cm
This way you have plenty of room to attract attention with your personalized design. Print your Let your individual beach chairs, director's chairs or deckchairs chairs today.