Special Flags
Federal service flag, NATO flag, the flags of Europe and the UN - Vispronet® offers a whole range of high-quality special flags in various sizes and designs. The high quality of these flags corresponds to the dignity of the symbolized institutions and countries. Available in portrait or landscape format, as banner, table flag or in a representative finish as a room flag. Naturally, we also offer flag accessories such as flag poles, flag presenters, flag stands etc. The special flags are available for immediate delivery.
Find out more about the product!
Special flags - the right flag for every occasion
There are always occasions for which very special flags are needed. In the special flags section you will find ready flag layouts of national and international institutions, cities and associations. Official occasions or important visitors sometimes make it necessary to hoist a special flag.
Choose from the following special flag designs in our online shop: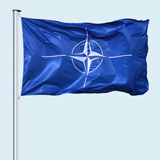 The EU, NATO or UN flags are only a small assortment of our high-quality special flags. Use special flags as an attractive banner for an impressive presentation of your targeted messages. Special flags can be ordered in portrait or landscape format, as a table banner, high-quality small banner with hemstitch etc. Each flag is a special highlight in its own design.
Special flags - even for windless days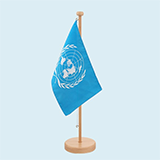 The special flags from Vispronet® can be majestically presented in windy as well as wind-poor areas. For completely windless days special flags for flagpoles with presenter are recommended. The flag is unfolded completely by the presenter thus showing itself in full splendor without a wind.
Vispronet® guarantees a very good durability through the use of proven flag fabrics and tear-resistant sewing threads. The radiant colours with very good light fastness and the excellent print will convince you of its superior quality.
Special flags - order different designs overnight
Are you looking for a specific institution or perhaps an international organization flag? In our online shop you have the possibility to find the right design or form for your special flag or table banner. The numerous designs are structured alphabetically and thus can be filtered very quickly. Whether the letter E for the European Union or N for Nato - Vispronet® offers numerous pre-made special flag layouts. Select your desired motive, decide on the suitable accessories and place your order in the shopping cart. In just a few clicks you'll receive your special flag order confirmation.
How often do you need something really fast because of short-term appointments or visits?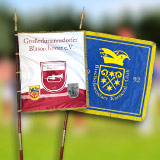 In this case Vispronet® offers an overnight service. Order today and your product will be delivered tomorrow. Upload your correct print data to our server no later than 9:00 am and receive your desired national flag the next working day.
Club flags - very representative and graceful
In addition to special flags you will find at Vispronet® another noteworthy category namely the club flags. The high-quality digitally printed club flags are available in various designs. They are in no way inferior in their attractiveness to the embroidered club flags and can be used effectively at conferences, receptions, in lobbies, club rooms or halls. Equipped with a classic hemstitch and complete with simple wooden pole, they look representative and graceful.