Eco with print
Inexpensive and stable - Pop Up Tents and Gazebos Eco in size 3 x 3 m, are the classics among the pop up tents. Its powder-coated steel frame and robust poles made of square profiles ensure stability and durability. Thanks to the functional folding grid technology, they can be easily assembled and disassembled without tools. The height is 3-way adjustable. Pop Up Tents Eco are fully printable, UV-resistant and waterproof. For maximum scratch resistance, you also choose the option with an extra protective laminate. Pop Up Tents Eco with their unbeatable value for money are the all-rounder for use at trade fairs, functions or sport events.
Find out more about the product!

1. Faltzelt Eco selbst gestalten
2. Einsatzmöglichkeiten
3. Eigenschaften
4. Vorteile

Vispronet® Faltpavillon Eco kaufen und individuell bedrucken lassen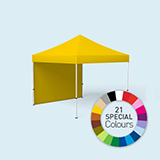 Möchten Sie planen einen Messeauftritt bzw. möchten Ihren Gästen einen überdachten Freisitz anbieten? Oder steht demnächst ein Outdoor-Event an, für das Sie einen adäquaten Promotion-Stand benötigen? Egal was Sie vorhaben, bei Vispronet® sind Sie genau richtig. Wir stellen Ihnen eine vielfältige Auswahl an Faltzelten Eco und Pavillons Eco zur Verfügung, die für den Einsatz im Innen- und Außenbereich sehr gut geeignet sind. Bei uns können Sie einen hochwertigen Faltpavillon kaufen, der genau Ihren Vorstellungen entspricht – von der Bauform und Farbe bis hin zum Werbedruck. Ergänzend finden Sie in unserer Online Druckerei verschiedene Werbemittel zur Individualisierung, zum Beispiel Eisfahnen, Eckbanner, Dekoschleifen, Dekoschals, Wechselbanner oder unsere Bowflag®. Darüber hinaus steht Ihnen stabiles Befestigungsmaterial wie Abspann-Sets und stapelbare Beschwerungsplatten zur Stabilisierung im Freien zum Kauf zur Verfügung.
Werbezelte und Faltzelte Eco für hohe Ansprüche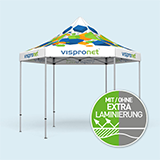 Möchten Sie einen Faltpavillon Eco kaufen, der besonders robust ist und langfristig genutzt werden kann, dann werden Sie im Vispronet® Sortiment die passenden Produkte finden! Wählen Sie zwischen einem klassischen Pavillon mit freier Sicht in alle Richtungen und verschiedenen Faltzelten mit abschirmenden Seitenwänden. Jedes Modell ist mit einem faltbaren Scherengittersystem ausgestattet, das sich schnell und sicher mit zwei Personen aufbauen lässt. Selbstverständlich liefern wir Ihnen zu jedem Produkt eine verständliche Aufbauanleitung.
Unsere andere Faltpavillon-Serie Select wird auch höchsten Ansprüchen an Material, Verarbeitung und Komfort gerecht. Einen klassisch quadratischen Faltpavillon bis 3x6 m erhalten Sie mit Sechskantprofilen aus eloxiertem, silberfarbigem Aluminium und einem Pfostendurchmesser von 40 mm. Benötigen Sie ein größeres Modell bis 4x8 m, ist der Faltpavillon Select mit einem Gestell aus Achtkantprofilen und einem Durchmesser von 52 mm die richtige Wahl. Beide Varianten verfügen über Füße aus robustem Stahl, die Standfestigkeit gewährleisten. Unsere Select Faltzelte und Faltpavillons bis 3x6 m sind in ihrer Durchgangshöhe 4-fach verstellbar – die größeren Modelle sogar 5-fach. Wählen Sie aus 21 Sonderfarben und den vier Grundfarben Blau, Rot, Schwarz und Weiß (ausschließlich für Falt-Pavillon 3x3 m bis 3x6 m) Ihren Favoriten.
Bevorzugen Sie eine außergewöhnliche Zeltform, sind die Vispronet® Modelle der Select Hexagon Serie die richtige Entscheidung. Ebenfalls aus robusten Sechskantprofilen gefertigt, verfügen sie über Füße aus glasfaserverstärktem Kunststoff. Dieser ist besonders witterungsbeständig, hochfest und frostsicher. Die Select Hexagon Faltpavillons sind ebenfalls 5-fach in der Durchgangshöhe verstellbar und die Dachspitze kann mittels Kurbelvorrichtung optimal gespannt werden.
Robuste Materialien und brillanter Druck – jetzt Vispronet® Faltpavillon Eco kaufen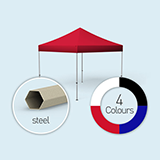 Wir bestücken unsere Faltzelte und -pavillons ausschließlich mit Planen aus robustem Polyestergewebe, dem schwer entflammbaren Variotex®. Dieses Material ist wasserdicht bis zu einer Wassersäule von 2.000 mm und wird stets mit wasserdichten Nähten verarbeitet. So fällt Ihr Outdoor-Event auch bei einem kräftigen Regenguss nicht ins Wasser. Unsere Zeltplanen und Druckfarben überzeugen außerdem mit einer sehr guten bis vorzüglichen Lichtechtheit – Klasse 6 bis 7 nach DIN 53952.
Bei Vispronet® können Sie Ihren neuen Faltpavillon kaufen und mit individuellen Designs ausstatten. Das innovative Visprodesign® Gestaltungstool unterstützt Sie beim Arbeiten. Wählen Sie entweder aus unseren vielfältigen Vorlagen oder laden Sie selbst Bilder, Logos und Schriftzüge ins Designtool hoch. Bei unseren Faltpavillons und Faltzelten können Sie alle Elemente bedrucken lassen – ob Volant, Dach oder Seitenwände.
Online Faltpavillon kaufen – Ihre Vorteile bei Vispronet®
Achten Sie bei Ihren Werbemaßnahmen auf Umweltverträglichkeit und hochwertige Materialien? Dann hat Vispronet® das passende Sortiment für Sie. Vertrauen Sie bei uns auf eine riesige Produktauswahl in höchster Qualität sowie eine persönliche, kompetente Beratung. Wir sind Trusted Shops zertifiziert – Ihr Vorteil beim Käuferschutz.